Mayors Tout Importance of Infrastructure Investment at DNC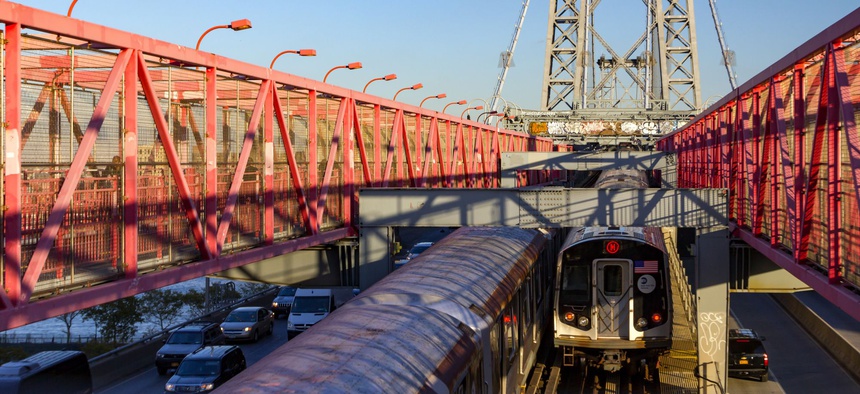 "America will be weaker if we don't start fixing our roads and our bridges and our ports and our airports," Tampa Mayor Bob Buckhorn said Tuesday.
Regardless of how conversations about infrastructure investment are playing out at the federal level, Atlanta Mayor Kasim Reed believes city leaders should be working to forge new partnerships with the private sector to secure funding for projects.
"That's where the money is," Reed said Tuesday at an event in Philadelphia, held in conjunction with the Democratic National Convention.
"I think that the federal government has an amazing role to play," he also said, "but that we need to be more focused, from our own standpoint, on having these public-private partnerships."
Reed was among a number of mayors, and other speakers, who took part in a briefing about the current state of infrastructure in American cities, hosted by the National League of Cities and Build America Mutual, a firm that insures municipal bonds.
There was broad agreement among the briefing participants that greater investment in infrastructure was needed for U.S. cities to remain competitive in the global economy.
"America will be weaker if we don't start fixing our roads and our bridges and our ports and our airports," said Mayor Bob Buckhorn of Tampa, Florida. He added: "The Democratic Party ought to have more than three paragraphs in their platform about investments in infrastructure."
But politically charged questions commonly surround infrastructure funding.
For example, elected officials tend to be leery of gas tax hikes, a key source of revenue for transportation projects at the state and federal level.
And it's not only transportation infrastructure that could benefit from improvements.
Lead contamination in the drinking water supply of Flint, Michigan, highlighted the risks posed by subpar water systems. And local governments around the U.S. are facing steep costs tied to upgrading wastewater infrastructure, to prevent sewage from overflowing into rivers and lakes.
Building out broadband internet infrastructure is another concern.
There's currently no shortage of investors willing to put money toward public works projects, according to Sheila Amoroso, senior vice president and co-director of the municipal bond department for Franklin Templeton Fixed Income Group.
"Right now there's actually more capital than available projects," she explained at Tuesday's event.
But finding the government revenues to pay back investors is another story.
Amoroso noted that in many places the need for infrastructure funding is competing with two other costs that are squeezing state and local government budgets: pension liabilities and healthcare costs for public employees.
"These three are connected together and in conflict," she said of the infrastructure, pension and health care costs."You have promises that were made years ago impacting budgets today."
Buyers of municipal bonds are increasingly skeptical of cities that have large unfunded liabilities, she added. Contributing to that trend, according to Amoroso, is the fact that bondholders have been forced to take deeper than expected "haircuts" on money they've been owed in situations when municipalities entered into bankruptcy.
Amoroso went on to make a case that the federal tax exemption on earnings from municipal bond investments was vitally important for financing infrastructure projects in the U.S.
Pittsburgh Mayor Bill Peduto was also on hand at Tuesday's briefing.
He mentioned new technology that could drastically alter infrastructure in the coming years, such as sensors, and vehicles that are shared, electric-powered or self-driving.
"If you don't think driverless cars are a part of the immediate future, come to Pittsburgh," he said, pointing out that the popular app-based ride-booking company Uber, and Carnegie Mellon University, have both already been testing self-driving vehicles on the city's streets.
Mayor Bill de Blasio of New York City noted in his remarks on Tuesday that, "Nothing troubles people more than infrastructure that doesn't work for them."
Some riders of New York's 14th Street-Canarsie subway line might be quick to agree with that statement.
On Monday, the Metropolitan Transportation Authority said it would close a set of tunnels that connect Brooklyn and Manhattan for 18 months, beginning in January 2019. The "L" line subway trains that use the tunnels provide service to Brooklyn's Williamsburg neighborhood, which boomed with development over the last decade.
The closure of the tunnels, which cross under the East River, will take place in order to repair damage from flooding that occurred during Hurricane Sandy in 2012.
Another subterranean project taking shape in New York involves building a new Hudson River rail tunnel for passenger trains traveling between the city and New Jersey. Amtrak and New Jersey Transit commuter trains traveling along the busy corridor provide service to Pennsylvania Station in midtown Manhattan.
Completed in 1910, the twin tunnels now in use was also damaged during Hurricane Sandy. The newly planned tunnel project is part of the so-called Gateway program, which includes a number of rail upgrades in the New York City region, and has a projected cost of $23.9 billion.
While massive in size and price, the Gateway program is only one of many projects seen as crucial throughout the U.S., as the nation's infrastructure ages and is met with advances in technology.
"This country has to greatly increase infrastructure spending," de Blasio said, "or we just can't compete economically."