Half of the Children in California Have an Immigrant Parent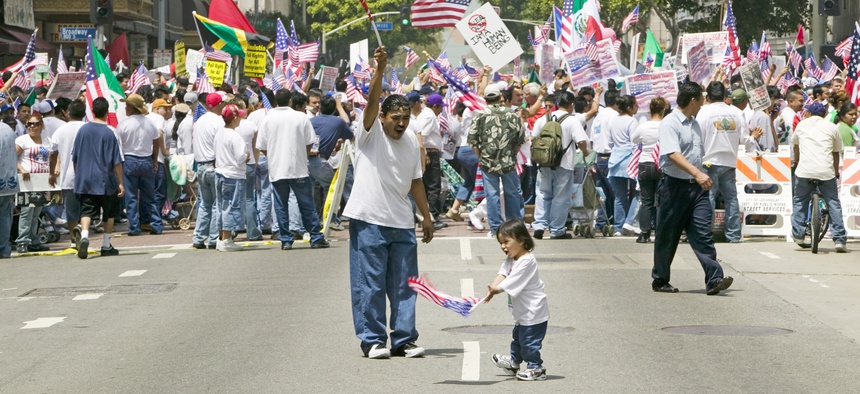 In this time of heightened tension surrounding immigration policy, the Golden State faces a disproportionate challenge.
Federal immigration officials have arrested more than 600 people in raids in at least 11 states in the past week. These ICE operations are the first to take place in the wake of a Jan. 26 executive order signed by President Trump, that is meant to enhance the priorities for immigration enforcement.  
It remains unclear whether these raids signify operations as usual for immigration authorities, or if they constitute an escalation of deportations by the Trump administration.  
Such uncertainty has been found to impact children in particular ways. For example, the American Academy of Pediatrics, in a response to immigration-centric executive orders, emphasized that many children in at-risk families "live in constant fear that their parents will be taken into custody or deported," and note that prolonged exposure to this fear may have an adverse affect on their health and development, a theory that holds true in scientific research.
In this time of heightened tension surrounding immigration policy, one state in particular faces a disproportionate challenge. Nationwide, 25 percent of children have at least one immigrant parent—in California, that number is doubled.
According to a new report by KidsData.org, an initiative of the Lucile Packard Foundation for Children's Health, nearly half of the children in the Golden State have an immigrant parent—comprising roughly 4.5 million children statewide.
That proportion is even higher if the geographic scope is narrowed further. As the report points out, "[i]n congressional districts 17, 34 and 46, which represent parts of greater Los Angeles and the San Francisco Bay Area, more than 75 percent of children have at least one immigrant parent."