Mayors Voice Support for Trump's Decision to Conduct Military Strike in Syria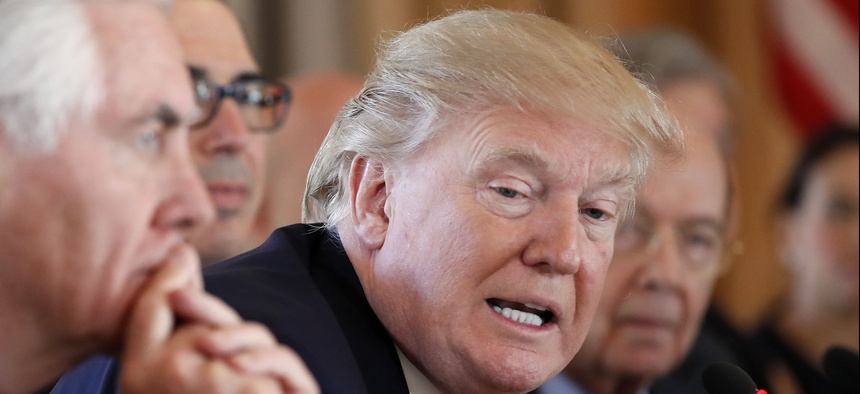 But, in their letter to the president, the leadership of the U.S. Conference of Mayors avoided weighing in on the debate about refugee resettlement.
An organization that represents mayors from around the U.S. sent a letter to President Trump on Saturday, endorsing the president's decision to use military force in Syria last week.
"We support your decision to respond appropriately," read the letter, which was signed by the leadership of the U.S. Conference of Mayors. The letter did not explicitly urge Trump to soften his positions on allowing refugees from Syria and other countries to resettle in the U.S.
U.S. warships last Thursday fired dozens of missiles at an airbase in Syria, destroying facilities and aircraft. Trump said he ordered the strike in response to a chemical weapons attack by the Syrian government that reportedly killed at least 86 people, including children.
The chemical attack took place last week amid an ongoing war in Syria that dates back to 2011 and, based on one estimate from early last year, has claimed over 470,000 lives.
Trump has taken a hardline stance on the resettlement of refugees in the U.S. from Syria and other nations, citing national security concerns.
During his time in office, the president has issued two executive orders seeking to temporarily bar travelers and refugees from Syria and, in the latest order, five other predominately Muslim countries from entering the U.S. Both of the orders have run into legal obstacles.
Members of the U.S. Conference of Mayors spoke out strongly against Trump's initial executive order, which was signed in January.
Last June, the group adopted policy that opposes "severely restricting the current refugee admission system" and says the U.S. has a "strong tradition of providing safe haven, freedom, and opportunity to refugees fleeing the world's most dangerous and desperate situations."
Critics have characterized the sympathy Trump expressed last week for the victims of the chemical attack as hypocritical given his positions on refugee resettlement.
Speaking at an event in Texas on Friday, Trump's opponent in last year's presidential race, Hillary Clinton, said she hoped the Trump administration would "recognize that we cannot in one breath speak of protecting Syrian babies and in the next close America's doors to them."
Margaret Huang, executive director of Amnesty International USA, said in a statement that while Trump described the missile strike as prompted by concern for Syrian civilians, "his administration has shown callous disregard for Syrians attempting to flee for their lives."
The mayors stopped short of weighing in on this matter in their letter.
"We stand with the mayors and people of Syria as they continue to suffer from the violence, fear and death they live under the current regime," their two paragraph letter said.
It added: "We also stand with and support all innocent Syrians who have been forced against their own will to flee their cities to seek basic needs we all seek here at home."
The signatories of the letter included Oklahoma City Mayor Mick Cornett, who is president of the Conference of Mayors, New Orleans Mayor Mitch Landrieu, the organization's vice president, and Mayor Stephen Benjamin of Columbia, South Carolina, the group's second vice president.