L.A. City Hall Seeks to Fill Special Position on Transportation Technology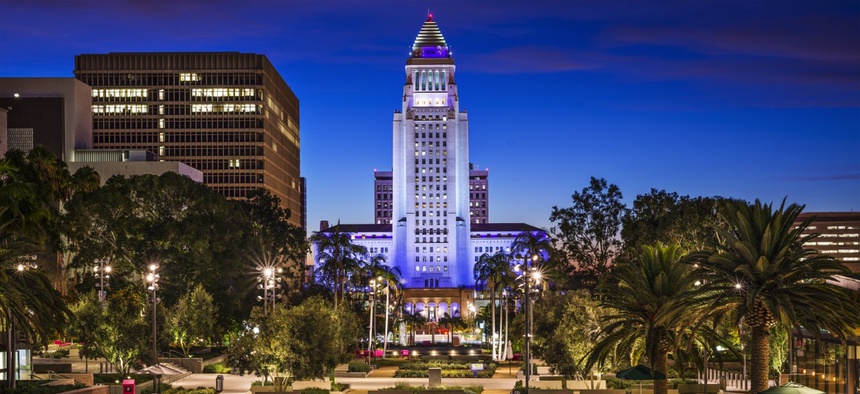 Mayor Eric Garcetti: "It's about time the car capital of the world planned for the future of transportation in the digital age."
LOS ANGELES — The city of Los Angeles is hiring for an unusual position: transportation technology advisor. In one of the most traffic-challenged American cities, hampered by decentralized local government and sprawling geography, L.A. City Hall is trying to integrate bicycle lanes, self-driving cars, new rapid transit lines, and ride-sharing services into the region's transportation framework.
Active recruitment for the position is ongoing. Mayor Eric Garcetti, announced the new role at a Fast Company magazine event this past May. (Editor's Note: The author of this blog post writes for Fast Company and covered the Garcetti announcement for the publication.)
"It's about time the car capital of the world planned for the future of transportation in the digital age—moving beyond the car to bikes, ride-shares, and autonomous vehicles," Garcetti said at the event.
Los Angeles' decision to essentially appoint a ride-sharing and autonomous vehicle advisor is indicative of both the city's unique challenges and Garcetti's national ambitions. Unlike rivals like New York, San Francisco, and Washington, D.C., Los Angeles lacks a traditional centralized business district or city center. Downtown Los Angeles, where most skyscrapers are located, is recovering from decades of decline and is merely one major urban node among many rather than the primary city center. An extensive regional streetcar and light-rail network was dismantled in the 20th century, and Los Angeles' traffic problems have been the butt of a million late-night comedy jokes.
Meanwhile, Los Angeles faces one very real problem forcing their hand towards public transit and new transportation solutions: There's no land left to build new highways on.
The one-year-long fellowship for the transportation technology advisor is funded with a stipend provided by the Goldhirsh Foundation, an influential local charitable organization. Tara Roth, the Goldhirsh Foundation's president, said in an interview that her organization works closely with the mayor's office on a number of initiatives, including this one. She added that the transportation advisor position is seen as one that could be a model for other cities.
Garcetti, 44, is also an unusually ambitious politician looking for a legacy project to propel him further onto the national stage. He became the city's mayor in 2013, and has promoted drastic increases to the city's minimum wage, a massive earthquake safety campaign and aggressively worked towards a failed attempt to land the 2024 Olympics.
Floated by some, including former 1960s radical and state legislator Tom Hayden as a Democratic "answer to Marco Rubio," Garcetti jumped from the L.A. City Council to the mayoral seat thanks in part to close ties to political bigwigs like David Axelrod. Fixing Los Angeles' traffic nightmare—or at least, mitigating it—could just be the high-profile initiative he needs to make it to the U.S. Senate and beyond.
Los Angeles is one of Uber's largest markets, and is building one of the nation's most ambitious mass transit networks, including a long-stalled expansion of subway service into L.A.'s Westside. Next year, Los Angeles County voters may be voting on a sales tax measure that could generate upwards of $100 billion in transportation funding, much of it going to expanding regional rail services.
Peter Marx, the ex-Qualcomm executive who is now the city's chief technology officer, has been frank about his desire to make the city a national hub for electric vehicle chargers and self-driving transportation. No-one thinks that Los Angeles, the United States' capital of automotive culture, is going to become a city of subways anytime soon. But for Los Angeles—and its politicians—mass transit is now the order of the day.