What the Feds Say About Homeless Encampments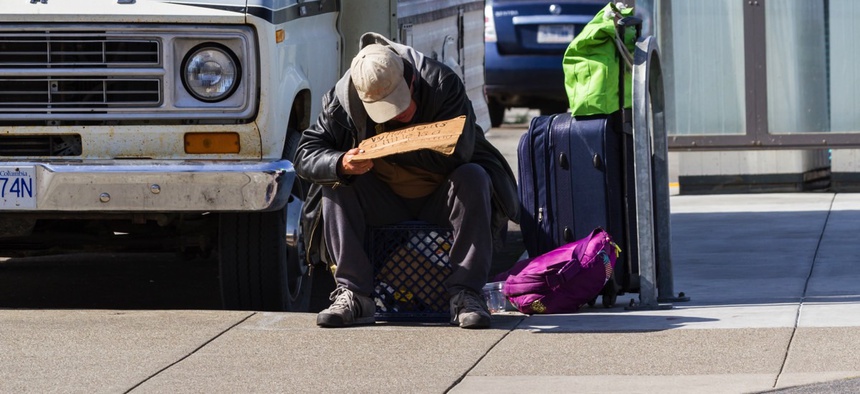 An interagency group recommends against local governments forcibly clearing out tent cities.
Rather than cracking down on homeless encampments and forcing the residents to disperse, local governments and other groups should take steps to link people living at the sites to services and permanent housing, according to federal guidance released on Tuesday.
In a 12-page document, the U.S. Interagency Council on Homelessness outlines strategies and practices communities can take to address the encampments. The guidance was published just a week after the U.S. Justice Department stated in a court brief that when adequate shelter is not available in a city, making it a crime for homeless people to sleep in public places is an unconstitutional punishment.
"This new guidance offers communities a different path forward by acknowledging the housing needs of those in the encampments, and communities' responsibilities for creating the conditions where this basic human right can be fulfilled," Eric Tars, senior attorney at the National Law Center on Homelessness & Poverty, said in a statement on Wednesday.
The law center co-authored a 2014 report on the rise of tent cities in the U.S., which it says helped prompt the consultation process that led to the new federal guidance. The center is also one of groups that brought the case in which the Justice Department filed the legal brief. That case, Bell v. City of Boise et al., is playing out in the U.S. District Court for the District of Idaho.
Each of the plaintiffs in the case were either cited or arrested for camping or sleeping in public. A court hearing on summary judgement in the case is scheduled for Aug. 20.
According to the newly issued guidance, plans to address encampments should include four key elements: preparation and adequate time for planning and implementation; collaboration; intensive outreach and engagement; and pathways to permanent housing.
The council also included more specific recommendations, such as learning the names of people living in encampments, quickly identifying who owns the land where a tent site is located and seeking to incorporate the input of camp residents during planning processes.
The U.S. Interagency Council on Homelessness is an independent agency within the executive branch of the federal government, which consists of 19 cabinet secretaries and agency heads.
Route Fifty's coverage from earlier this year about how local governments in Des Moines, Iowa, Portland, Oregon and Seattle were addressing encampments can be found here.
(Photo by Wollertz / Shutterstock.com)