Examining the Role of the Public Sector in Developing Boston's Innovation District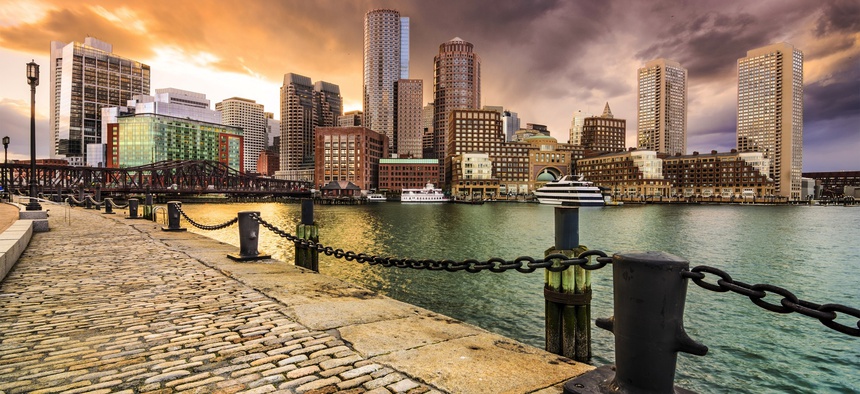 Mayor Menino had the original vision and his team showed a bias for action, a desire to experiment and do things differently.
Recent initiatives in cities across the United States have shown that cross-sector collaborations have stronger chances of succeeding and affecting large scale change if they are aligned with mayoral priorities. Mayors can act as powerful champions for collaborative initiatives by attracting public attention, building perceptions of legitimacy and prestige, providing access to stakeholders who are key to the collaboration's goals and mobilizing financial and/or non-financial resources.
At The Intersector Project—where we seek to empower practitioners in the business, government, and non-profit sectors to collaborate to solve problems that cannot be solved by one sector alone—we've recently completed a study of the role of intersector collaboration in the Boston Innovation District, whose development provides an outstanding example of a government-led economic development approach involving collaboration across sectors. (For background on the District and more on the Mayor's vision, see our previous Route Fifty piece.)
Then-Mayor Thomas M. Menino was the originator of the Innovation District vision in 2010, giving the City of Boston full ownership of its development. City government staff advocated from within City Hall to the greater Boston community, while the mayor leveraged his relationships to engage key stakeholders. When Mayor Menino declined to run for a sixth term, Martin J. Walsh was elected mayor in November 2013, inheriting the vision for the District. Staff turnover followed the mayoral transition, and a few key staff members and partners involved moved on to other opportunities, while others continue to strengthen the entrepreneurial community from within the District.
Traditional Public Sector Role  
In the context of economic development projects, the public sector traditionally operates as the regulatory and administrative gatekeeper. City government works to ensure that the local environment is conducive to economic growth and has the ability to attract private investments, create jobs, and enable effective service delivery. The public sector has several tools to spur and sustain economic development. Traditionally, these include zoning regulations, permitting processes, the development of physical infrastructure and tax incentives. In the context of the District, the public sector aimed to keep development costs to a minimum and to allow the District to flourish in accordance with market forces. Kairos Shen, the former Director of Planning at the Boston Redevelopment Authority (BRA), shares this view: "It was a sense of the public sector and the Mayor's Office and the BRA defining clearly the public goal . . . but then not regulating it to happen. Letting the market . . . figure out what was the best course of action."
There were exceptions to the public sector's hands-off approach during both mayors' terms. Vertex Pharmaceuticals' move to the District's waterfront Fan Pier Development, an important milestone for the District, was largely facilitated by Mayor Menino's relationships with developers and his willingness to personally engage key private-sector players. It is currently the largest commercial lease in Boston, amounting to $1.1 billion. On May 20, 2011, the Boston City Council's Committee on Economic Development and Planning held a hearing to take testimony and consider the approval of a 15-year Tax Increment Financing (TIF) agreement regarding real estate taxes between the City of Boston, Vertex, and The Fallon Company. With support from Mayor Menino and BRA staff, it passed on May 25, 2011, allowing Vertex to save $12 million in real estate taxes. This was one of two instances that the public sector openly advocated for financial incentives to attract private-sector players to the District. The other more recent instance was the City Council's approval of a 13-year TIF agreement for LogMeIn, providing the computer technology company with $2.5 million in tax savings.
In both cases the agreements were intended to incentivize the companies to move into the District, creating new jobs and providing tax revenues to fund public services. As legal scholar and urban governance expert Richard Briffault notes: "TIF empowers local governments . . . to articulate and shape a distinct urban development vision, and to woo the particular developers and firms necessary to bring that vision to life. . . . TIF can help a mayor, city manager, or planning director be a political entrepreneur as well as an economic one."
Non-Traditional Public Sector Role
Nigel Jacob, Co-Chair of the Mayor's Office of New Urban Mechanics (MONUM), describes the benefits of a less traditional approach:
Big tax subsidies [that] encourage people to come in, I think those things can play a part, but it can often create very artificial context . . . where . . . after the subsidies run out, it just becomes a ghost town. I think the important lesson from the Innovation District so far . . . is really to focus on the needs of people. . . . Start there, and cultivate relationships and connect people. It's not just physical infrastructure that builds neighborhoods. It's social infrastructure, and that's something we can do in government. We can help to build and encourage that social infrastructure.
The City's focus on directly building social infrastructure for the District was an effective though less traditional development approach. Mayor Menino aimed to develop a community that holistically met the needs of independent entrepreneurs, established companies, and new ventures alike. The approach was unique because of the absence of a pre-existing community bound by a common area of residence. As such, cross-sector interactions with companies and organizations like MassChallenge and District Hall played a crucial role in helping to strengthen community among a largely imported contingent of design and technology workers.
Another less traditional public sector approach has been the use of public entrepreneurship and prototyping in economic development agendas. Mitch Weiss, former chief of staff to Mayor Menino and now a lecturer at Harvard Business School, defines public entrepreneurship as an approach to public sector management that draws upon a set of "lean" startup principles, including hypothesis-based experimentation and testing, iterative learning, and speed, agility and willingness to pivot. Mayor Menino's team took this approach with the District project from the start. Rather than commission a lengthy consulting study to assess the merits and key implementation decisions of the District vision, the Mayor engaged with all the relevant stakeholders to test and refine his approach. The initial vision for the District that the Mayor described in his State of the City speech in 2010 provided a broad overview, which then evolved over the next several years as more concrete plans took shape.
Throughout the process, the Mayor's team showed a bias for action, a desire to experiment and do things differently, and a willingness to change course if circumstances beyond their control or stakeholder feedback suggested that they should do so. This public entrepreneurship approach made possible the impressive speed with which the Innovation District vision became a reality—the District project gained significant traction just a year or so into its life. The other key benefit of this public entrepreneurship approach was the resource efficiency that it enabled. Other than the few strategic tax incentives and a good deal of the Mayor's time, limited public resources were deployed to make this project possible. This asset-light approach increased speed and flexibility—avoiding lengthy budget approval processes, for example—and forced the Mayor's team to be creative in aligning stakeholder interests to move the project forward.
Since the development of the District, Boston has worked to institutionalize more dynamic processes of public planning and service delivery. MONUM, for example, which was created after the inaugural speech that also launched the District, focuses on improving the quality of life for city residents through nimble testing of initiatives and strategies. Jacob explains their process: "We tend to work in a very iterative, experiment-driven model [in] which we're constantly trying to learn what works and what people like and they don't like in terms of services and experiences in the city."
Our full study of the Boston Innovation District is available online at intersector.com.