Los Angeles, San Francisco Leaders Green Light New Gun Safety Rules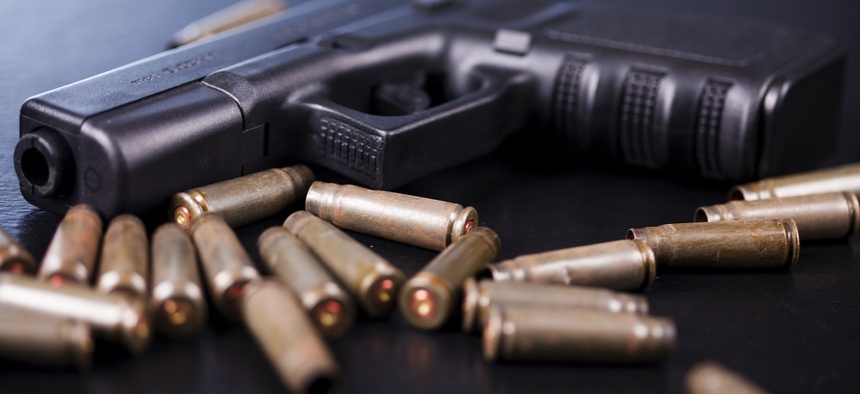 "It is incumbent on local jurisdictions" to take action where Congress has failed, says a member San Francisco's Board of Supervisors.
Municipal lawmakers in Los Angeles and San Francisco passed gun-safety legislation on Tuesday amid what many city officials around the nation say is a vacuum in congressional leadership on a national solution to improve gun safety and combat gun-related violence.
At Los Angeles City Hall, members of the City Council unanimously passed legislation that would require gun owners to keep their handguns locked up or disabled with a trigger lock when not in use. The legislation now goes to L.A. Mayor Eric Garcetti for his approval or veto.
Meanwhile, a few hundred miles to the north, members of the San Francisco Board of Supervisors approved proposed gun-safety policies that would require the videotaping of guns and ammunition sales by firearms retailers and calls for those businesses to maintain records on ammunition sales and share them with the San Francisco Police Department.
The action at the city halls in Los Angeles and San Francisco on Tuesday echoes calls by local government leaders in different parts of the nation who are urging members of Congress to pass gun-control legislation. A new Politico survey of 45 mayors from around the United States revealed that more than 90 percent say that Congress "is doing too little on issues of firearm regulation and gun violence."
"Buck up and stand up to the NRA. Listen to the voice of the people of America," George Heartwell, the outgoing mayor of Grand Rapids, Michigan, said according to Politico, which noted that its mayoral survey wasn't scientific.
San Francisco Board of Supervisors member Mark Farrell, who introduced the legislation in his city, said in a statement that municipal governments need to act in the absence of action in the nation's capital:
Congress continues to fail the American public when it comes to gun safety laws, so it is incumbent on local jurisdictions such as the City of San Francisco to actively promote legislation to protect the public safety of our residents. This package of gun safety policies will help deter violence and aid local law enforcement in their crime investigations.
Farrell's proposal has four primary goals, according to the supervisor's statement:
Ensure that dealers' operations within San Francisco will not be detrimental to public health and safety.
Prevent and detect illegal trafficking of firearms and ammunition by dealers and their employees.
Prevent the loss and theft of firearms and ammunition from dealers.
Prevent and detect the sale of firearms and ammunition by dealers to persons who are prohibited by law from possessing these items.
But in a practical sense, Farrell's legislation might not be needed. San Francisco's single remaining gun shop is in the process of closing its doors.
As National Public Radio reported on Tuesday, High Bridge Arms contends that among the reasons it was closing was Farrell's proposal, especially the requirements to record gun and ammunition purchases and report ammunition sales to police.
While critics of rules like videotaping gun sales say they're cumbersome and burdensome on business owners, advocates of rules like having of such visual records of gun buyers from sales is not uncommon: Walmart has instituted such policies.
Although critics say that local restrictions sales will simply send customers to other jurisdictions, Farrell isn't apologetic for his legislative initiative.
"I do believe our city government should be very protective and very restrictive around guns, and I'm not ashamed to say that and won't back down," Farrell said, according to NPR.