Deal Reached on How to Manage, Split Costs for Hudson River Rail Tunnel Replacement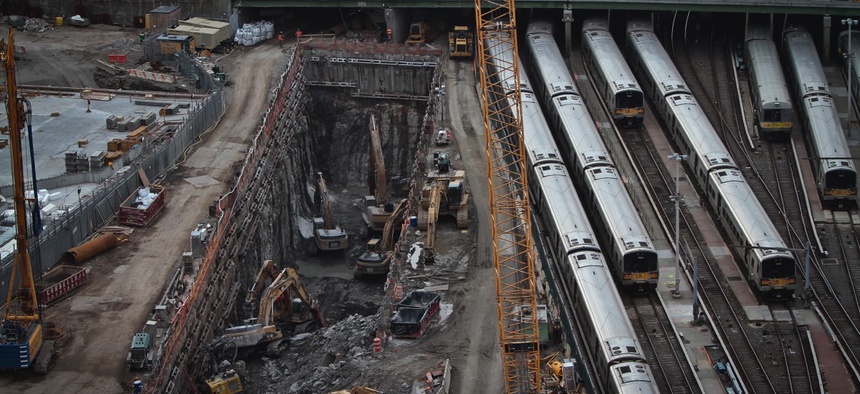 Development corporation to oversee the critically important infrastructure project for New York City region and Northeast Corridor.
Agreement on a framework to line up the billions of dollars needed to build a new pair of rail tunnels underneath the Hudson River between New York and New Jersey has been reached, state and federal officials announced late Wednesday.
The arrangement includes a commitment from the U.S. Department of Transportation and Amtrak to cover no less than 50 percent of the mega-project—dubbed the Gateway Tunnel Project. A newly created development corporation under the Port Authority of New York and New Jersey will be responsible for crafting a financing plan and overseeing construction.
That new entity, called the Gateway Development Corporation, will be charged with identifying federal grant opportunities and pursuing low interest loans. It will have a four-member board that will include Port Authority representatives for both New York and New Jersey, as well as one representative from Amtrak and another from the Department of Transportation.
New York Gov. Andrew Cuomo, a Democrat, and New Jersey Gov. Chris Christie, a Republican, announced the agreement, along with Sens. Charles Schumer of New York and Cory Booker of New Jersey, who are both Democrats.
Cuomo and Christie sent a letter to President Obama in September asking that the federal government pay half the tab for the project. They said that with such a funding commitment in place, their two states would figure out how to pay the remainder of the costs.
Preliminary estimates put the price of the project at around $20 billion.
"This agreement marks the first inning of a long game," Schumer said in a statement. "[B]ut it's a big change that has the federal and state players on the field on the same team, instead of in opposing dugouts."
He and Booker were instrumental in securing the federal funding commitment, according to Wednesday's announcement. The plans for the development corporation reflect a proposal that Schumer put forward in August.
A pair of rail tunnels now underneath the Hudson River are about 105 years old and were damaged during superstorm Sandy in 2012. They provide a critical link for Amtrak and New Jersey Transit trains travelling in and out of New York City's Pennsylvania Station.
Amtrak officials have said that the existing tunnels have only 20 years of service left, possibly less.
According to Wednesday's announcement, the development corporation will look toward pursuing a low interest loan through the Railroad Rehabilitation & Improvement Financing program and the Transportation Infrastructure Finance and Innovation Act, or TIFIA.
The senators and governors also said they would work to ensure that debt service is deferred until the time the project is complete.
In 2010, Christie, who is currently vying for the Republican presidential nomination, cancelled plans for a related rail tunnel project, Access to the Region's Core, citing concerns that New Jersey taxpayers would end up paying cost overruns.
Earlier this year, Cuomo was not enthusiastic about his state paying for the Gateway Project. At a press conference in August he declared, "It's not my tunnel" and noted that it was used by Amtrak and New Jersey Transit trains.
Although Cuomo and Christie have said their states will find half of the money needed for the new tunnels, specifics on how exactly the costs will be divided and covered remain unclear.
But Cuomo took an optimistic view of the new agreement.
"We have been working to break the federal logjam and get the federal funding that this massive undertaking requires," he said in a statement, adding that the states' partners in Washington "are putting real dollars—not just loans—on the table."
"As soon as the federal government delivers the funding we will proceed," he added.