Pa.'s Budget War Puts More Programs in Jeopardy; Next Steps for Ohio Minimum Wage Plan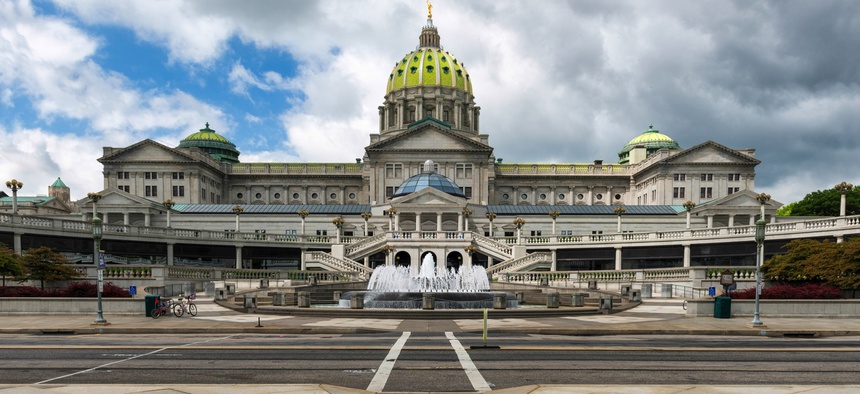 Also: Investigating county jail problems in Kansas City and Airbnb's impacts on a small town.
Here's some of what we've been reading this weekend …
HARRISBURG, Pennsylvania: There are more signs that the continued Keystone State budget stalemate between Democratic Gov. Tom Wolf and the Republican-controlled legislature is putting more non-profit organizations and state-subsidized services, like pre-kindergarten programs, in serious jeopardy. As The Associated Press reports:
County governments and local school boards waiting on billions in state aid are burning through loans and emptying reserves. Some social services organizations are shuttering programs and laying off hundreds of workers who care for the state's most vulnerable populations.
The impacts are being felt across the state. In Lewistown, a homeless shelter may be forced to shut its doors in the coming weeks, according to WITF. "They'll truly be on the street, which is sad," says Jill Pecht, executive director at Shelter Services Inc., which serves three rural Central Pennsylvania counties. [AP via Philly.com; WITF via Keystone Crossroads]
COLUMBUS, Ohio: A proposed state constitutional amendment that would raise the minimum wage in the Buckeye State to $12 by 2021 has cleared one procedural. On Friday, the Ohio Ballot Board voted 4-0 to green-light the Ohio Fare Wage Amendment for the signature gathering process, according to The Dispatch. Backers must now collect more than 300,000 valid signatures for the proposal to make the 2016 ballot. [The Dispatch]
HOOD RIVER, Oregon: The fight over regulating short-term rentals through services like Airbnb might seem more like a issue for larger urban areas, but smaller communities are trying to sort out local rules, too. As The Oregonian points out, when Steve Wheeler moved to this vacation-community east of Portland last year to become Hood River's city manager, he found it difficult to find housing because so many local rentals have nine-month leases—during the summer, they're offered as short-term summer rentals aimed at Airbnb customers. [The Oregonian via OregonLive.com]  
COLUMBIA, South Carolina: The recent historic flooding in South Carolina associated with Hurricane Joaquin that caused numerous dams to fail in the Columbia area is prompting some officials to wonder whether there's enough coordination with private dam owners during high-water situations. As The State reports:
No one yet knows for sure what caused dams to fail along the densely populated Gills Creek system. But the lack of coordination between pond owners has many people—including state regulators, legislators and county leaders—saying changes are needed to protect the public in the future.

Property owners throughout the watershed are discussing whether to form a watershed management district, a quasi-governmental agency that would oversee dams and lakes to make sure they are managed as a unit, rather than individually as they are now. The watershed has about 100 lakes within an approximately 20-mile area, consultants say.
The storm "has brought a boatload of questions we don't have answers for," Richland County Council Vice Chairman Greg Pearce said, according to the newspaper. [The State]
KANSAS CITY, Missouri: A task force formed in August after the FBI began investigating the allegations of the use of excessive force by corrections personnel at the Jackson County Detention Center has found some shortcomings involving the facility that were so "blindingly obvious," as described by one group member. As The Kansas City Star reports, among the top recommendations include raising the pay and increasing the training of corrections officials. "But other concerns raised were less obvious at the outset and for some task force members troubling, task force members" told The Star, including the woeful staffing levels of medical professionals in the detention center. [The Kansas City Star]