Legal Clash Looms Over Seattle Legislation to Organize Uber and Lyft Drivers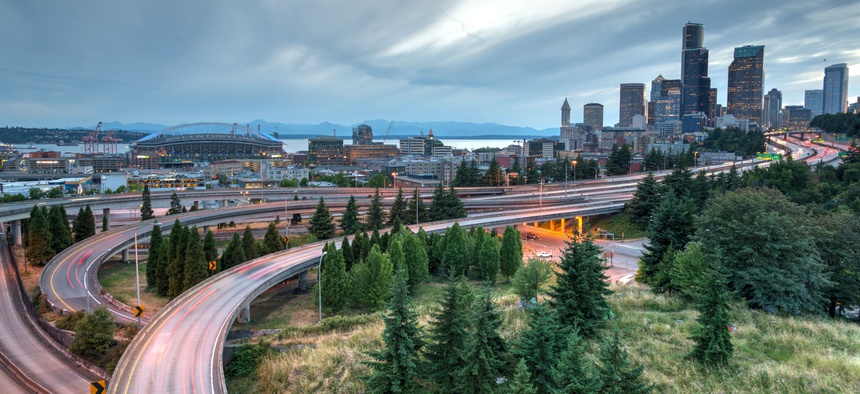 Even though Mayor Ed Murray declined to sign the City Council's bill, it will become law anyway under the terms of the city's charter. But will it survive a likely court challenge?
Setting up the prospect of a legal showdown between the city of Seattle and tech-sector heavyweights Uber and Lyft, the City Council there passed a bill on Monday that would enable drivers for mobile-app-based ride-booking services to form organizations similar to labor unions.
Adding a twist to the legislation's approval, Mayor Ed Murray issued a statement Monday night saying that the Council's ordinance did not have his blessing. "I will not sign this bill," Murray said. The mayor cited concerns that he had expressed in a letter sent to the Council earlier in the day. These centered on possible administrative costs for the city, and the rule-making burden the measure stood to create for Seattle's municipal staff.
But, under Seattle's City Charter, the ordinance will become law anyway without the mayor's signature. Murray indicated that he believes it will be necessary to work with the Council on "clarifying legislation" next year.
The approved bill provides a framework for Uber and Lyft drivers to collectively negotiate with the companies over pay and working conditions. It would cover taxi drivers, and other for-hire drivers as well. The Council approved the legislation in a unanimous 8-0 vote, with Councilmember Sally Bagshaw absent.
Legal experts say that the ordinance could face legal challenges on two fronts. One has to do with whether it is preempted, and therefore overridden, by the federal National Labor Relations Act. The other hinges on whether allowing the drivers to organize amounts to an antitrust violation, effectively allowing a group of independent contractors to fix prices for their services.
Seattle lawmakers are bracing for the possibility that the city may have to defend the ordinance in court.
"The Lyft and Uber representatives seem to be publicly posturing like they will sue," Councilmember Mike O'Brien, who sponsored the bill, said by phone on Monday. But he added: "The fact that someone like Uber says they're going to spend millions of dollars on lawsuits, that doesn't mean we shouldn't do it."
David Plouffe managed President Obama's 2008 campaign and later served as a White House adviser. He now advises Uber. Earlier this year, Plouffe knocked the Seattle City Council legislation, saying "it's generally believed to be flatly illegal."
Uber did not respond to a request for comment on Monday.
In an emailed statement, Lyft urged the City Council and Mayor Murray to reconsider the legislation, saying that "the ordinance passed today threatens the privacy of drivers, imposes substantial costs on passengers and the City, and conflicts with longstanding federal law."
Backing the ordinance was a Seattle-area group known as the App-Based Drivers Association, which has ties to Teamsters Local 117. That union local is also affiliated with the Western Washington Taxicab Operators Association, a nonprofit organization that represents cab drivers in Seattle's taxi industry.
A hotly contested debate in the Seattle City Council spanned from 2013 to 2014 over how to regulate services like Lyft and Uber. During that time, Local 117 representatives argued that the app-based upstarts should be reigned in, to keep the services from competing unfairly with the traditional taxicab industry. This often put Local 117 at odds with Lyft and Uber drivers, who frequently voiced support for the tech companies at City Council meetings.
"Once the law passed, once they no longer needed drivers to show up and show support, they reduced their rates," said Teamsters 117 business representative, Dawn Gearhart.
"UberX drivers realized: 'oh, OK, now I have to work 12 hours in order to make what I used to make in seven or eight, I'm competing with thousands and thousands of people, when there used to be just a few hundred, and I actually have no recourse and no one to talk to at this company," she added.
UberX is a service that relies on people driving their personal vehicles to provide rides.
Under the new ordinance, "entities" seeking to represent drivers would need to submit a request to do so to Seattle's Finance and Administrative Services director. Once the city deems an entity qualified to represent drivers, that entity would have the ability to get a list of drivers from taxi, for-hire and app-based ride-booking companies in the city.
With the list in hand, the representative would be able to solicit drivers to see if they'd like representation. Based on the level of interest among drivers, the Finance and Administrative Services director determines if the entity should become the "exclusive" representative for drivers working with a specific company. After winning this certification from the city, an exclusive representative for a group of drivers could go ahead and negotiate with the company on the drivers' behalf.
Asked why he pushed for the legislation passed on Monday, O'Brien cited concerns about income inequality in Seattle.
"You look at an industry like the taxi industry, that traditionally has been one of the few opportunities, at least in Seattle, for immigrant communities to lift themselves up out of poverty into the middle class, and that ability to do so is being devastated by companies like Uber and Lyft," he said. "These drivers that used to be able to support themselves are now making less than $3-an-hour when they deduct their expenses."
O'Brien then pointed to Uber's current value which, according to a Bloomberg Business report from earlier this month, is upwards of $60 billion.
Possible Legal Challenges
The thinking behind the ordinance goes like this: Because the drivers are considered independent contractors, they are not covered by the National Labor Relations Act, which guarantees the rights of employees to organize and bargain collectively with their employers.
But there has been disagreement over whether drivers for app-based ride-booking companies should be considered employees. Uber has taken the position that the drivers are independent contractors. But the company currently faces a class action lawsuit in California that calls that claim into question, with drivers contending that they are employees.
A ruling the California Labor Commissioner's Office released earlier this year said that one Uber driver in the state should be classified as an employee. Uber has appealed that ruling.
"The central question is: are they employees under the National Labor Relations Act?" Samuel Estreicher, a professor of labor and employment law at the New York University School of Law, said during a phone interview Monday as he discussed the Seattle legislation. "If they are, the ordinance is preempted."
Preemption means that the law would become void because a federal statute takes precedence to it.
Charlotte Garden, who teaches constitutional and labor law at Seattle University's law school, pointed out that if the drivers are considered employees, then they would be eligible to bargain anyway under the National Labor Relations Act.
"The ordinance only picks up where the NLRA left off," she said. 
Garden also noted that while there are not examples of states or municipalities permitting independent contractors to bargain collectively, there are other instances of state and municipal laws that allow other types of workers excluded from the National Labor Relations Act to do so.
Agricultural workers and public employees are two examples of groups that fall into this category.
"There's never been any plausible argument that those state and municipal laws are preempted by the NLRA," she said.
For such reasons, Garden believes a preemption challenge would be the less significant of the two legal hurdles the ordinance might have to overcome.
In her view the antitrust issues are murkier. Again, the idea here is that the bargaining by the drivers would amount to price-fixing on the part of independent contractors.
"Antitrust law covers concerted activity by independent contractors in most circumstances," Garden explained. The big question, she said, is whether an exemption known as the "state action defense" applies to the ordinance, and by extension, bargaining by the drivers.
In order for the exemption to apply, activity that would otherwise be considered an anti-competitive, antitrust violation would have to meet certain criteria.
For one thing, it would have to be put into effect in accordance with a clearly articulated state policy. And, for another, the activity would have to be supervised by the state.
"It's just not clear to me what a court would say about whether those requirements are met, and that's because it seems to me this is not particularly similar to cases that have arisen before," Garden said. "There are just a lot of question marks about how the law would apply in a case like this." She added: "I am hesitant, even more so than usual, to predict what a court would do."
'We Need, Like, A Normal Price'
All told, the associations affiliated with Teamsters 117 represent about 1,000 taxi, for-hire and app-based ride-booking drivers. Many of them switch between vehicles, sometimes piloting taxicabs, other times driving for Lyft or Uber, according to Gearhart, the union local's business representative.
"This has really been drivers coming to us, saying here's what our issues are," she said of the App-Based Drivers Association. It wasn't always this way. Especially not when Lyft and Uber first came to Seattle. "At first we couldn't get UberX drivers to be supporting taxi drivers. They were making $35 an hour. It was great. Nobody blames them for wanting to save ride-sharing."
"It turned out it was not as good as it seemed up front," Gearhart added.
Beruk Tekse moved to Seattle from Ethiopia in 2008. He has been providing rides through app-based services for nearly two years.
"When I started, it was good," he said.
It was around July of last year, when he began driving for UberX and also bought a new Toyota Prius. Since then, he has put about 45,000 miles on the car, he said. About a month ago, he began driving for Lyft as well.
"Right now on the road it's a lot of drivers," Tekse said. "For full time drivers it's not good."
"People are working 10 hours, to 12 to 16 hours some people, to make $200, but before we could make that money by 8 hours. Right now it's a lot of change. The price is going down," he added. "I used to drive a taxi, but right now there's no taxi business." This, he said, is because instead of hailing cabs, riders are using Uber and Lyft because the apps are a cheaper and easier option.
Tekse said he supports the Council's collective bargaining proposal. Asked what he would want to achieve through negotiating with the companies, he said: "We need, like, a normal price."
Additionally, he said he'd like to see drivers get more respect from the companies. Specifically, Tekse said that he knew of instances when drivers had been booted off of the apps because of low ratings from their riders, but that they did not receive much explanation from the companies about how they might remedy the problems that led to their "deactivation."
Unlike the initial round of legislative debate about how to regulate app-based ride-booking in the city, O'Brien said he'd heard less recently from constituents who were speaking up on behalf of the companies.
"Seattle is a very progressive town, and even people that rely on Uber on a regular basis to get around seem to be supportive of the idea that their drivers should be treated fairly," he said. "Whatever that means. Including if they have to pay a few bucks more for their transportation."
(Top photo by Trong Nguyen / Shutterstock.com)