Why Many Cities Should Be Envious of D.C.'s Parks and Recreation Programs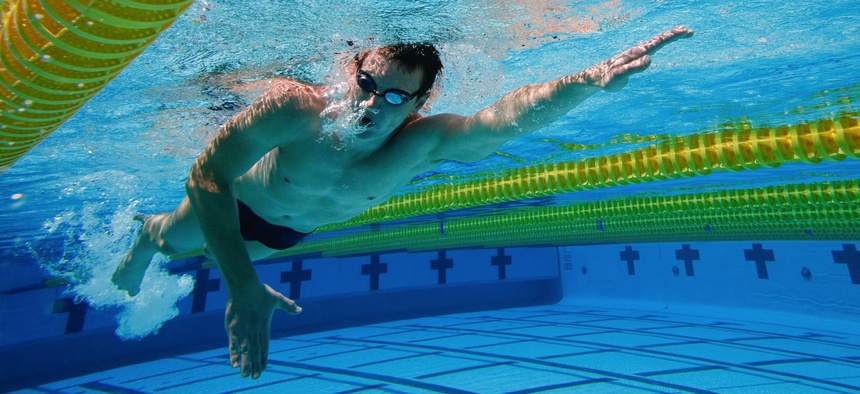 The nation's capital is a swimmer's paradise because of its investments in municipal pools. And now, non-swimmers can take advantage of a great wellness perk the District offers its residents.
WASHINGTON — January is normally a time when people have renewed enthusiasm—or feigned enthusiasm—for exercise and wellness as part of a New Year's resolution.
At the end of 2014, I resolved to increase the frequency of my swimming to a few days a week. It wasn't a firm resolution, but during the course of 2015 I was fairly consistent in swimming three days a week. In a handful of motivated periods, I was in the pool five days a week.
This month in the New Year? I've only been once. The municipal pool I normally swim at, the District of Columbia Department of Parks and Recreation's Takoma Aquatic Center, has been closed for a few weeks for deep cleaning and maintenance upgrades.
Despite that pool being closed, I have no excuse for not keeping up my swimming routine. The nation's capital offers more public swimming pools per capita of any city in the United States—11 indoor aquatic centers and nearly 20 seasonal outdoor pools.
Even more impressive? Access to municipal pools is free for District residents—something few other cities can boast. (It's $7 per day for adult non-residents, with reduced fees for non-resident children and seniors.) That access makes the pools very popular.
So, it was briefly confusing to see a proposed new fee structure for DPR facilities posted on Jan. 1 in the D.C. Register, where municipal regulations and other official District government information is published.
And that fee structure included admission fees for District residents, $5 per day for adults and $2 for youth. Upon first glance, it was a big departure from the fee-free access District swimmers have been used to.
In an interview last week, DPR Deputy Director John Stokes clarified that the fee structure that was posted in the D.C. Register is what the department would be authorized to charge D.C. residents for pool access. And the agency is authorized to charge a pool admission fee for D.C. residents right now.
But the department, Stokes explained, doesn't actually charge the admission fee for D.C. residents and will continue to allow the fee-free access, even with the new fee structure. which Stokes said the fee proposal was simply part of an effort to update the department's facilities regulations.
"By right, we can charge fees to swim, but we continue to waive those fees," Stokes said.  
It's part of the District's commitment to encourage health and wellness.
"You have had over the course of years, mayors who have prioritized health and wellness," Stokes said.
And DPR doubled down on that when the agency recently announced that its fitness centers would be available fee-free for residents this year, too.
"We take fitness really seriously," Stokes said.
This shouldn't come as a surprise from a jurisdiction that boasted a former mayor, Adrian Fenty, who prioritized parks and recreation investment and maintained an intense exercise regime while in office—Fenty, who left office in 2011—was once rated one of the world's 25 fittest men by Men's Fitness.
My 2015 travels for Route Fifty made me appreciate the District's aquatics commitment even more. In my efforts to keep up my lap-swimming  routine, I was able to check out what other cities have to offer with their municipal pools.
Many places I visited have more limited hours for lap swimmers than in D.C., where many pools are open for lap swim 6 a.m. to 9 p.m.
In Palm Springs, California, the municipal outdoor swim center is certainly beautiful—with great views of Mount San Jacinto—but had somewhat more limited hours. The same was the case with lap hours at my alma mater high school in East Grand Rapids, Michigan, which has a great facility.
In Seattle, the salt-water Colman Pool, a seasonal outdoor facility on the shores of Puget Sound, had very limited hours, meaning that when it is open, it's heavily used—translation, circle swim with multiple swimmers within lanes.
In Utah, I enjoyed the Park City Municipal Athletic and Recreation Center, which the city government took over from a private fitness club and upgraded. In terms of facilities, it was probably the nicest parks and recreation facility I visited in 2015. There's no indoor pool, but I did get to enjoy the outdoor pool during some especially beautiful autumn weather while visiting the area.
In Raleigh, North Carolina, I discovered that the Pullen Pool boasted lanes that were seemingly wider than most I've encountered, which makes splitting lanes easier. While the facility itself is perfectly nice, Raleigh's Aquatics division has something that any municipal pool should have posted on its website: A day-by-day grid of lap lane availability. While it might not seem like much, this grid helps swimmers better plan out how many lanes might be available instead of simply having hours of when lanes are available for laps.   
That can be especially helpful for times at D.C.'s Takoma pool when there's only one lap lane available between 7:30 p.m. and 8 p.m., a crunch time when Washington Wetskins water polo team starts practicing in one section of the pool and a youth swim league occupies the rest of the lap lanes.
That's a minor quibble in an otherwise well-run facility. So as a District resident, I may not enjoy full and equal voting representation on Capitol Hill like most other Americans, but I do have have great municipal pool facilities compared to most. That's not a fair trade-off, of course, but it's something.