Lawmakers Move to Initiate Impeachment Process for Alabama's Governor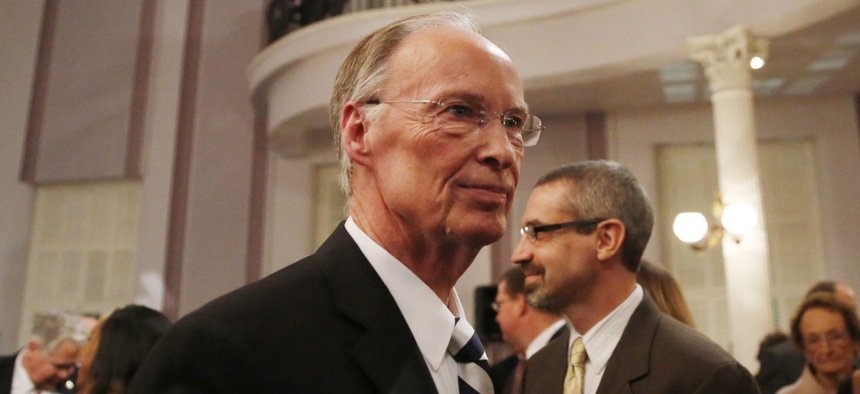 Scandal-plagued Gov. Robert Bentley accused state Rep. Ed Henry, and other House lawmakers backing the impeachment resolution of playing politics.
An Alabama lawmaker said Tuesday he would file articles of impeachment in the state's House of Representatives against Gov. Robert Bentley, who has become mired in a scandal involving allegations that he had an affair with a top political adviser.
Bentley quickly shot back, calling the move "political grandstanding" and saying there were no grounds for impeachment. It was not immediately clear how the impeachment resolution would progress procedurally, or whether there was enough support among lawmakers to push the articles through the House and on to the Senate.
"We've never done this before," state Rep. Ed Henry, a Republican who is leading-up the impeachment effort, said during a news conference that was recorded on video. "We've never tried to impeach a governor. We have had the impeachment process one time in 1915."
Also at the press conference, which was held in Montgomery, were House Minority Leader Craig Ford, a Democrat, and Reps. Mike Ball and David Standridge, who are both Republicans.
Bentley, a Republican, declared in a statement responding to the impeachment resolution: "I will vigorously defend myself and my administration from this political attack."
The governor, a 73-year-old dermatologist and former Baptist deacon, has previously touted family values. He began his second four-year term as Alabama's governor in January 2015.
Last August, his wife of about 50 years filed for divorce.
In late March, the former head of the Alabama Law Enforcement Agency, Spencer Collier, said he knew of evidence showing there'd been an inappropriate relationship between Bentley and his political advisor, Rebekah Caldwell Mason, who is married. Mason has since resigned. Collier, who Bentley fired, has also said the governor told him to lie to the Alabama Attorney General's Office about a matter tied to a corruption investigation into the state's House Speaker.
The governor later admitted that he had made inappropriate comments to Mason. An audio recording then surfaced, in which Bentley can be heard apparently making remarks to her about her breasts, as well as other sexually suggestive comments. Bentley has denied that he had a physical affair with Mason, who was paid with campaign money and was not a state employee.
After mentioning the recording, and allegations that the governor had an affair with Mason, Henry said on Tuesday: "It's hard to believe that that hasn't clouded his judgement, that he hasn't used his office to cover up the affair…There may be other things out there. It calls into question everything that the governor's done. And that's what we are going to get into here."
Pressed on the grounds for the impeachment, Henry claimed "the allegation is he has misused state funds." He added: "We're not going to get into the specifics."
Ford, the House minority leader, suggested that the governor may have engaged in obstruction of justice in his dealings with Collier. "I could care less about his personal conduct," Ford added.
Once introduced, the impeachment resolution was on track to go to the House Rules Committee, Henry said. A floor vote, he noted, may be possible by next week. But bringing up the bill out of order, he acknowledged, would require support from four-fifths of the House.
"I'd love to just get an up or down vote on the floor of the house," Henry said.
The Republican speaker of the Alabama House, Mike Hubbard, was indicted in 2014 on 23 corruption charges. His trial was set to begin next week, but was recently delayed.
Henry on Tuesday characterized that legal matter a separate situation from the impeachment resolution.
An unscientific poll conducted in late March by the Alabama news website, AL.com, found 89 percent of 20,155 respondents thought Bentley should step down. About 8 percent believed he should not, while 3 percent weren't sure.
Standridge pointed out that he had backed the governor in his election campaigns. "It is sad," he said as he discussed the impeachment articles on Tuesday. "It's hard for me."
"This is a tough day," he added. "This is a tough day for the state of Alabama."