Removing a Whale Carcass Can Be a Vexing Local Governmental Headache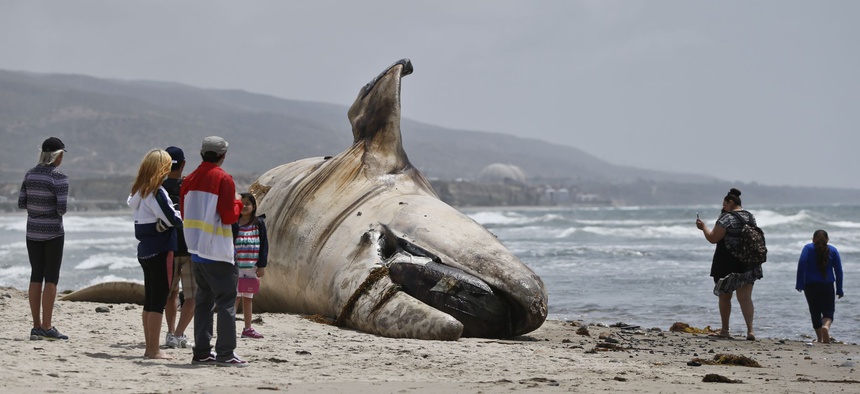 Disposing of a smelly, decomposing whale isn't a simple process, as many localities discover when blubber starts to ooze out on the beach.
If a truck carrying frozen, cooked crab tips over and spills its load down from busy elevated highway— just like in this incident in downtown Seattle from earlier this month—it's a fairly straight-forward cleanup process. Scoop, dispose and repeat until the mess is cleared up and traffic can move again. Same goes for crates of fish. ( That happened last year on the same Seattle highway, involving "three quarters of a million dollars of fish.")
But cleaning up frozen crab and fish seems relatively minor when you put them up against a far more massive sea creature that's been attracting headlines this week in Southern California.
A 40-foot, 60,000 pound gray whale, which likely died of natural causes, washed up on the San Onofre State Beach in Orange County on Sunday. It's not blocking any major roadway, but it presents some beachside hazards, beyond the obvious problem of a decomposing whale having "the worst garbage smell you can think of," a curious onlooker told the Orange County Register .
First, decomposing whales can explode . (You've seen the video footage of the exploding whale in the Faroe Islands , right?)
For surfers, the decomposing whale could increase the likelihood that sharks will be drawn to that stretch of coastline—the whale's "dark skin was stretching apart as the tan-colored blubber expanded; blood and goo oozed out into the sand and seeped into the ocean," the Register reported about the San Onofre State Park whale.
In these types of situations, local authorities have two main removal options: drag the whale out to sea for disposal or cut the whale up into smaller pieces on the beach and then dispose. Burying a whale at the beach is usually difficult.
Where a decomposing whale eventually ends up depends on who's in charge. In the case of the whale in Orange County, the state park is currently responsible, and parks officials have been studying different removal options. According to Surfline , they're leaning toward land removal .
Whale carcass jurisdictional responsibilities can be more complicated elsewhere.
According to a 2008 feature on whale carcass removal in North Coast Journal in California:
In a bigger town like Crescent City, decisions about what to do with a beached whale fall somewhat naturally to local leadership. In their case, the process of dismantling and burying the whale was a joint effort of the chamber of commerce and the Surfrider Foundation. In a place like Petrolia, however, where there is no local government and, as one local resident quips, "the role of mayor is a fluid one," how such a decision will be made is anyone's guess.

While there is a scattered chorus of Petrolia residents who like the idea of burying the giant mammal and unearthing it later for public display, the nitty gritty of making it happen poses a challenge and, as Simpson offers, "it's possible that such a project is beyond the capacity of our community."
Many leaders just want the whale carcass gone as quickly as possible.
When a whale washed up around a fishing pier in Deerfield Beach, Florida, in December 2012, Mayor Peggy Noland wanted the carcass gone as quickly as possible and didn't want a necropsy done on the animal.
"It was quite ripe. They were gagging. Those guys down there were gagging," Noland told NBC Miami , referring to paramedics and lifeguards on the beach. "So can you imagine what would have happened if they had cut it open? No one would have gone to my beach for two months."
The whale was towed out to sea .
Carcass removal can sometimes spark intergovernmental squabbles over the costs of removal and cleanup. In 2014, the mayor of a beachside municipality in Western Australia wanted the state government to pay for the removal of a rotting whale .
"I want the Premier to say to me, to my face, that he is not coughing up the bill for my city," Stirling Mayor Giovanni Italiano said, according to the Australian Broadcasting Corporation.
"He shouldn't expect that my ratepayers should foot the bill for this clean up. It's not our responsibility, it's the State Government's responsibility."