Wisconsin Awaits Implementation of Scott Walker's Civil Service Reform Law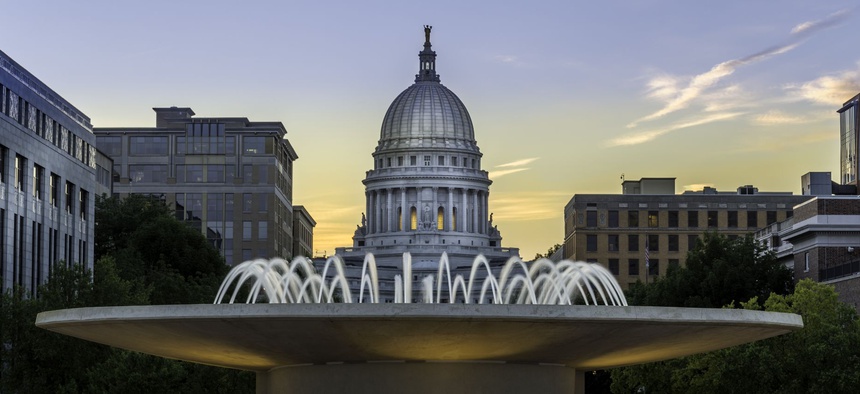 Supporters say it will help the state government be more effective in hiring and firing but opponents fear weakened worker protections.
A controversial overhaul of procedures used to hire and fire state employees in Wisconsin is set to take place this July.
The changes will go into effect under Wisconsin's Act 150, which Republican Gov. Scott Walker signed in February. Among other policy modifications, the law will shift hiring away from civil service exams, toward a system based on applicants' resumes, and will base layoffs primarily on performance, lessening the influence of seniority over whether a person keeps their job.
Proponents say the changes will speed up hiring and make it easier for agencies to cull poor performers and bad apples from their ranks. Critics argue the new law opens the door for political patronage and other forms of favoritism to sway who gets state jobs. And some say it makes it easier for supervisors in Wisconsin agencies to arbitrarily punish employees.
The new civil service guidelines also highlight difficulties state governments face when measuring worker performance, and factoring that into decisions—such as who to layoff.
"Much remains to be seen in terms of how the state implements it," said Donald Moynihan, a professor at the University of Wisconsin-Madison's Robert M. La Follette School of Public Affairs, whose research has focused on public sector performance.
"I think the way in which the legislation itself was passed is not a promising sign," he added. "There wasn't a lot of outreach to the people who'd be affected by this. It wasn't really clear what the model was based on."
Leading the implementation of the new law is Wisconsin's Department of Administration.
The department declined repeated requests to provide details about its implementation efforts. Four other state agencies also declined to discuss the work they were doing to transition to the Act 150 policies, referring questions to the Department of Administration.
"In general, we prefer not to discuss a process while it is an ongoing process," James Dick, a spokesman for the department, said by email.
'A Perennial Issue'
In addition to the shift to resume-based hiring and the revised criteria for layoffs, some of the other provisions in the Wisconsin statute include: probation periods of one year for new employees, which can be extended for an additional 12 months; a bonus program for high-performing employees; and guidelines for certain conduct that can lead to an employee getting fired, suspended, or demoted without intermediate disciplinary steps—such as drunkenness on duty, falsifying agency records, or viewing pornography on work computers.
The state's reform initiative is not entirely unique.
"I can tell you that civil service reform is a perennial issue," Jerrell Coggburn, a professor of public administration at North Carolina State University's School of Public and International Affairs, said by email last week. Referring to the Wisconsin law, he also noted: "It perhaps has gone a little further than anyone else, but this is part of a longer-term trend."
A common narrative driving reform efforts, Coggburn said, is that protections from unions and elaborate procedures make it exceedingly difficult to fire or discipline public employees.
But pitfalls can arise when those protections, as well as exam-based hiring processes are scaled back.
"The substitution of patronage for merit is the overriding concern of those who oppose current reforms and an important phenomenon for those of us who study public human resources and civil service reform," Coggburn said.
Concerns like this can run deep in Wisconsin, where labor groups have clashed with Walker. The governor in 2011 signed a bill that stripped away most collective bargaining rights for public employees in the state.
Rick Badger, is executive director of the American Federation of State, County and Municipal Employees' Council 32, which is based in Wisconsin. "We will be watching this closely," Badger said by email, referring to the new package of civil service policies.
He added: "The law centralizes all hiring under the Department of Administration, the department closest to the governor and staffed by the governor's top political appointees."
Badger and others in the labor community are uneasy about the administration's role in the hiring process under Act 150.
"It's unlikely an exceptionally qualified job candidate will be hired by this administration if he or she once worked for, say, Planned Parenthood, a labor union or some progressive cause," he said. "Conversely, some future administration might weed out candidates who may have once worked for some anti-abortion or other politically charged organization."
Civil service exams have traditionally been seen as a bulwark against the influence of politics and other biases in the hiring process, noted Moynihan, the University of Wisconsin professor.
"The historical logic for a civil service exam was, first you would try to get people who were qualified versus not qualified, and second it also provided a blind tool that would prevent you from hiring your nephew, or the person who went out and knocked on doors for you for your campaign," he explained. "Or the person who just generally shares the political leanings that you have."
But the Walker administration sees much promise in Act 150. Dick, the Department of Administration spokesman, said the law would "provide a more effective, efficient and streamlined hiring process" to help the state recruit and retain top talent.
'I've Got No Recourse'
Colorado and Arizona are two other states that have in recent years overhauled civil service policies, making changes akin to the ones that will soon take place in Wisconsin.
One of the goals in Colorado was to cut the amount of time it takes to hire employees. In this regard the state has seen success, according to Doug Platt, a spokesman for the state's Department of Personnel and Administration.
Platt provided figures showing the average number of days between a request to fill a position, and when an applicant is referred for a job interview, has dropped in every year since 2012, following substantial changes to the state's hiring processes. The average number of days between a request and an interview was about 47 in 2012. Last year, it was around 27.
But some public workers in the state remain critical about aspects of the reworked policies.
"What we've actually seen is that departments are going through reorganizations and using those reorganizations to terminate people," said Timothy Markham, the executive director for Colorado Workers for Innovative and New Solutions, a union that represents over 31,000 state employees. Markham said the union was initially worried about how the policy changes in Colorado would factor into instances when there were large-scale layoffs. But what they've seen in practice are situations where there are "reorganizations of just one position."
"That is troubling," he said. "I don't think it was something we totally foresaw, that they would use reorgs at such a micro level to just start knocking out individual workers."
The Arizona Department of Administration did not respond to an inquiry about personnel policy changes in the state that date back to 2012.
But Robert Blackmer, a public relations officer for the Arizona Correctional Peace Officers Association, said the new policies have made it so employees are more apt to be reluctant to raise concerns about safety and other workplace issues to supervisors. He contends that under policies that were in place prior to the changes this was less likely to have been a problem.
"If middle management wanted to make life difficult for the staff member that's making a fuss, you had that backup there, to be able to say, 'no, that wouldn't be a legitimate reason to fire that person,'" Blackmer said, referring to the old policies. But now, with firing rules loosened, he said, "If I rock the boat, they can just let me go, and I've got no recourse."
'Inherent Measurement Problem'
Factoring employee performance into layoff decisions is a key part of Wisconsin's new law. That may not sound radical. But Moynihan said that for some agencies it can be complicated, especially when supervisors need to choose who to fire from among a group of employees.
"Even though the hope, the ideal situation would be, that you could fairly and precisely quantify the degree of performance that everyone is contributing, in practice that's a much more ambiguous process and it's one that lends itself to some subjectivity," Moynihan said.
Moynihan acknowledged there are agencies that provide services like trash collection, or fixing potholes, where it is easier to quantify success. But he made the case that when it comes to areas like social services, measuring employee performance becomes more murky.
"There's just this inherent measurement problem that the public sector has," he said.
And when managers have to rely heavily on imperfect metrics to make decisions about things like who to lay off, it becomes easy for bias to creep into their choices.
There is another problem that can arise as well. When employees feel like their job might be on the line over performance measurements, they may try to manipulate the metrics in their favor. "If you're using performance metrics in a very, sort of, threatening way," said Moynihan, "you're giving them an incentive to engage in that sort of perverse behavior."
There's a different philosophical approach to using employee performance metrics that Moynihan and others see as more beneficial. This involves setting aside the idea that the measurements are punitive, "where you're going to sort out the weak performers from the good performers."
Alternatively, he said, it's possible to use performance metrics as a learning tool that allows employees and supervisors to talk about mistakes and possible improvements. "Learning requires you to identify, acknowledge and draw lessons from failure," Moynihan said.
"A performance system that's focused entirely on accountability encourages you to deny problems and to resist admitting that any mistakes took place," he continued. "It's very hard to learn lessons from that type of system."
How the performance measurement procedures put in place under the new Wisconsin law will stack up remains to be seen.
"The political justification for the bill was partly about modernization, but a lot of the language used emphasized a more punitive approach," Moynihan said. "My hope is that the state will divorce the politics of getting the bill passed from actually making it into a useful tool."
"But," he added, "we're still waiting to see any evidence that that will happen."