After Interstate Crashes and Closures, Arizona Turns to 'Gorilla Snot' for Dust Control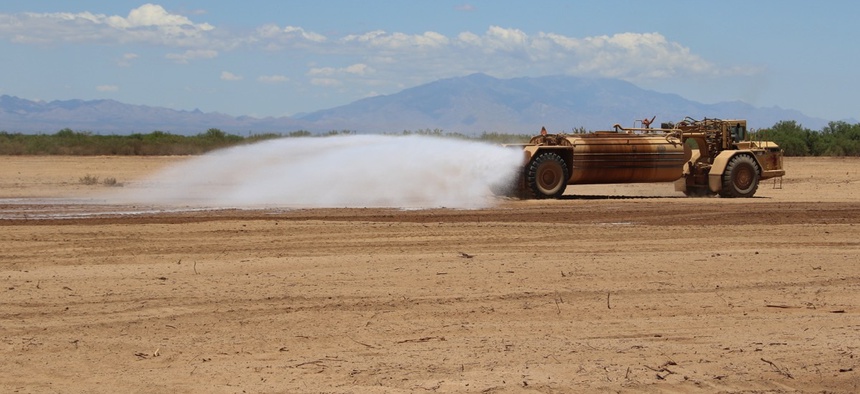 The state is working with a landowner to keep soil from blowing off of hundreds of acres of tilled farmland.
Massive clouds of billowing dust have blown off a recently cleared plot of farmland in southeast Arizona in recent weeks, leading to wrecks and shutdowns along a stretch of Interstate 10, and prompting state officials there to deploy a soil-control substance called "Gorilla-Snot."
The dust problems stem from roughly 1,200 acres of agricultural land near San Simon, which is located about 120 miles east of Tucson, near the New Mexico state border. Wind-whipped soil from the field has smothered a roughly one-mile stretch of Interstate 10 multiple times since early April, resulting in at least five vehicle crashes, according to the state's highway patrol.
As of Tuesday, state officials said conditions seemed to be improving with the application of the Gorilla-Snot and a similar dust control agent the landowner was having sprayed.
Blame for the dust clouds has been attributed to the fact that sizeable amounts of the land were cleared of vegetation, without crops being put in place. With no plants to help hold down the silt-like soil, it has been blown across the highway when winds picked up.
"This isn't a common situation," Caroline Oppleman, a spokesperson for the Arizona Department of Environmental Quality said by phone Tuesday. "It's extraordinary."
The Arizona Department of Environmental Quality reached a consent order last Monday with the owner of the farmland, David Turner, which outlines certain dust mitigation measures he must take. But the department said he was initially slow to comply with its terms.
So ADEQ moved to get 320 acres of Turner's land sprayed down with Gorilla-Snot. This involved contracting with the maker of the dust-control product, Scottsdale-based Soilworks. Oppleman said the substance had been applied to the 320 acres as of Saturday.
Gorilla-Snot works by forming a thin surface crust on soil. Soilworks says the substance is biodegradable and nontoxic.
About 45,000 gallons of the agent were dispatched to Turner's farm, according to the company.
Turner contracted to get another dust control substance akin to Gorilla-Snot, Oppleman said. And state officials expected that it would be applied to another 320 acres of the farmland by Tuesday. It was not immediately possible to reach Turner on Wednesday.
Laying down the Gorilla-Snot on the first 320 acres, along with other work done since last week to mitigate the dust, has cost ADEQ in the ballpark of $200,000, Oppleman said.
She explained that the price of treating the second 320 acres was expected to be comparable. As of Tuesday, the arrangement was for the agency and the landowner to divide the costs of dust mitigation for that second 320-acre section of land 50-50.
The department has an option to pursue additional enforcement measures against Turner, including penalties up to $10,000 per-day. It remained unclear Tuesday if officials would take that step. "That's kind of our last resort," Oppleman said of the fines.
Asked if it was possible the department would seek reimbursement for any of the dust control expenses from Turner, she said: "No decisions have been made in terms of how that's going to be addressed at this point."
The soil stabilizer seems to be working—at least for now.
"So far, since they've sprayed it, we haven't had any issues," said trooper Kameron Lee, a public information officer for the Arizona Department of Public Safety.
Lee said the first wreck tied to the dust occurred April 7 and resulted in one serious injury. A series of four crashes then took place on April 28, involving minor injuries and a total of 14 vehicles—including a state patrol car and a fire truck.
Dust storms are not unheard of in the American Southwest. They're dangerous because once motorists are in them they can effectively find themselves driving blind, with near-zero visibility. State agencies in Arizona have published guidelines that advise people to pull as far off of the road as possible, along with taking other precautions, if they're overtaken by dust.
But Lee pointed out that the situation near San Simon "is just a different set of circumstances" compared to other dust events.
Between April 25 and May 17 there were 10 full closures of Interstate 10 near Turner's property due to dust, a state Department of Transportation spokesperson said by email Tuesday.
A detour around the affected stretch of roadway adds about 50 miles to the length of a trip through the corridor. The surrounding area, a rugged landscape of scrubby plants and low-lying mountains, has only a few alternative east-west roads. After describing the detour and the inconvenience it causes for drivers, Lee noted: "We don't have any other way to reroute traffic."
Bill Lucia is a Reporter for Government Executive's Route Fifty.