How Colorado's Energy Revolution Continues to Take Shape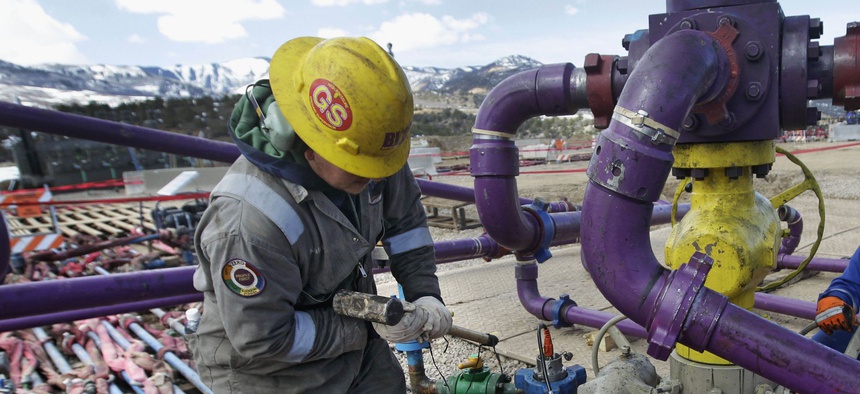 As the shift away from coal continues, "pay attention to the activity in the states, because that's where the primary activity is," says former Gov. Bill Ritter.
VAIL, Colo. — Colorado isn't just a battleground state politically this election year, it's also a state being roiled by either a renewable energy revolution or a war on fossil fuels, depending on your point of view.
Both the current Democratic governor and his Democratic predecessor recently told Route Fifty that what's happening to Colorado's electricity generation mix—a fairly rapid shift away from coal and into natural gas, wind and solar—is being driven more by national and international market forces than state and federal policies.
How the state responds to those forces and helps to transform the economies of rural communities still dependent on resource extraction has become a key question for policymakers.
"Having the three most significant coal companies in Wyoming be in bankruptcy has had some impact on this as well, so that's the markets responding to a variety of things that are happening, including the availability of cheap natural gas," said former Gov. Bill Ritter, who was elected at a time in 2006 when the state generated more than 70 percent of its electricity by burning coal— the majority of it from Wyoming's coal-rich Powder River Basin.
Ten years later, after Ritter and Democratic majorities in the state legislature spearheaded his "New Energy Economy," Colorado is still a top 12 state in terms of the percentage of its electricity generated by coal-fired power plants (at just over 60 percent).
But renewable sources, primarily wind, have jumped from 6 percent of the state's power mix in 2006 to nearly 18 percent in 2015, according to the U.S. Energy Information Administration, while natural gas generation has remained relatively flat at about 23 percent.
Two of Ritter's top legislative accomplishments in his final year in office in 2010—increasing the state's renewable energy standard to 30 percent by 2020 for publicly owned utilities and a bill aimed at converting coal-fired power plants to cleaner-burning natural gas—are alternately blamed for the demise of the state's coal-mining industry or praised for the rise of renewables.
"You can look at Xcel Energy and say, 'Really, you're going to build 600 megawatts [of wind], and the power-purchase agreement is going to be under 3 cents a kilowatt hour?' That's really cheap," Ritter said, referring to a plan by the state's largest utility, Minnesota-based Xcel, to build the massive Rush Creek Wind Project on the state's Eastern Plains. "It's intermittent, granted, but it's still very cheap energy, and it's carbon-free."
Xcel is the nation's No. 1 utility in terms of wind generation, and wind energy now accounts for more than 14 percent of Colorado's electrical power, according to the U.S. EIA. But that rise has coincided with the decline of the state's coal industry, and that's become a political rallying cry on the state's Western Slope, where many of Colorado's underground mines are located.
While only 11 states burn a higher percentage of coal for power than Colorado—predictably led by top coal-producing states like West Virginia, Kentucky and Wyoming—its mines have been shutting down and laying off workers for the last several years. Colorado still ranked in the top 10 for coal production as recently as 2014, but coal mining has nosedived by 50 percent in the decade since Ritter was elected.
In his recent book "Powering Forward," Ritter included a chapter entitled "A Just Transition," arguing that Colorado and the nation have an obligation to the coal miners who helped power the rise of the American middle class over the past century. He writes that the transition away from coal is inevitable but must be handled fairly.
"That's sort of the thesis of my book—that this happening anyway," said Ritter, who currently serves as the director of the Center for the New Energy Economy at Colorado State University and has been working with 13 western states on plans to comply with the EPA's proposed Clean Power Plan. "There is this energy revolution in the United States, and pay attention to the activity in the states, because that's where the primary activity is."
Ritter, who was rumored to be under consideration for U.S. Secretary of Energy at the start of the second term of the Obama administration in 2012, says energy issues are becoming less politicized as fewer people deny the realities of climate change.
A former Denver district attorney, Ritter is not surprised the U.S. Environmental Protection Agency was sued over the proposed CPP by 29 states, including Colorado—where Attorney General Cynthia Coffman went against the wishes of current Gov. John Hickenlooper. But Ritter says there's a growing climate of collaboration between states on energy issues, and that it often bridges political divides.
"There's still just so much that's happening," Ritter said. "There's this clean energy accord, signed by 17 governors—four of whom are Republicans. So 13 Democrats, but also four Republican governors say we believe in this clean-energy transition."
Moving Away From Coal
A former oil and gas geologist who later had much more success as co-owner of Colorado's first brewpub, current Gov. Hickenlooper has been dubbed Gov. "Frackenlooper" by anti-fracking activists who want the state to ban hydraulic fracturing of oil and gas wells within 2,500 feet of homes, schools and other public buildings.
At a recent event promoting Hickenlooper's own book, "The Opposite of Woe," the governor was shouted down for being far too friendly with the state's oil and gas industry, and coal miners accuse him of continuing the policies of Ritter they feel have contributed to their industry's demise.
Speaking at a Public Lands Day bill signing ceremony in Vail last month, Hickenlooper told Route Fifty that transitioning from coal-fired power to natural gas and renewable energy makes sense because gas burns about 50 percent cleaner than coal in terms of carbon emissions.
"We're celebrating public lands, so if you want to look at extraction, if we're trying to get Jordan Cove done in Oregon, that would boost the natural gas money," Hickenlooper said, referring to a pipeline project that would potentially allow the state to export liquefied natural gas, much of it drilled on federally owned public lands on the state's Western Slope, to Asian markets.
"People have a choice," he said of a growing preference for cleaner-burning, relatively cheap and abundant natural gas. "I think they're going to [choose gas and renewables] every time, so the key here is to recognize that there are a lot of different uses [on public lands], and I'm a big supporter of the all of the above. Let the market figure it out. We want clean and we want cheap.
"Let's find a good balance between those two, and if, in the end, for economic reasons the mine closes, the whole state has an obligation to retrain those miners."
From Mining to Manufacturing?
Scott Paul, president of the Alliance for American Manufacturing, says struggling Colorado coal-mining towns or even oil and gas towns suffering from low commodity prices can benefit from small-scale manufacturing, retraining highly skilled workers and implementing policies to attract such businesses.
"Something that I've seen in regions that have suffered job losses because of either resource depletion or shifting markets in energy is that it's 'once bitten, twice shy,'" Paul said. "You don't want to get back into the business of resource extraction necessarily, or there are some who will be resistant to it, because it's a boom-or-bust activity."
Paul's organization cites statistics showing Colorado has lost approximately 52,000 manufacturing jobs in the past 15 years. Small-scale sustainable manufacturing on the Western Slope could complement the tourism and outdoor recreation industries and ease the losses in energy extraction, he says.
"Anyone who's been in mining is a hard worker who's had to develop some skills, and with the right kind of training could certainly excel at those types of production [jobs]," Paul said. "That's an ongoing training challenge is that people who have been impacted and have lost their jobs, either because of trade, outsourcing or just shifts in the types of resource extraction, honestly if they're ever able to make up the income that they lost, it's a special case."
While Hickenlooper is focused on helping mining and drilling towns make that transition, he's also cognizant of the opportunities presented by the New Energy Economy his predecessor first launched. Earlier this month he signed a bill that made Colorado the top state for buying a new electric vehicle. The bill provides a $5,000 state tax credit at the time of purchase instead of when taxes are filed in April, which is when federal EV credits kick in.
"We've always worked with [Gov. Hickenlooper] on different alternative-fuel programs and we're glad to see the state of Colorado come out with this initiative because it just adds to the alternative programs that he's had in the past and builds on the future of where the vehicles need to go," said Cynthia Williams, Ford Motor Company's associate director of vehicle, environmental and regulatory strategy. She added Ford prefers Colorado's incentive-laden approach to California's ZEV (zero-emission vehicle) mandate that set manufacturing quotas.
Recreation vs. Resources on Public Lands
Former Democratic state Sen. Gail Schwartz, a ski-town development planner who used to live near Aspen and now calls Crested Butte home, did a lot of the legislative heavy living for Ritter's energy policies during two terms under the gold-leafed dome of the state capitol. She's now challenging Republican U.S. Rep. Scott Tipton for the sprawling Western Slope district that includes many of the state's faltering coal-mine communities.
Schwartz says there's a critical balance to be struck between utilizing the third of the state that's federally owned for tourism and recreation and extracting resources such as coal, oil and gas and timber.
"We look at the strong growth of the recreation industry, but what kind of an experience are we going to be offering both our visitors and our residents and a lot of people who are coming to the state because of the quality of life that we offer?" Schwartz said. "You saw with the Thompson Divide, [the oil and gas industry is] trying to take very special, pristine areas that need to be protected so we can support the recreation industry."
Schwartz says it's fine line between utilizing public lands to support sustainable industries and exploiting them for the profit of out-of-state companies.
"This is not to say there isn't the opportunity in the right place with the right oversight for continued natural gas development in particular in western and southern Colorado," Schwartz said. "We can continue to have our compatible use of both natural gas development as well as recreation development, but in the right place and done in the right way."
Schwartz's incumbent opponent in Colorado's massive 29-county 3rd Congressional District, counters that she's a ski-town liberal trying to shut down all fossil fuel extraction on public lands.
"Gail Schwartz's policies have been artificially shutting out all fossil fuels in favor of renewable energy, and that doesn't work," said Tipton campaign manager Michael Fortney. "We've lost thousands of jobs on the Western Slope and across the district because of Gail Schwartz's policies in the state Senate."
The hotly contested race plays into the growing debate over how best to manage huge swaths of federal land across the West, including Colorado. There's an increasingly hostile local movement against control from Washington and for greater state authority.