Austin Gets its First 'Creative Crosswalk'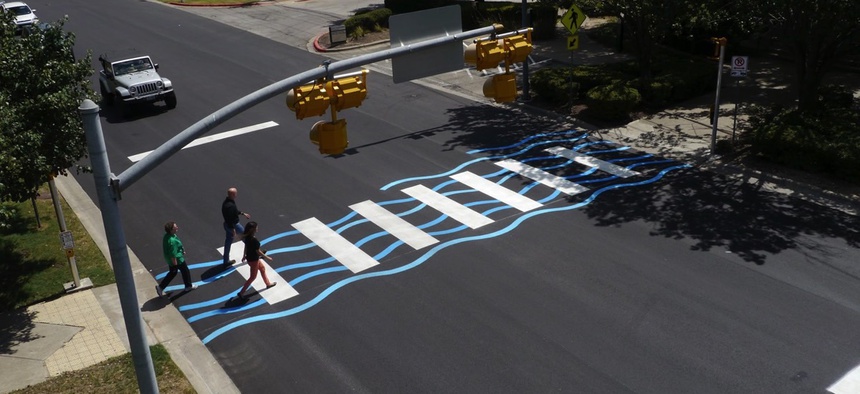 Here's a look at the design.
Working with local artists, the city transportation department in Austin, Texas last week installed a stylized crosswalk, featuring wavy blue lines in addition to the standard white stripes that are typically painted on streets to mark pedestrian crossings.
Located on Lake Austin Boulevard, the "Crosswalk by the Lake" is the first the city has installed as part of its new Creative Crosswalk Pilot Program. The initiative is geared toward livening up basic white crosswalk bars while showcasing the culture and history of a neighborhood.
"We realized there was interest from the community," Eric Bollich, managing engineer for the transportation department, said of the program during a phone interview on Monday. He added that the city will monitor the crosswalk to see if it has any effect on safety. "Safety is our most important mission," Bollich said. "That's not something we want to compromise."
The place where the crosswalk is located already has a pedestrian beacon that signals for traffic to stop when pedestrians are crossing the street. At its location on Lake Austin Boulevard there is one lane of traffic in each direction, and the speed limit is 30 miles per hour.
Bollich explained there are office buildings, retail shops and eateries in the area and that the street leads to a residential neighborhood.
The application for the creative crosswalk was put forward by artists Mery Collet Godigna and Luis Guitierrez. They worked with a city crew that painted the markings on the street last Thursday. A $2,500 city grant covered the cost of the painting crew's time, the paint and some of the other required materials. The artists donated additional materials and time, Bollich said.
Austin is not the only city with this sort of crosswalk program.
Portland, Oregon, last June, unveiled its first creative crosswalks, which were rain themed. West Hollywood, California painted rainbow patterns on two crosswalks at a busy intersection back in 2012. As of April, Lompoc, California had six artistic pedestrian crossings.
And those are just a few of the places with creatively designed crosswalks. Other cities globally, in nations from Chile to China, have them on their streets.
Cheyenne Krause, a spokesperson for Austin's transportation department, as of Monday was aware of at least three other areas where city residents had expressed interest in getting creative crosswalks installed. Some businesses districts had shown interest as well, she said.
Austin's creative crosswalk guidelines encourage applicants to identify their own funding for proposed projects. "We have money in our budget to install the basic white crosswalks," Krause said. "But anything beyond that we, kind of, are operating on a limited public budget."