A Video Captures a Police Shooting in Louisiana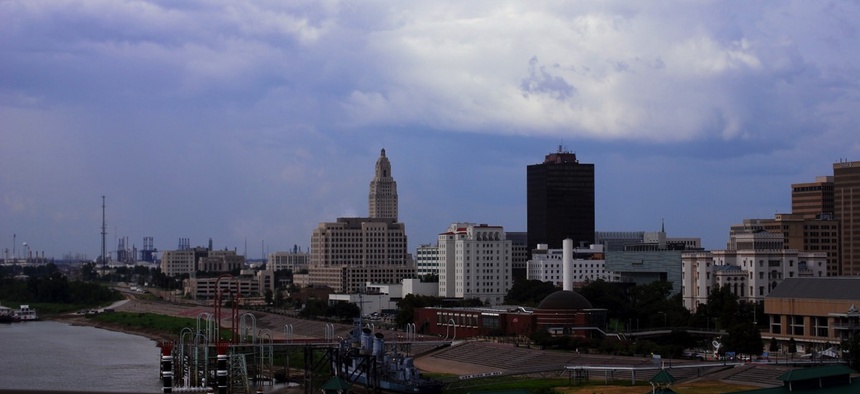 The footage appears to show two Baton Rouge officers wrestling 37-year-old Alton Sterling to the ground, then sticking a gun in his chest, and shooting him dead.
Updated on July 6 at 11:35 a.m.
The U.S. Department of Justice has opened an outside investigation into the death of Alton Sterling, a black man who was shot and killed near a convenience store early Tuesday morning by two white officers in the Baton Rouge Police Department.
Sterling's death prompted protests in Louisiana Tuesday night, and caused an outpouring of anger over social media after a cellphone video surfaced online that appears to show the officers tackle Sterling, then shoot the 37-year-old dead. In the video, Sterling stands upright with his back to a parked car. Two officers yell for him to get on the ground. Then there is a loud pop, and an officer charges Sterling.
Police had been called out to the Triple S Food Mart after receiving a call at 12:30 a.m. Tuesday, saying Sterling had pointed a gun at a person and told them to leave the property, The Advocate reported. The storeowner, Abdullah Muflahi, said Sterling often hung around the store selling CDs, and that he'd known him for years. He said Sterling had been carrying a gun recently because his friend had been robbed. Muflahi stood a couple feet away as officers approached, ordered Sterling down on the ground, then tackled him on top of the parked car's hood.
The two officers knelt on Sterling, and in the video, one of them yells, "He's got a gun! Gun!"
"You fucking move––I swear to God!" yells the officer.
Just before the video cuts out, the officer nearest to the camera pulls a gun and sticks it into Sterling's chest, then fires.
Muflahi said he watched all this, and later told The Advocate that Sterling's hand:
"… was nowhere (near) his pocket," Muflahi said, adding that Sterling wasn't holding a weapon. After the shooting, an officer reached into Sterling's pocket and retrieved a handgun, Muflahi said.

"They were really aggressive with him from the start," Muflahi said about the officers.

Sterling appeared to die quickly, Muflahi said. Just after the killing, the officer who fired the bullets cursed, and both officers seemed like they were "freaking out," Muflahi said.

The store owner said he heard one of the officers say, "Just leave him."
Friends and family and people in the community began protesting around 6 p.m. Tuesday. A crowd grew from 50 to more than 100 within an hour. They chanted, "Black lives matter" and "Hands up, don't shoot." Denise Marcelle, state representative who'd advocated for body cameras, joined the protest, according to The Advocate, along with leaders from the NAACP. The protest lasted well after dark, with people parking their cars in the streets and lighting off fireworks:
The Washington Post spoke with Sterling's aunt, Sandra, who said she'd raised him since his mother died. She said the video was hard to watch, but was glad someone had posted it online because the media and police had already judged Sterling and twisted the story to make him look like a bad guy. "Now their attitude has changed," she told the Post.
In accordance with department policy after a shooting, both officers have been placed on paid administrative leave. The Baton Rouge Police Department will conduct an investigation.