Incivility in City Council Chambers Sparks Debate in Austin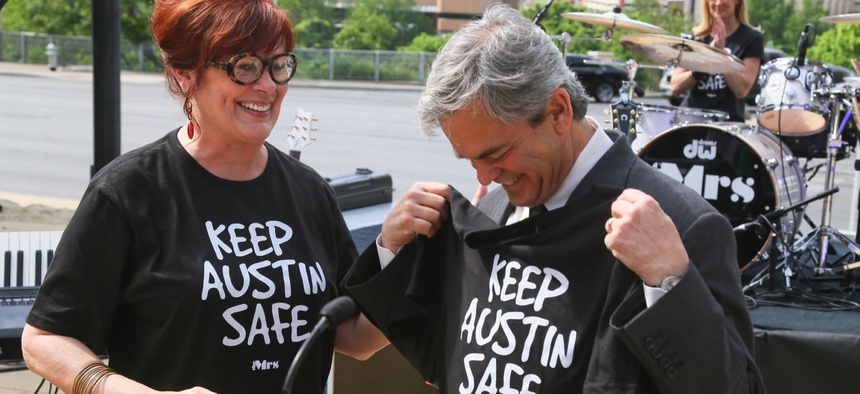 In a blog post, Mayor Steven Adler laments that too often those who testify before the City Council do not receive the respect they deserve.
"Do something useful . . . so you don't have to live off others."
These were the parting words from Don Zimmerman, a city council member in Austin, Texas, to a group of mostly Hispanic children during a meeting last week over funding for after-school programs in public schools.
The group of students and their parents had come to advocate for themselves during a debate over the city's proposed budget for next year.
Zimmerman's words were met with boos from the public gathered in the chamber.
In the immediate aftermath, Zimmerman appeared to double down on his sentiment. In comments sent to KXAN via text message, Zimmerman implied that those who choose to come before the council to petition for government services are greedy and selfish.
The episode has set off a debate about civility and decorum in Austin politics that has reached all the way up to the mayor's office.
In a recent blog post entitled "Respect and Civility from the Dais," Mayor Steve Adler weighed in on Zimmerman's statements, expressing regret that he hadn't spoken up earlier.
We cannot let our policy or political goals, even our frustrations and disappointments, create an environment or culture where those testifying before us arrive or leave scared, humiliated, disrespected, or fearful of their interaction with us. Council Member Zimmerman's recent admonishment to visiting families and children of color...is the most recent example of those testifying to Council not receiving the respect they deserve. Austin residents petitioning Council during budget hearings are not being "greedy" nor "selfish." They are exercising a sacred right. I wish now I had spoken up then.
The issue of civility in politics—or lack thereof—has become a flashpoint beyond the local and municipal levels, and similar conversations are beginning to take place among state lawmakers and beyond.
In a campaign led by the National Institute for Civil Discourse, lawmakers are being urged to sign on to a set of civility standards that call on them to act respectfully towards others and take responsibility for behavior and speech. The standards also implore those signing to speak truthfully and focus on policy, as opposed to resorting character-related attacks.
In a particularly acrimonious presidential election season, the institute has also been tasked by the Commission on Presidential Debates to come up with a similar set of standards for candidates, moderators and audience members ahead of these major campaign events.
As basic as these values of civility, respect and decorum may seem, it's clear they shouldn't be taken for granted, at any level of government.
PREVIOUSLY on Route Fifty: