Austin's Mayor Has a Hilariously Awkward Interview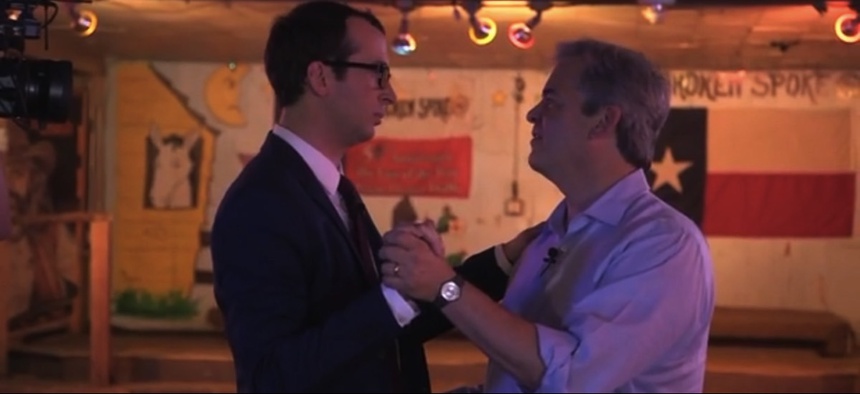 Steve Adler was serenaded and later danced while answering questions about a plan to help local musicians and artists feeling squeezed by a booming city.
Add two-stepping while explaining complicated municipal policy to Austin Mayor Steve Adler's list of considerable skills.
The mayor sat down with The CW Austin's new entertainment reporter, Joe Barlow, at the Broken Spoke dance hall to discuss the Austin Music and Creative Ecosystem Omnibus Resolution. But he seemed to get more than he bargained for.
Barlow "treated" Adler, who said he'd remained in Austin in part because of its music scene, to an uncomfortable live rendition of "Streets of Laredo".
Then the pair danced together while the mayor defended his plan to support local musicians and artists, who are struggling as club owners are dealing with .
"The resolution is designed to help build the music and the art ecosystem so that we can preserve it," Adler tells KXAN. "It's about using the tools that the city has, or can develop, to make it so that artists can live in this city."
Austin values its title "The Live Music Capital of the World," though it's seen competition from cities like Denver in recent years.
Adler's legislation would resolve noise disputes between venues and hotels or housing complexes in favor of the older party, streamline club permitting, and provide incentives for those that meet safety and musician treatment standards.
Other things we learned about Adler from the extended interview:
He's appeared in "The Nutcracker" ballet as Mother Ginger.
Don't confuse him with Steven Adler, drummer for the band Guns N' Roses.
He can sing well, if he hits the first note.
Adler took the awkward interview in stride, probably thanks to the "hitch in his caboose."
"Be right back. Need to go fire the guy who put this interview on my schedule," Adler joked sharing it to Facebook. At least we hope.