5 Pop Songs That Can Teach Government Agencies About Launching Mobile Apps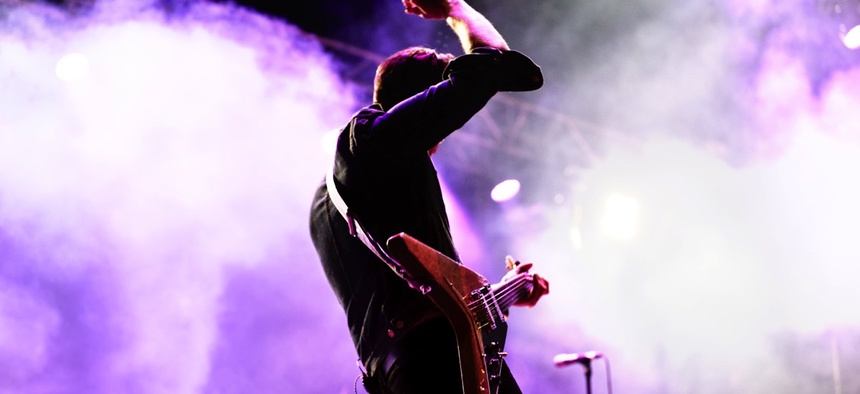 "They heard it through the grapevine is not good marketing," and other lessons pop music can teach us.
During this year's Accela Engage Conference keynote address, Maury Blackman, who serves as CEO of Accela, told the hundreds of government agencies in attendance the theme for this year's annual conference was mobile, mobile, mobile.
As one of Accela's partners helping to empower more government agencies to develop mobile apps without needing to know how to code through our mobile platform, we field a lot of questions that focus on technical challenges such as blending multiple software platforms into a single mobile interface and normalizing myriad formats of data for mobile integration.
While technical barriers must be resolved to develop a successful mobile app, it is really only the beginning—not the end—of the aspects of mobile app development that need to be addressed if an agency's civic app is to be successful.
Here are five additional things every agency should address to ensure their mobile strategy delivers the desired results.
Everything We Do, We Do It For You
To be successful, start with the problem and then the user experience.
Before your team opts into mobile as a solution, ask this question: What problem—and, more importantly, whose problem—are you solving? If your agency app isn't aligned with solving a problem for users in a way that is better, faster or easier than today's options—well, good luck with that.
I well remember one conversation last year's NAGW National Conference.
Our team had just wrapped up our presentation on mobile development for government when the IT director of a rural county in a sparsely populated state approached me.
"My city council and mayor are both demanding mobile, but I know that throwing a mobile app out there just to check that box off will waste limited resources and be a disappointment to everyone. I'll look like I failed at my job."
The real failure, ultimately, is rushing to adopt a technology without knowing why.
I don't think his quandary is unique. All levels of government from the White House to the rural counties are feeling the pressure to adopt mobile.
But to be successful, implementation cannot rely on an imperative to simply "get mobile"; agencies need to start with a current pain point, either addressing internal workflow or citizen access to services or information, and then explore how a mobile app will remove current barriers.
Choosing a pain point where available data exists can lead to an easier win, but choosing readily available data where a real problem is not resolved may result in an easy app but will not result in a successful app.
Some Apps Just Wanna Be Your Everything
For the love of everything user experience, please don't add your entire website to your app.
Think about the apps you use on a daily or weekly basis. Why do you use them?
Most likely because they let you do one thing on the go that is far too much of a hassle to access through other modes. And yet when we're the one designing an app, it's really difficult to stay within the boundaries of making sure the app has a singular primary purpose implemented with the user experience in mind. During the initial feature design and again during beta testing, there is so much temptation to want to continue to add more and more features.
But the problem is that what I call "kitchen sink" apps—where everything is thrown in, including the kitchen sink—can quickly dissolve into frustration for the user. That's not to say an app shouldn't provide relevant links and access to additional content that enhances the experience of the user.
But to drive user adoption, it is wise to remain focused on the primary reason users will access the app. Say no to the kitchen sink method—make sure you app does one thing really, really well.
They Heard It Through the Grapevine is Not Good Marketing
Sorry, but most apps, including government apps, will not go viral by word of mouth.
We often think that once the app is developed and accessible, our job is done. Wrong. It's just begun. And sending out an initial press release and adding a link on your agency website is not enough.
Your agency needs to be prepared to continually tell the story of your app—its purpose, the problem it solves, the growth in adoption, the cost-savings accrued and the measurable impact on your constituency—through your own company's website, blog and social media platforms as well as through regular press releases. The more you can humanize the technology through storytelling, the more others embrace and support your technology initiatives.
If no one within your team is in a position to take on this role, consider reaching out to civic tech companies like GovDelivery that can provide the expertise your team needs to make your app successful.
Don't Let Your App Be Another One That Bites the Dust
If someone isn't the champion of your app, it can easily fail because of a lack of care.
So, here's a question. Who in your agency or department is assigned with public relations, marketing and public engagement to curate, maintain and grow your mobile user community?
Unless you're part of an agency with access to an internal marketing team, the answer is usually either someone gets "stuck" with app maintenance added to a burgeoning workload or no one is the ongoing "owner" of the app.
The agencies using our CityLife platform who have someone internal who is dedicated to sending out push notifications, analyzing user analytics to determine which features are not being accessed and synthesizing user behaviors and feedback to update app features are finding the best success with their apps. And by success, I don't mean simply adding more users; I mean solving the initial problem in a way that it significantly reduces the friction for all sides.
Let's Get It On the App Store
Your app will never be perfect or make everyone happy, so avoid the endless cycle of group-hug revisions.
Far too many agencies suffer from a dysfunctional process of making decisions by what one of our clients jokingly refers to as "decision-making by group hug."
While it is vital to gather feedback from key team members and from those who will ultimate use your mobile app, there needs to be a clearly defined process and timeline for this feedback to avoid a cycle of continual revisions that can result in a final product never being released.
Whether your app is part of cutting-edge pilot project or a straightforward implementation, to be successful, ensure you have buy-in from key decision-makers and that they clearly understand the scope of feedback that will be involved before an initial version of the app will be released for use.
In the end, the real feedback that will matter most will come from those who use your app once it's live—so making sure your app includes a feedback feature will allow you to collect invaluable insights to revisions, updates and upgrades that can make it a better tool for all involved.