Virginia Gov: Strong Transportation Network Key Ingredient For Economic Health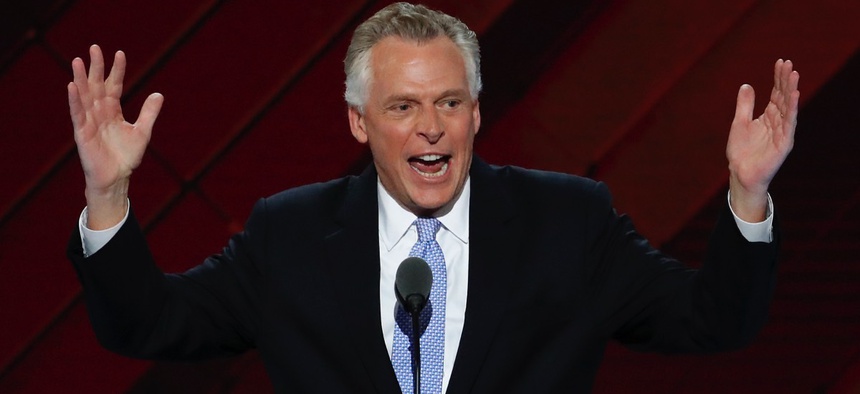 "It's cranking because of our transportation network that we've built," Gov. Terry McAuliffe said of the state's economy on Thursday.
ARLINGTON, Va.—Gov. Terry McAuliffe here Thursday credited transportation investment with offering an important boost to the state economy
McAuliffe delivered his remarks at the Governor's Transportation Conference, an event attended by public officials, industry representatives and others. The governor, a Democrat, highlighted a number of transportation projects around the state—including the $1.4 billion Atlantic Gateway Project, which is slated to include road and rail upgrades in the Interstate 95 corridor.
"The state is cranking," McAuliffe said, after noting earlier that unemployment there was down to 3.9 percent in August. "It's cranking because of our transportation network that we've built."
The governor touted Virginia's Smart Scale process, which is used to help prioritize state transportation projects. Ushered in under a 2014 law, Smart Scale involves a scoring system that weighs factors having to do with traffic, the environment, the economy and other areas.
A toll lane project getting underway inside the Capital Beltway was among the other transportation initiatives McAuliffe mentioned. In addition to road and rail investments, he noted $350 million set to go toward expanding seaport cargo capacity.
At one point, a protester interrupted the governor's remarks, shouting for him to oppose the Atlantic Coast and Mountain Valley natural gas pipeline projects.
McAuliffe asked the audience to give the protester a round of applause, which they did. "I love democracy," he said. He then explained that, in his view, expanding the pipeline network in the state would allow for cheaper gas to flow to Virginia, while avoiding potentially riskier shipments by truck or train.