Energy-Use Benchmarking Can Help Cities Quickly Pursue Climate Change Goals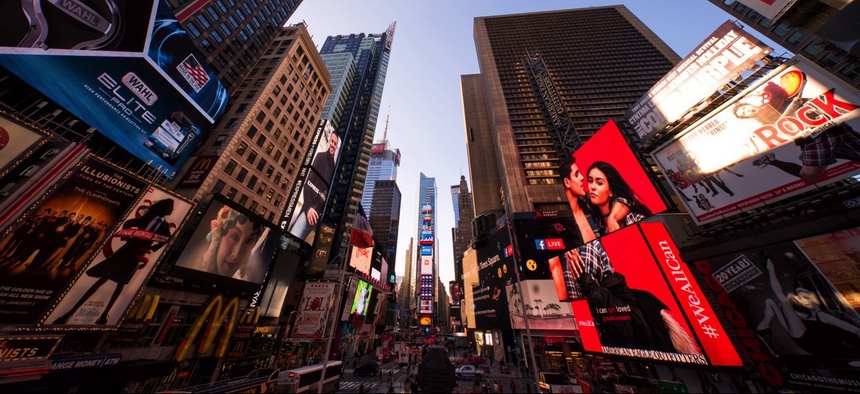 Stakeholders increasingly see the return on investment that comes with governments regulating energy consumption.
U.S. cities concerned with the effects of climate change continue to adopt tighter energy benchmarking regulations as a means to curb their carbon emissions.
Buildings produce nearly 40 percent of all carbon emissions in the U.S., but facility managers and owners who monitor their energy performance are discovering substantial cost savings.
And they're reducing their city's carbon footprint as a byproduct.
"Cities themselves drive the policy, and then we work with stakeholders to help them accomplish their goals," Laila Partridge, CEO of Boston-based data tracking company WegoWise, told Route Fifty in an interview. "There's no way any kind of improvement is done in business unless you have a metric."
The earliest benchmarking laws came in 2007 in Washington D.C., followed by New York City three years later. As part of Bloomberg Philanthropies' Mayors Challenge, the the nation's largest city and Boston set measurement-informed deadlines for reducing their carbon footprints.
The Rockefeller Foundation and Architecture 2030 have made similar commitments with utilities, green banks and their investors increasingly requiring sustainability plans.
"The quickest way to make change is to first measure what's there," Partridge said.
WegoWise offers an online tool to verify baseline energy and water usage measurements for utilities or buildings, with a focus on multifamily housing, to ensure compliance.
Since 2010, WegoWise's portfolio has grown to 1 million municipal, commercial and multifamily units across all 50 states and major metropolitan areas.
Data is aggregated and anonymized to give users a sense of where they fall in comparison to the rest of the market. In that way, a company's building manager can benchmark one building against a portfolio of 30 to determine which is most efficient and where to focus investment and assessments.
Commonalities become noticeable among buildings that behave the same way.
In New York City, benchmarking groups help manage the city's carbon challenge, but an individual utility can also use benchmarking to gauge the efficiency of its programs with analytics. They might find a spike in activity among one property or many that needs addressing.
With the exception of California's state law, energy disclosure is generally laid out by city ordinances, said Dan Teague, WegoWise's vice president of business development, with continued state-level growth expected due to the high return on investment for interested stakeholders.
Assembly Bill 802, approved by Gov. Jerry Brown in October 2015, provides for a new, statewide building energy benchmarking and public disclosure program overseen by the California Energy Commission.
"We're in the rulemaking process determining the language and how that information is given, collected and analyzed by the commission," said Amber Pasricha Beck, a public information officer with the commission.
Final language hasn't been agreed upon, but the commission updated its timeline at an October business meeting.
Last January, utilities were required to start keeping records on all buildings they provide energy to, and by January 2017 they must be capable of releasing building-level energy use data to owners and operators upon request.
Final commission regulations should take effect during the second half of 2017 and no later than 2018, Pasricha Beck said.
San Francisco was the first city on the West Coast to publicly disclose city energy performance data, after adopting an ordinance in 2011. Since the city began requiring owners of nonresidential buildings to annually benchmark their energy use in relation to similar facilities, it witnessed a 7.9 percent reduction in consumption across 176 properties and the potential to save tens of millions of dollars across 817 buildings, according to the Urban Land Institute.
Early last year, the city of Palo Alto, California, entered a multi-year, pilot agreement with energy data tracking company GreenTraks to provide benchmarking services for the city's commercial utility customers. The city has covered participating businesses' costs to access a cloud-based energy management system and benchmark against similar properties nationwide. Palo Alto hopes to eventually scale the program to all 2,500 commercial utility customers in the area and serve as a model of energy sustainability.
"The market is accelerating toward these types of energy reduction," Partridge said. "And the number of stakeholders involved gives this momentum so that any change in policy isn't going to make a difference."
Dave Nyczepir is a News Editor at Government Executive's Route Fifty and is based in Washington D.C.