Adjusting From an Era of Austerity to One of Major Infrastructure Ambitions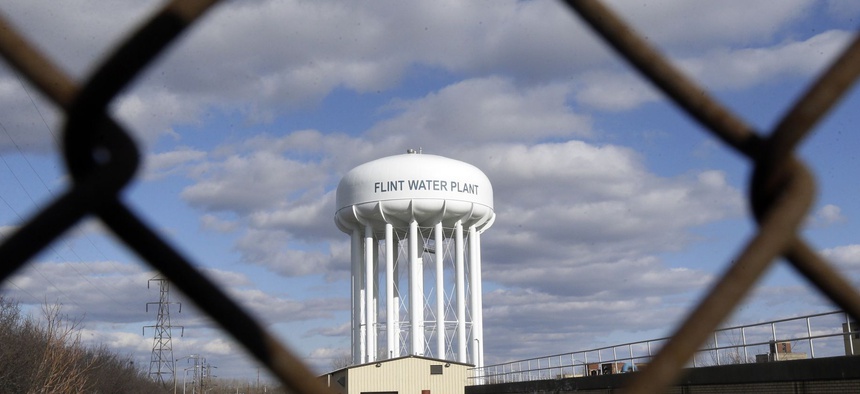 With a focus on shovel-ready projects, the often-avoided once-in-a-lifetime projects and those not necessarily ready to go "might be the ones most needed by the community."
Results from a single Michigan county from the November elections illustrate the risks involved to both political parties from the nation's long-term neglect of its aging infrastructure.
Democrat Hillary Clinton won Genesee County easily, of course, home to the city of Flint. But her vote loss of 26,234 compared to President Obama's 2012 performance, was a far larger margin shift in that one county alone, than her total loss statewide, of just 10,704 votes.
The sense among Flint residents that institutions controlled by both Democrats and Republicans had failed them—and failed them badly—during its ongoing (and yet unsolved) water crisis could be thought of as a kind of infrastructure fatigue. When crucial water or transportation systems stop working, and officials cannot plausibly solve those breakdowns quickly, disillusion settles in among the public. More problematic still is that many infrastructure systems on which Americans rely are crucial but largely unseen. In an interview, Hillary Brown, FIAA, author of the book Next Generation Infrastructure and professor of architecture at City College in New York, observed, "Typically, infrastructure becomes visible only when it fails."
Despite the public's lack of confidence that governments can either fix aging infrastructure, or build anew to a level of acceptable quality, the conversation around infrastructure in the U.S. has indeed changed. In a 2011 report by Dan Alpert and Nouriel Roubini, "The Way Forward"  infrastructure spending was highlighted as the first of three solution-areas to America's economic recovery.
The theme, echoed by former Treasury Secretary and Harvard University President Emeritus Larry Summers, is so simple that even non-economists can understand it: at a time of very low interest rates, the government can borrow and build needed infrastructure so cheaply it will pay back society with increased services and growth.
By late 2015, even the International Monetary Fund, which often directs its advice to struggling, emerging market economies, was telling the U.S. it was time to invest. No surprise.
Data show that after rising a little last decade, U.S. public construction spending remains listless, just above 1.5 percent of GDP, according to federal statistics. And the U.S. has not really undertaken a large public infrastructure program since the 1950s. More broadly, nearly everyone agrees the slow pace of U.S. growth was a big factor, in last year's election.
Naturally, as a new administration is getting settled in Washington, D.C., infrastructure is now all the rage. But even if one assumed a well prepared and earnest government plan to boost public construction, infrastructure remains a kind of hard problem.
The public, for example, is unhappy when projects are expensive, like the recently completed first phase of the Second Avenue Subway in New York City—even if those projects are well built and pleasing to the eye. On the other end of the spectrum, a revived 1997 extension to Boston's MBTA commuter rail system to the South Shore terminates at a desolate location in Plymouth, in the shadow of an abandoned industrial building.
"In the rush to get infrastructure up and running, sometimes we use off-the-shelf solutions that actually become public eyesores," says Brown. "Addressing community needs, to create new structures that people see not as burdensome, but as locally beneficial, is really important. We need a procurement process that creates good-looking solutions."
Teaching Best Infrastructure Practices
One big adjustment now facing infrastructure professionals and policy makers is the potential shift, from an era of austerity, to plenty. Should a wall of money start flowing towards the sector, the biggest projects—which are not always the best projects—might absorb the bulk of the funding.
At the Portland, Oregon-based West Coast Infrastructure Exchange, director Scott Boardman explained in an interview: "There can often be a focus on the shovel-ready projects. But the once in a lifetime projects—the ones often avoided, and not necessarily ready to go—might be the ones most needed by the community."
Indeed, we might call this the distribution problem of infrastructure funding. Even the best attempts to channel capital downward from the federal to the local level can falter, at the project-selection stage, or in long-life maintenance design. "There is also a matching problem, where Project 1, say, is needed most but Project 7 fits the funding better. And now you have a missed opportunity," Boardman said.
West Coast Infrastructure Exchange educates policy makers around these problems. Formed in 2012 by the governors and treasurers of the three West Coast states and the premier of British Columbia in Canada, the exchange does not advocate for a particular delivery method, but instead, teaches the structure of public-private partnerships to ensure the long-life maintenance of the public's investment. "When we provide our education sessions, a lot of the focus is dispelling public-private partnership assumptions. So we call it Performance Based Infrastructure—it's not about the private aspect, but rather, the lifetime performance and maintenance," Boardman said.
American infrastructure has often been erected without a careful plan for its maintenance over its lifespan. And presently, public-private partnerships are seen pejoratively, a way to extract value through public spending rather than enhance it. (This is truer than ever, as the new administration comes to power).
But West Coast Infrastructure Exchange's model is tightly geared so that the private portion is incentivized to govern the maintenance of new infrastructure, in order to ensure its own stream of income. Scott Boardman cites recent project examples using the P3 structure like the new George Deukmejian Courthouse in Long Beach, California, a piece of critically needed social infrastructure.
And also the very substantial Cedar Water Treatment facility, that provides two-thirds of Seattle's drinking water needs. "One theme we try to emphasize is that P3 is not magic money," says Boardman. "The public will still have to pay for the asset—through rate payers, or through tax revenues that pay off the debt."
Hybrid Solutions
At Fox Point Park in Providence, Rhode Island, the freeway noise of Interstate 195 has been cleverly deadened by a broad pedestrian approach that acts as a fly-over, re-connecting the Wickenden Street neighborhood to the city's waterfront.
Providence has recently experimented also with removing infrastructure, where the relocation of a separate portion of the interstate has opened up over 19 acres for downtown development.
These types of hybrid structures, where new public investment is utilized to nest multiple solutions within a single project is the focus of City College's Hillary Brown.
"One concept gaining traction now is infrastructural-campuses, that integrate water treatment, parks, and energy. The idea of coupling uses, the idea of creating a park that is actually double-functioning," she writes.
Brown cites Sherbourne Common, a new waterfront park in Toronto, that functions in multiple ways: as a stormwater treatment system, that is embedded into the ornamentation of the new public space.
If the public suffers from infrastructure fatigue, there is also the chronic reluctance by Congress to spend any money at all, on new investment. At the opening of the new Congress in Washington, D.C., Senate Minority Leader Chuck Schumer, a New York Democrat, warned the incoming president that only actual, real spending on infrastructure, not tax credit gimmicks, was going to best serve the twin needs of raising employment, and fixing America's chronic underinvestment. Hybrid structures, of the kind Brown advocates, might be a way to convert these longstanding points of resistance however, smoothing the path for both taxpayers and Congress to feel more confident about a new round of construction.
"There is a chronic problem with infrastructure," according to Brown. "No one wants to pay for the out of sight out of mind infrastructure. But as we upgrade old systems, we need to make sure the new investment uses latest technology to be attractive, and creates confidence in the public."
Brown also echoes Boardman's views, that should a flood of money start to flow, at-the-ready projects become the obvious place for investment to land, sometimes to the exclusion of more multi-dimensional,leading-edge projects that are at least as crucial.
"We need to think about Both/And solutions," says Brown. "There is always this backlog of projects, of maintenance and repair—so there is no shortage of need in that class of structures. The problem it poses, however, is that unless it's accompanied by a strategic plan, we will spend money willy-nilly, and we will wind up with projects that we don't really need."
Brown, who's next book, Infrastrustral Ecologies, comes out this spring, is especially focused on water-energy systems, which infrastructure professionals understand is a deep connection, a nexus. Typically, domestic water delivery is highly dependent on energy for transport, or for treatment. In cities like Portland, however, once can find for example a blending of the solution to the maintenance problem through a hybrid-sustainability model as the city is now placing micro-turbines in new water mains. The turbines generate new electricity, offsetting the power required for the water's transport.
The Water Test
Perhaps no greater test for the United States' infrastructure problem comes in the area of water. According to Brown, as an example, at least 25 percent of New York State's water treatment facilities are already past their useful life.
And in the 2013, according to Infrastructure Report Card, over 240,000 water main breaks occur in the country every year. Flint, Michigan's lead contamination will be a particularly hard one to solve too, as there is an intermixing problem in which some of the contamination comes from above ground pipes that feed into the system. (Washington, D.C., also grappled with lead issues in the early 2000s). And water in particular is the exact kind of invisible infrastructure that also doesn't generate the kind of self-paying revenues needed to defray its typically high cost. One of the signature water projects that has remained short of completion is the activation of the long-overdue third water tunnel in New York City. Needed to insure against failure in the aging, century-old tunnels already in place, the bulk of Water Tunnel 3 is largely completed, but awaits final fittings and shaft work.
The ongoing postponement is an all too familiar last-mile problem. The New York state government in Albany has continually found a way to put off the project's final tranche of funding. But if the country is get serious about such projects, in addition to the creative solutions offered by experts in financing, design, and utility, combined governments are simply going to have to step up, and spend real, actual money.