New York Gov. Demolishes His 50th Bridge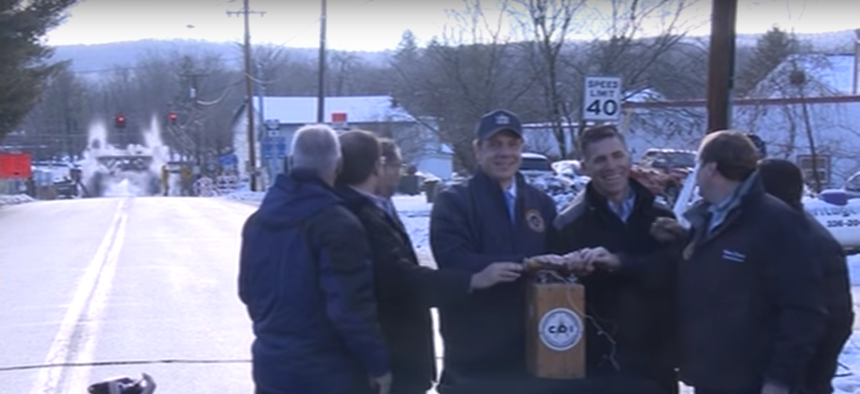 Andrew Cuomo boasted his state would use federal infrastructure funding better than any other in the process.
New York Gov. Andrew Cuomo had a message for Washington, before blowing up a bridge Wednesday in Ulster County: His state should be the top priority of any federal infrastructure package.
"If they are ready to invest the infrastructure, we are ready to build," Cuomo said. "And they have my word we will build better and faster and safer than any state in the United States."
The governor, who said he's spoken with President Trump, went so far as to suggest without mentioning names that some states aren't ready for investment. By contrast, New York has funded infrastructure alone all along, Cuomo said, with another $2 billion in this year's budget set aside for that purpose.
New York is in the midst of a five-year, $27 billion capital plan to revitalize mostly upstate roads and bridges and including the Tappan Zee Bridge—one of the largest state infrastructure projects ever—and the John F. Kennedy International and LaGuardia airports.
"So we're here to blow up a bridge. Life is tough when you're a bridge. You work for 85 years; stand up through storms, rain; carry vehicles every day," Cuomo opined. "Then, at retirement, you don't get a watch, you don't get a pension, you don't get a thank you. All they do is blow you up."

The unlucky bridge, the Route 213 bridge over Rondout Creek, will be replaced by a bridge with less steel superstructure, meaning better views, and a pedestrian pathway. The new bridge will also be safer, as it won't employ wood piles, and be able to withstand the more severe storms New York has seen of late.
This demolition marks the halfway point in Cuomo's plan to replace 100 state bridges, reported the Times Herald-Record .
"The roads, the bridges, the transportation facilities—they are the arteries and veins of our economy. That's how you move people. That's how you move goods," Cuomo said. "And if you overlook the infrastructure, you do it at your own peril."
Here's a better angle of the explosion.