Seattle-Area Transit Agency Takes Major Step to Build a Zero-Emissions Bus Fleet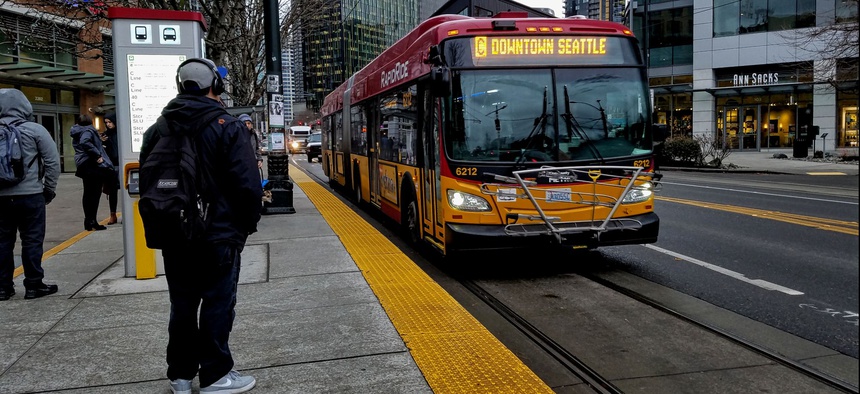 After the successful testing of battery-electric technology, King County Metro plans to roll out the nation's largest such system of environmentally friendly buses.
SEATTLE — Many state and local government agencies have goals to significantly cut carbon emissions, but they're still a long way from realizing a zero-emissions future.
The King County government, which operates the extensive Metro bus network in and around the Pacific Northwest's largest city, is taking a big step to implement carbon-friendly transportation technology, which could end up helping transit agencies around the nation meet emission-reduction goals.
On Tuesday, King County leaders will announce that their government is purchasing more than 100 battery-electric buses after a successful pilot project that started testing the technology last February . That will mean that Seattle-area residents will be riding the nation's largest fleet of battery-electric buses by 2020, a major emissions-reductions feat for a system of its size.
"The fact is that our transit experts have confidence in this technology [and that] says that this is the wave of the future," King County Councilmember Rod Dembowski , who chairs the council's Transportation, Economy and Environment Committee, told Route Fifty in an interview.

Dembowski, who introduced a motion in April asking the county government to study ways to achieve a greener transit fleet , said battery-electric bus technology is now "reliable and proven."
Each of the 40-foot battery-electric buses, manufactured by California-based Proterra , saves around 65 tons of carbon annually, according to the county. The bus batteries can recharge in about 10 minutes and run about 23 miles. Each new bus coach will cost around $750,000 and the county expects a total capital expenditure of around $90 million.
About 55 percent of the existing King County Metro bus fleet consists of 60-foot articulated buses, which presents a challenge for the transit agency. Dembowski said that the current battery-electric technology that works for the 40-foot vehicles isn't advanced enough yet to power those longer articulated buses, which can carry more riders and are workhorses in the Seattle-area transit network.
But the county's new battery-electric bus purchase will include a few 60-foot vehicles for testing, which the county hopes will challenge to the transit industry to develop higher-capacity battery technology. Currently, 60-foot bus coaches running on battery-electric power can travel 140 miles, but they first need an overnight charge.
If King County's zero-emissions bus expansion can lay the foundation to develop better battery technology for the transit sector, Dembowski said that the efforts to build a cleaner fleet in Seattle could inspire other transportation agencies to upgrade their bus fleets to include zero-emission or carbon-neutral vehicles.
The new 40-foot buses, which are lighter and quieter than the existing bus coaches, will begin rolling out on select King County Metro routes later this year with the bulk of the order heading into revenue service in 2018 and 2019.
The first of the new buses will primarily serve areas of Seattle that suffer the worst air quality or have major health disparities, a social justice benefit that shouldn't be overlooked amid the technological advances, Dembowski said.
"It's incumbent upon us to take advantage of clean technology to improve health in the community," the councilmember said.
King County Metro currently operates a fleet of electric trolleybuses, which are powered by a web of overhead wires along many routes in downtown Seattle and core neighborhoods. That trolleybus network, somewhat rare for U.S. cities, is a legacy of Seattle's former streetcar system that was upgraded for use by rubber-tired trackless trolleys.
The county began rolling out the next generation of electric trolleybuses on that wire-based network in August 2015, the first such upgrade for that fleet in 30 years. Seattle has the nation's second-largest trolleybus fleet after San Francisco.