Water Emergency in Chapel Hill, N.C.: 'Our Water Supply Basically Ran Out'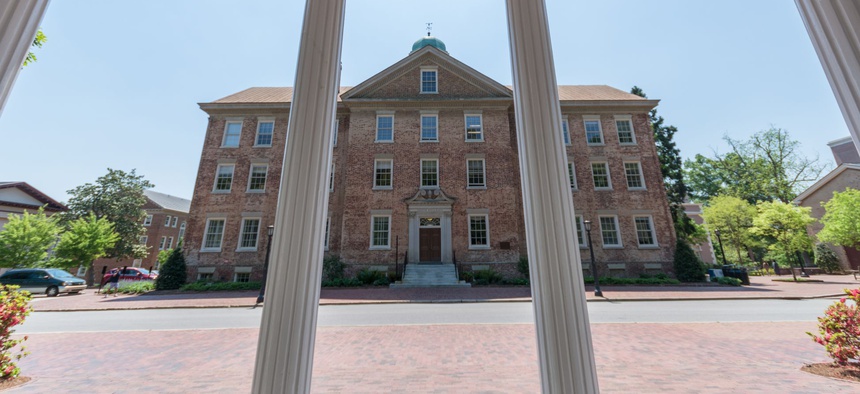 Local authorities work to restore service after problems with fluoride treatment and a broken water main led to a loss in pressure.
Thousands of people in and around Chapel Hill, North Carolina, were told Friday not to use the local tap water, following problems with fluoride treatment and a water main break.
The Orange Water and Sewer Authority supplies water to Carrboro and Chapel Hill, where mayors in both towns declared states of emergency on Friday. The Orange County Health Department issued "do not drink" and "do not use" orders for the authority's customers.
Officials recommended that residents use bottled water. About 80,000 residents live in the affected area, which is home to the University of North Carolina at Chapel Hill.
"Our water supply basically ran out," Greg Feller, public affairs administrator for the Orange Water and Sewer Authority, said by phone Friday afternoon. "We've had to tell customers not to drink water," he added. "We're trying everything we can to restore service."
The water emergency was lifted on Saturday afternoon.
The problems began Thursday when too much fluoride was added to water at a treatment plant. According to Feller, the over-fluoridated water was contained at the facility and posed no public safety threat. The agency turned to the nearby city of Durham to supply water while it worked to fix the fluoride problem. Then on Friday around 11 a.m. the authority discovered a water main break.
Pressure in the water system was already lower than usual on Thursday, Feller said. But by Friday, with the broken pipe also affecting operations, it fell to levels that were no longer safe. Without adequate pressure, Feller explained, contaminants can flow into a water system.
"We have not been able to fill our water storage tanks," Feller said, "which is what creates pressure. The water we get from Durham wasn't enough to enable us to do that."
It's still unclear what caused the initial problem with the fluoride at the treatment plant, he said.
The University of North Carolina at Chapel Hill closed its campus at 1 p.m. Chapel Hill-Carrboro City Schools dismissed students early. Chapel Hill closed town facilities in the afternoon and said partner jurisdictions could assist with providing water for fighting fires if necessary.
The Orange County Health director ordered all restaurants served by the water authority to close.
Photos on social media in the afternoon showed store shelves in the Chapel Hill area emptied of water.
But the grocer Harris Teeter announced that it would give away water at four of its stores in the area. And the water and sewer authority posted information online from the state public safety department saying truckloads of water were en route to local Wal-Mart and Costco stores.
Jonathan Wetherbee, a law student at University of North Carolina at Chapel Hill, said there was water available when he stopped in at his neighborhood grocery store on Friday afternoon. "It was kind of like a normal day at the grocery store," he said. "There was no intense panicking."
Wetherbee stocked up on beverages, buying two one-liter bottles of water and two gallons of orange juice. "I have dirty dishes that I'm not cleaning. And I'm definitely not flushing my toilet," he said. But he added: "I'm not anticipating having to ride this out through the weekend."
He said he received alerts about the water problems on Friday morning via text message and email. But because the alert system had recently been tested he did not pay attention to the messages initially. He learned what was happening with the water supply from a friend who called.
If the situation becomes too cumbersome, Wetherbee said he could make a trip to Durham. The city is only about 10 miles from Chapel Hill and water service there was operating normally. "I haven't ruled out going to Durham," he said, "just to take a shower."
This article was updated to note that the water advisory had been lifted.
Bill Lucia is a Senior Reporter for Government Executive's Route Fifty and is based in Washington, D.C.