How Much Does Your State Spend on Infrastructure Compared to the Feds?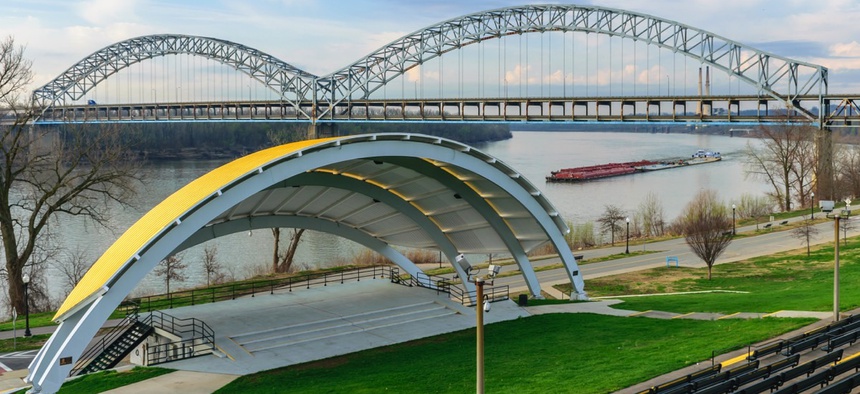 The federal government has a tendency to invest in infrastructure in states where they're already invested, according to a recent High Tide Technologies analysis.
According to "The State of American Infrastructure" report, Indiana spent the 18th most on infrastructure of any state in 2015, and the federal government spent the 14th most on Indiana's infrastructure of any state that same year. Indiana's 2016 "hard infrastructure" quality was ranked first by CNBC.
Hard infrastructure refers to physical and organizational structures like roads, bridges, waterways, airports, railroads and water systems that allow society to function.
"[Federal] enthusiasm has at least a marginal tie to the state's investment," Andy Kerns, an analyst with the Nashville, Tennessee-based data automation company, told Route Fifty in a interview on Tuesday. "There's sort of this 'help those who help themselves' attitude."
Texas, which tied with Tennessee for the second-best infrastructure in CNBC's ranking, spent the second most on infrastructure of any state, and the federal government matched that with the second-most spending on any state. California ranked first in state and federal spending but 33rd in infrastructure quality.
Similarly, New York ranked third in state and federal spending but 43rd in infrastructure quality.
There were three notable exceptions to the trend. Minnesota was 13th when it came to infrastructure spending but federal government spending was 22nd. The same was true of Louisiana and in Missouri, where the state governments did not spend very much money infrastructure but the federal government spent low but federal spending in those states was higher.
"Government is so complex and the budgets so sensitive and complicated, states need to step back and look at the broader story that there's a clear need for significant infrastructure investment across the country," Kerns said. "You've got to invest money at some point, and the longer you wait, the economy is going to be punished by it."
U.S. residents spend a combined 600,000 years in traffic, according to former U.S. Transportation Secretary Anthony Foxx. That statistic puts in perspective what infrastructure investment means for the U.S. economy.
President Trump promised an as-yet-to-be-seen, $1-trillion infrastructure package on the campaign trail, one of the reasons High Tide began looking into the issue in the first place.
"There's a lot of bluster and talk about it, and it's something Americans can nod their heads at as an idea. But getting it past Congress is a whole other animal," Kerns said. "People can go beyond thinking about the economic impact of infrastructure investment to creating jobs, avoiding a drain on their own income and accruing savings in small increments over time."