What 15 Secretaries of State Think of Voter ID Rules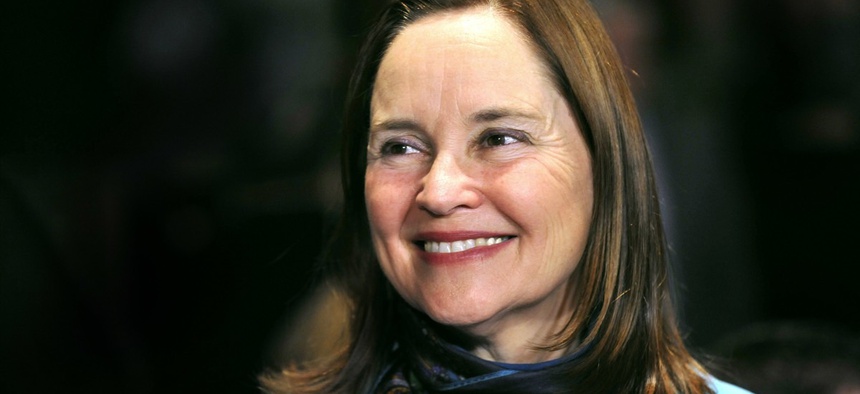 As the National Association of Secretaries of State meets in the nation's capital, here is what some of them feel about a hot-button political topic.
WASHINGTON — President Trump's baseless but consistent claims of widespread voter fraud in the November elections have roiled many elections administration officials, including secretaries of state.
Those accusations have punctuated the ongoing political debate over voter identification laws, which are a topic of discussion as the National Association of Secretaries of State meets this week for its four-day winter meeting in the nation's capital.
The 2016 presidential election was the first since the U.S. Supreme Court struck down parts of the Voting Rights Act. And the nonpartisan Brookings Institution found 14 of 20 states with "restrictive voting laws" like voter ID had them take effect last year to intentionally discriminate against and "systematically disenfranchise minorities, young people, and the poor."
Connecticut Secretary of the State Denise Merrill, a Democrat who currently serves as NASS president, was among the first to speak out publicly against Trump's unsubstantiated claims of illegal voting—rhetoric that's become commonplace among conservatives—in an emailed statement:
"Our democracy is the most transparent in the world. Our voter rolls are public information and elections officials are honorable public servants who carry out their tasks in an open and accessible manner. To claim, without a shred of evidence, that millions of 'illegal votes' were cast does nothing but undermine people's confidence in democracy. Working to undercut the public's faith in a free and fair vote is beyond irresponsible, it is frankly un-American. What's worse, I fear that these lies are being stated in order to lay the groundwork for a draconian assault on voting rights. I sincerely hope I am proven wrong."
Merrill isn't alone in her thinking, but she's also certainly not unopposed. Ahead of Thursday's NASS conference session on voter confidence, Route Fifty put together a sampling of where secretaries of state stand on voter identification laws.
New Hampshire Secretary of State Bill Gardner, a Democrat, has had his hands full refuting senior Trump adviser Stephen Miller's unfounded accusation Sunday on ABC's "This Week" that thousands of voters were bussed in from Massachusetts to illegally cast ballots. "It really concerns me and bothers me that half the population believe there is voter fraud," Gardner told the Concord Monitor. "And if people believe there is voter fraud, the value of the ballot is lessened and people don't go out of their way to vote anymore." The state has a strict photo ID requirement, which Gardner defended saying only 1,124 of the approximately 755,000 people who voted in November lacked an ID or were unfamiliar to election officials.
Missouri Secretary of State Jay Ashcroft, a Republican, has rebuffed the notion that the state's recently passed, non-strict, non-photo ID requirement is too expensive to implement—saying he can do it for $1.5 million so long as efforts to educate the public on the changes are limited. Registered voters will be allowed to vote without photo IDs, he said, according to St. Louis Public Radio.
Nevada Secretary of State Barbara Cegavske, a Republican, has said voter fraud is not a problem in the state, despite state Assembly Republicans introducing a voter ID bill earlier this month. "There is no evidence of voters illegally casting ballots at the most recent election in Nevada," Cegavske said, according to the Reno Gazette-Journal. "The Secretary of State's office is aware of attempted fraud related to voter registration in Nevada; however, with the help of local election officials, we were able to investigate and make one arrest."
Kansas Secretary of State Kris Kobach, a Republican, urged the state legislature to pass a law requiring a photo ID and proof of citizenship at the polls, which it did in 2011. But earlier this month a civil rights advisory panel found the law "may have been written and implemented with improper, discriminatory intent," reported The Kansas City Star, and as the strictest in the nation should be investigated further by the U.S. Department of Justice's Civil Rights Division.
Iowa Secretary of State Paul Pate, a Republican, introduced the "Election Integrity Act" in the state House earlier this month, which would mail voter IDs to every registered voter. "No voter will be excluded and no eligible voter will be turned away at the polls," Pate said, according to The Des Moine Register. The state currently has no ID requirement and boasts some of the highest voter participation in the U.S., without any evidence of fraud.
North Dakota Secretary of State Al Jaeger, a Republican, has been hit with a lawsuit arguing voter ID laws passed in 2013 and 2015 disenfranchised Native Americans disproportionately, but that hasn't stopped Republican lawmakers from proposing more changes. New state legislation would require a driver's license, ID card, tribal ID or else supplemental, up-to-date documents to vote, according to the Grand Forks Herald.
Montana Secretary of State Corey Stapleton, a Republican, has indicated he's open to any legislation addressing voter fraud, and at least one Republican legislator is looking to toughen the state's non-strict, non-photo ID requirement, reported Montana Public Radio.
California Secretary of State Alex Padilla, a Democrat, told The San Diego Union-Tribune in a recent interview that it's no coincidence that many states have rushed to change how elections are done since the Supreme Court heard the Shelby v. Holder case:
It is creatively written voter ID that's very intentional. Things like in certain states well, what count as your ID? License, passport, et cetera. Gun permit? Yes. But a state university ID … so that's all of a sudden state issued ID doesn't. That's not a coincidence. Things like how people manage their voter rolls. Are they overly aggressive in purging the voter rolls in a way that hurts low propensity voters? Is it either in some states the reduction of early voting opportunities or the elimination of early voting opportunities or where that happens county by county? You know, Alabama may be one of the most egregious cases where no sooner than they passed their voter ID law then they closed DMV offices in the county with the highest percentages of African-American population. Coincidence? You decide.
Alabama Secretary of State John Merrill, a Republican, has called voting a "privilege" when criticizing automatic registration and said citizens need to "show some initiative" if they want to exercise their right to vote, according to AL.com. The state has a non-strict photo ID requirement and purges its rolls every four years.
Texas Secretary of State Rolando Pablos, a Republican, expressed confidence in the state's election system following Trump's allegations of voter fraud and Gov. Greg Abbott echoing the president's concerns. "We have multiple layers of safeguards in place to prevent illegal voting and remain constantly vigilant to guarantee that the voices of Texans at the ballot box are not muted by those who attempt to engage in abuse or fraud within our election system," Pablos said, according to The Texas Tribune. "In the State of Texas, we have taken and will continue to take all allegations of illegal voting very seriously." The state passed a strict voter photo ID law in 2011 that the U.S. Supreme Court stuck down in January, but further legal appeals are expected.
Washington Secretary of State Kim Wyman, a Republican, was critical of Trump's claims of a "rigged" election prior to his win and stuck to her guns, when he first floated the idea of a federal investigation into voter fraud in January. According to Seattle Weekly, Wyman issued this statement:
"As Secretary of State, I take any allegations of voter fraud seriously and am eager to review any evidence President Trump has, or his investigation might uncover, to support his assertion. However, as I stated when he raised this issue last fall, I am confident the election system in Washington state is secure and prevents illegal voting. Our county elections offices and our State Elections Division have multiple safeguards in place to prevent illegal voting, and there is no evidence that illegal voting took place anywhere in our state during the 2016 election."
The state has a non-strict, non-photo ID requirement, and Wyman wants to require proof of citizenship at the ballot box with automatic registration for citizens as an opt-out.
Rhode Island Secretary of State Nellie Gorbea, a Democrat, has said she'd support an effort to overturn the state's 5-year-old, non-strict photo ID requirement. "We continue to work with local elections authorities to ensure that our voting lists are up to date and accurate," she said, after Trump's comments about illegal voting, according to the Providence Journal. "It is outrageous that the president continues to make unsubstantiated claims about alleged widespread voter fraud."
Maine Secretary of State Matthew Dunlap, a Democrat, told the Bangor Daily News that voter IDs are a "political issue," after Republican Gov. Paul LePage called the state's system "illegitimate" for not requiring them at the ballot box ahead of the 2016 election. The state's House, mostly Democratic, last killed an attempt to enact voter IDs in 2015. "It's curious that the governor would question the integrity of a system under which he was elected twice," Dunlap said.
Virginia Secretary of the Commonwealth Kelly Thomasson, a Democrat, hasn't weighed in on the state's strict photo ID requirement, but she has helped Gov. Terry McAuliffe restore voting rights to felons who completed their sentences and parole or probation—arguing their disenfranchisement "was rooted in the dark history of discrimination against minorities," reported Talk Media News. The state House passed a bill requiring proof of citizenship to register to vote, legislation the governor is expected to veto should it pass the Senate.