As Trump Promises 'Big League' Manufacturing Gains, Mayors Confront Automation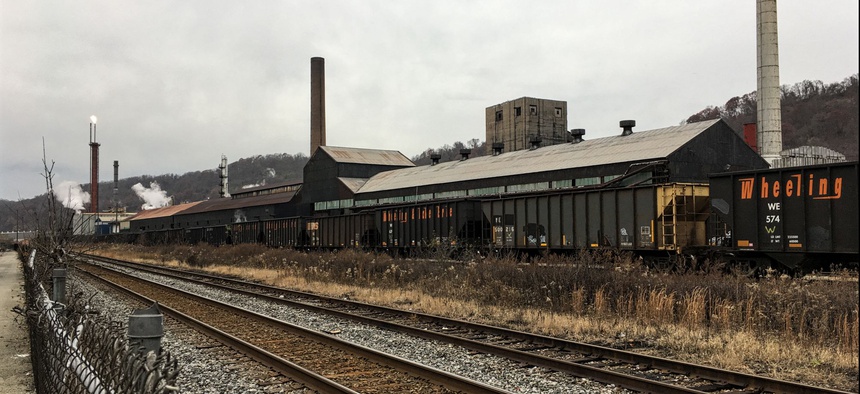 WASHINGTON — The mayor of Lansing, Michigan, speaking at an event in the nation's capital last month, recalled a recent visit he made to a factory.
"There's all these machines. All these robotics," Mayor Virg Bernero said of the facility, which is operated by a parts supplier for General Motors. The plant is located in the Lansing area and employs city residents. Every so often, Bernero said, the machines would stop and a worker "runs in and he does something."
As the mayor watched this, he said he had a thought: "In another five years, that guy probably, his job will be eliminated, too. There'll be a machine that does his job."
President Trump has pledged to bolster American manufacturing during his time in office. But local leaders like Bernero have witnessed up close how emerging technology can eliminate and threaten jobs in manufacturing and other sectors. And some are grappling with what—if anything—they can do so their residents are less vulnerable to this trend in the years ahead.
"We've got to get real," Bernero told Route Fifty during the U.S. Conference of Mayors winter meeting, which was held in the days leading up to Trump's inauguration. "This autonomous technology, it's a double-edged sword. I mean, it's a little scary."
There are steps local governments can take to help prepare residents for technological shifts. For example, offering support to community colleges, or the "maker movement," or training for occupations that require distinctly human abilities—like nursing.
But it's possible even these efforts could fall short. "In the long run, that probably won't be enough," Martin Ford, author of the book "Rise of the Robots: Technology and the Threat of a Jobless Future," said by phone as he discussed job retraining and education initiatives. "This is ultimately going to be a huge issue for all of society," he added, referring to the future of automation. "Ten, 20 years from now, I think it's going to be a real broad-based disruption."
Not everyone agrees with Ford's outlook. Some experts argue that fears automation will cause sweeping job losses are exaggerated. Others say foreign trade and a strong dollar have done more lately than robots and computers to undermine U.S. manufacturing jobs.
Even so, mayors are weighing how their local economies will be affected by new technologies. Mayor Nan Whaley, of Dayton, Ohio, raised the topic during a panel discussion at the Conference of Mayors meeting: "The idea that it's like, 'we'll figure that out when it gets here,' I think is a reason why there's so much anger in our communities about this issue."
Different This Time?
David Autor, an economics professor at the Massachusetts Institute of Technology, writing in a 2015 article published in the Journal of Economic Perspectives, notes that 41 percent of the U.S. workforce was employed in farming in 1900. By 2000, that share had fallen to 2 percent, mostly due to technology. Likewise, the auto industry cut the need for occupations that had to do with horses, like blacksmithing. In both cases the U.S. labor market did not collapse, it transformed.
Autor later cites research showing the number of bank tellers went up by about 50,000 in the U.S. between 1980 and 2010, even as the number of ATMs skyrocketed. The industry changed, tellers took on new roles at banks, machines and human labor complemented one another.
"Journalists and even expert commentators tend to overstate the extent of machine substitution for human labor and ignore the strong complementarities between automation and labor that increase productivity, raise earnings, and augment demand for labor," Autor says in the article.
But Ford questions whether future technological progress will mirror the past.
"What I've been arguing is that this time is probably different," he said. "The machines are really starting to think in a more holistic way. They're really beginning to encroach on human intellectual capability. You see that with machine learning," Ford added. "There's still going to be job destruction and job creation. But the destruction could far outweigh the creation."
Dean Baker, co-director of the Washington, D.C.-based Center for Economic and Policy Research, doesn't rule out Ford's view. But he cautioned that economists generally have a poor track record predicting these sorts of changes. He also believes that when it comes to manufacturing job losses in the U.S. in recent years, international trade was a major factor.
"Automation, this is normal," Baker said. "Generally it's a good thing."
"That's how we have rising living standards," he added. "We're able to produce more."
Baker said automated technology eliminated U.S. manufacturing jobs at a moderate pace for decades, all the way back through the 1950s. But those job losses accelerated in the early 2000s as the nation's trade deficit soared. "The big job loss in manufacturing that people have been talking about in the last 15 years," he said, "that certainly was trade."
'Big League'
Trump has drawn strong support from parts of the country that have seen their economies suffer from declines in industries like manufacturing and mining. The president has promised to help bring back jobs to these areas by enacting tougher trade policies and taking action to discourage American companies from moving operations abroad. He has also said he wants to ease regulatory and tax burdens for businesses in the U.S.
"It's the long-term jobs that we're looking for," Trump said during a meeting with auto industry executives last week. "We're bringing manufacturing back to the United States big league."
John Pokomo lives in Monessen, a city of about 7,500 residents in southwestern Pennsylvania's Monongahela River valley. Starting in his early 20s, he said he spent nearly four decades working in steel plants. The industry deteriorated badly in the U.S. beginning in the 1970s, as demand slackened and less expensive foreign steel flowed into global markets. Over the years, as companies faced bankruptcies and other problems, Pokomo said he lost several jobs.
"I don't think steel's gonna come back," he said, standing outside of Monessen's municipal complex on an afternoon in late November. Although he described himself as a lifelong Democrat, Pokomo said he supported Trump and hoped the then-incoming president could at least keep what's left of the nation's steel sector and other manufacturing from disappearing.
"He has to change it," Pokomo said of Trump. "People are tired."
Ford, however, sees limits to what the president might accomplish with attempts to rev up employment in U.S. factories. "I don't know of any way that Trump can keep that promise to bring back manufacturing jobs," he said. "People are talking about immigration and they're talking about China," Ford added. "But technology is a big part of what is causing, especially those people in the industrial Midwest, to feel kind of that they're being left behind."
'Debilitating to Some Communities'
Dayton, Ohio, is a city familiar with harsh drops in employment.
Whaley said the Dayton region lost roughly 16 percent of its jobs during the Great Recession. "A huge amount particularly in manufacturing," she said. Over the last two decades, Whaley added, automation has been somewhat "debilitating to some communities."
Now she's concerned about what's next.
"While I'm very excited about the idea of not having to drive to Cleveland, the fact of the matter is that there are 77,000 truck drivers that are in Ohio," Whaley said as she talked about the prospect of autonomous vehicles. 
U.S. Bureau of Labor Statistics estimates back up the figure Whaley mentioned, showing about 71,700 heavy truck and tractor-trailer drivers in Ohio as of May 2015. Nationally, the number of big-rig truckers at the time totaled 1,678,280, according to BLS.
Ford Motor Co. Executive Chairman Bill Ford acknowledged during remarks at the Conference of Mayors meeting that drivers could lose jobs as autonomous vehicles become more common. "Jobs will change," he said. But Ford voiced optimism as well, pointing out that self-driving vehicle technology could help people, particularly those who are poor and don't own cars, get to employment centers. "If we do this right, this should enable people to get to where the jobs are."
Monessen Mayor Lou Mavrakis is less upbeat about where further automation by U.S. companies might lead. A former steel mill worker and United Steelworkers representative, he knows well how imports and other market forces dragged down the steel industry in and around Monessen. But he also laments the effect that technology has had on the region's job market.
"Modern technology took over and started putting everybody out of work," he said over lunch in November. The mayor expressed worries about social upheaval if firms continue to automate relentlessly. "They're going to put themselves out of business," he said. "If they keep going the way they're going," the mayor cautioned, "you're going to have a revolution."
What Can Be Done at the Local Level?
There are limits to what local leaders can achieve when it comes to helping their communities adjust to new technology and global economic trends.
But they do have options.
Strengthening industries through regional partnerships is one example. Whaley described how Dayton worked with Cincinnati to get a swath of southwestern Ohio federally designated as a hub for aerospace manufacturing. "We've had great success with this," she said.
Dayton is also focusing on how to get young people interested in the next generation of manufacturing jobs, some of which are going unfilled due to a lack of available engineering and technical talent. "We have an obvious gap," she said. "Because in manufacturing you now need associate degrees. You need to have more education."
The mayor added: "It can be a really decent paying job."
But Bernero, the Lansing mayor, noted that "people have mixed emotions about their children going into manufacturing. Because they hear about this factory or that factory closing." Some of these parents may have endured layoffs themselves.
Bernero suggested it may be time to rethink traditional incentives cities use to attract companies. "Economic development was based on how many jobs you created," he said. But automation can pose situations where businesses take tax credits and then cut jobs.
Looking ahead, the mayor stakes some hope on the "maker movement," which involves people tinkering, fabricating and building technology and other items on their own, or with do-it-yourself communities. Working with libraries, or other organizations, to ensure people have access to "makerspaces," with tools like 3D printers, is a way local leaders can support the movement.
"I want to make sure that whatever disruptive technology comes, that some of it comes out of Lansing," Bernero said. "We have creative people and we've got to promote that."
Broader Solutions
Martin Ford is open to the idea that the maker movement might help some people acquire skills or earn money as new technology kills jobs. "But it's not a systemic solution," he said.
Ford predicts that the jobs most insulated from automation in the years ahead will be those that involve creativity and unpredictability. Skilled trades, like working as a plumber or electrician, are one possibility. Health care professions are another. "Building a robot that can do what a nurse does," he said, "is still science fiction."
But eventually, in Ford's estimate, policymakers may be forced to take drastic measures. "We might need something like a basic income," he said, "a guaranteed income, to make sure that everyone can survive in a world where there might not be enough jobs."
Paying people to not work may sound like a radical proposal, Ford admits.
"It's a tough problem politically, and socially, and fiscally," he said. "You're talking about an enormous amount of money you'd have to raise through taxation. So I don't think it's something that's going to happen soon."
Baker said that one option state lawmakers might consider to help preserve manufacturing jobs is requiring employers to make severance payments to laid off workers. For instance, two weeks of severance for every year a person spent with a company. This would provide people who lose their jobs additional income on top of unemployment benefits.
It would also change incentives for businesses.
"Employers know if they just dump all their workers, they're going to have to cough up a lot of money," Baker said. Given those costs, retooling a plant, or retraining workers could make more financial sense that shutting down and relocating somewhere with cheaper labor costs.
Could any of Trump's proposals help?
"It's a really good question," Baker said. "I'm not sure what Donald Trump plans to do." It may be possible, he said, to get back one or two million manufacturing jobs. Bureau of Labor statistics figures show about 5.7 million jobs were lost in the sector between 2000 and 2009.
But a key issue, from Baker's perspective, would be getting the value of the dollar down relative to other currencies.
This would make U.S. goods less expensive and more attractive abroad. At the same time, foreign goods would be pricier in the U.S., increasing demand for domestic products. Lowering the dollar's value, Baker said, would likely involve negotiations with trading partners.
How the value of the dollar will change in the years ahead remains to be seen.
But, in the meantime, local officials will continue to confront changes in their area economies as automation and other trends unfold. "It's a little daunting to think about where will all those people will find livelihood," Bernero said as he considered the jobs that could be lost due to autonomous technology. "I don't have the answer."