'Every Year We Seem to Be Dancing on the Edge of This Cliff'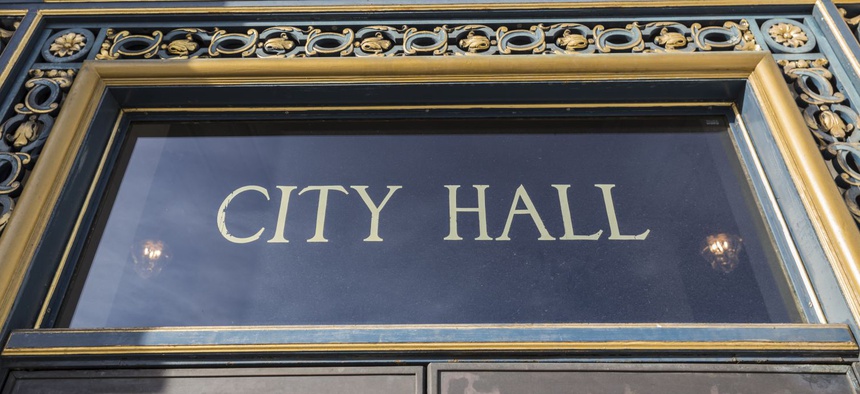 City and county government leaders lament the uncertainty surrounding the federal budget.
WASHINGTON — Local government leaders here Thursday decried the uncertainty surrounding the federal budget process, as congressional lawmakers sought to avoid a government shutdown with a stopgap spending measure.
"Every year we seem to be dancing on the edge of this cliff, where we might fall off and the government might shut down," Patrick Wojahn, the mayor of College Park, Maryland, said during an event sponsored by the National League of Cities and the National Association of Counties.
By Thursday, the chances of a federal shutdown had dimmed.
The Trump administration had by then relaxed demands that a spending bill include money for a wall on the nation's southern border with Mexico—a priority for the president. And the White House also agreed to continue paying insurance subsidies under the Affordable Care Act, also called Obamacare. These issues had been sticking points for Democrats during budget talks.
Even with the decreased probability of a shutdown, Wojahn and two county commissioners who spoke at Thursday's event expressed frustration with their federal counterparts in Washington.
Roy Charles Brooks, the first vice president of the National Association of Counties, noted that he is the only Democrat on the county board in Tarrant County, Texas. "But we realize that there is not a Republican or Democratic way to build a road," he said. "I wish that Congress would adopt that same philosophy, that there are certain things that have to be done."
At the local level, he added: "Planning is something that goes out the window when the federal government is dysfunctional."
Sally Heyman, a commissioner in Miami-Dade County, Florida, explained that uncertainty about federal funding and services "translates to 'what are we going to do to adjust our budget?'" Because regardless of what happens in Washington, she said, "the essential services of water, public works, roads maintenance, transportation still need to be provided."
Without congressional action, federal agencies would run out of funding and have to close down beginning Saturday. Republicans in Congress have proposed a one-week continuing resolution that would keep the government running through May 5. For all of fiscal year 2017, federal agencies have operated under a continuing resolution.
The last federal government shutdown was in 2013 and lasted about two weeks.
Wojahn pointed out that while Trump has voiced support for massive new infrastructure investments, which would rely in part on private capital, the president's ambitions could be undermined if federal funding and the passage of routine spending bills remains unpredictable.
"In recent history, we continue to put off things, important things, like figuring out long-term infrastructure funding," he said. "The private sector isn't going to invest, or it's going to be a lot more expensive for them to invest, in public projects," Wojahn added, "if there is no certainty."
RELATED on Government Executive:
Bill Lucia is a Senior Reporter for Government Executive's Route Fifty and is based in Washington, D.C.