GOP Senator to White House: Hands Off Oil and Gas Payments to Gulf Coast States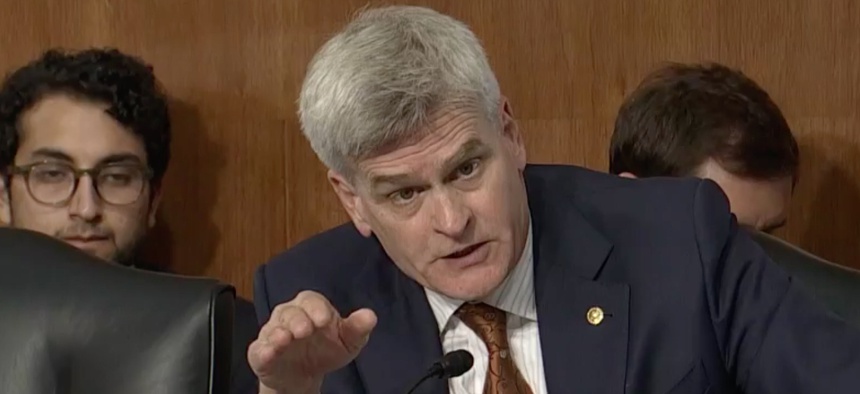 Interior Secretary Ryan Zinke told Louisiana U.S. Sen. Bill Cassidy that he'd work with him to address concerns about a plan in President Trump's budget to redirect the funds.
WASHINGTON — A Republican U.S. senator from Louisiana pressed Interior Secretary Ryan Zinke on Tuesday about a proposal in President Trump's budget plan to redirect billions of dollars in offshore oil and gas revenues away from Gulf Coast states.
Sen. Bill Cassidy's comments concerned the Trump administration's push to overhaul how money is distributed under the Gulf of Mexico Energy Security Act, or GOMESA. The 2006 law established new revenue sharing requirements between the federal government and four states: Alabama, Louisiana, Mississippi and Texas.
Trump's spending plan calls for repealing the GOMESA payments and redirecting an estimated $3.5 billion in offshore oil and gas revenues to the U.S. Treasury, over a decade-long timeframe between the upcoming fiscal year and 2027. Funds allotted to the four Gulf Coast states under the law are supposed to be used for coastal conservation, restoration and hurricane protection efforts.
"In our state these revenues are constitutionally required to be put towards coastal restoration," Cassidy said. "It is a prudent approach to rebuild the Gulf Coast coastline."
"Otherwise we're paying for more Katrina-type recoveries," the senator added, referring to Hurricane Katrina, a storm in 2005 that had devastating effects on the New Orleans region.
Zinke expressed an openness to working with Cassidy to address his concerns about the payments. The secretary appeared before the Senate Energy and Natural Resources Committee on Tuesday to discuss the president's fiscal 2018 budget proposal.
"I understand exactly what you're talking about on this," he said.
"I'll work with you on it," The secretary added. "I understand the importance to Louisiana."
Zinke's response appeared to be one of the latest examples of agency leaders in the Trump administration taking a less-than-hardline stance on some of the drastic cuts in the president's 2018 budget, which calls for $54 billion in reductions to discretionary, non-defense programs.
The money funneled to Louisiana under GOMESA, Cassidy explained is set to go towards the state's coastal master plan, which he said includes 120 projects and would add 802 square miles of land in Louisiana's coastal regions, with the aim of reducing future flood damage.
Under GOMESA, Alabama, Louisiana, Mississippi and Texas are to receive 37.5 percent of revenues from certain oil and gas leases in federal waters.
Most of the payments were deferred until 2018, according to the White House budget plan.
Trump's fiscal 2018 budget proposal, which was submitted to Congress last month, makes a case that the federal waters in the Gulf of Mexico belong to all Americans and revenues from offshore leases should be distributed accordingly—as opposed to favoring a handful of states.
But Cassidy argued that infrastructure built over the years to control water levels and allow for inland ports on the Mississippi River has contributed to coastal land loss in Louisiana, while benefitting other parts of the nation. And he said that coastal restoration and conservation efforts would help protect critical petroleum pipeline and refinery infrastructure in Louisiana.
"The price of gasoline rises in the northeast when our pipelines are put out of business by a large storm," he said.
Experts have attributed the loss of land along Louisiana's coast to a number of factors.
Levees on the Mississippi River have reduced sediment flows that help keep coastal wetlands built-up. The pumping of water and oil from underground has caused some land to sink. And sea-level rise, driven by climate change, threatens the state's coastline as well.
America's Wetland Foundation last month described the elimination of GOMESA funds proposed in Trump's budget as potentially "crippling to coastal restoration efforts in Louisiana."