Houston Mayor Seeks to Hike Taxes to Pay for Flood Recovery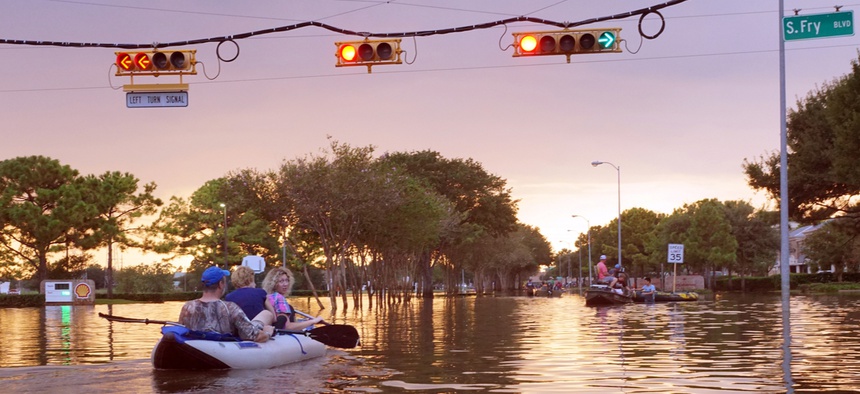 STATE AND LOCAL NEWS ROUNDUP | Maine's governor vs. Native American tribes; "bikini barista" lawsuit filed in Washington state; and multi-state diarrhea outbreak linked to puppy sales.
The Route Fifty state and local government news roundup is compiled by our staff and edited by Michael Grass. Help us compile news links using these hashtags: #stategovwire and #localgovwire.
HARVEY RECOVERY | To help pay for Hurricane Harvey flood recovery, Houston Mayor Sylvester Turner is seeking a temporary 8.9 percent property tax hike that would sunset after 12 months. For the average home in Houston valued at $225,000, that would mean about $117 a year in additional taxes. That higher rate is what Houston homeowners paid before a voter-imposed limit on property tax collections. [Houston Chronicle; KTRK-TV]
The story of how water service was restored to Beaumont, Texas following Hurricane Harvey involves some incredible goodwill under extreme circumstances: When floodwaters swamped the city's pump infrastructure, Tiger Industrial Rentals president Colby C. Crenshaw called a customer that was supposed to be getting a shipment of three large water pumps if it would be OK to direct them immediately to Beaumont, where they were immediately needed. [Beaumont Enterprise]
LITIGATION | A group of "bikini baristas" filed a lawsuit Monday against the city of Everett, Washington. They claim two recently passed local ordinances that would restrict employees from wearing revealing swimwear in so-called "quick-serve" restaurants, like coffee stands, would violate their constitutional rights. "The city knows only women work as bikini baristas, and intentionally targeted women through the ordinances," said an attorney for the baristas. The city clerk's office is supposed to provide picture diagrams to help illustrate what's acceptable under the newly adopted city requirements. Ramsey Ramerman, assistant city attorney, defended the ordinance. "This is not about being offended by people wearing bikinis," he said. "Some of these stands had the characteristics of a poorly run strip club, and trying to enforce standards under the previous law was simply ineffective." [The Seattle Times]
St Paul, Minnesota: A very short decision handed down by the Minnesota Supreme Court on Friday regarding a legal dispute between Democratic Gov. Mark Dayton and the Republican-controlled legislature "cut the proverbial baby in half, giving a win to the governor and an offsetting win for the Legislature." [Star Tribune]
Kansas City, Missouri: Feces from puppies sold at Petland stores in seven states has sickened at least 39 people with "massive diarrhea," according to an advisory released by the U.S. Centers for Disease Control and Prevention on Monday. The states impacted are Florida, Kansas, Missouri, Ohio, Pennsylvania, Wisconsin and Tennessee. [The Kansas City Star]
Augusta, Maine: The administration of Gov. Paul LePage has cut off funding that the four federally recognized Native American tribes in the state were using to plan an expansion of addiction treatment and mental health services. "We're used to it. We've gone through it for 220 some-odd years. They promised us one thing, and, after a while, they do something else," said Theodore Bear Mitchell I, a former Penobscot Indian Nation representative in the Maine Legislature. The most recent cut eliminated the position of a tribal public health liaison. Tribal leaders are worried progress on public health programs could stall. [Bangor Daily News]
St. Louis, Missouri: Federal investigators are looking into a fair housing complaint filed by two state lawmakers that alleges that a homeless shelter in the Carr Square neighborhood is unconstitutional "because it makes poverty worse in an area that's already struggling." State Reps. Joshua Peters and Bruce Franks said the location of the homeless was racially motivated. "We can't just say, oh, just because this is a black area in north St. Louis city, we're just going to dump all the homeless people here," said Peters. "That's not an acceptable approach, and the federal government has said that it's not an acceptable approach." [St. Louis Public Radio]
Albany County, New York: Maple trees in New York's Capital Region are under threat from two local fungal outbreaks of anthracnose, a disease that is "characterized by brown blotches and lesions on maple leaves" and turns "turns entire trees brown." [Times Union]
Columbus, Ohio: A recent survey of a handful of neighborhoods on the city found that just 6 percent, or 10 properties total, showed signs of rodent infestation, much lower compared to some other areas of the Buckeye State's capital city. One Columbus neighborhood, Clintonville, saw a 34 percent infestation rate. According to the U.S. Centers for Disease Control and Prevention, "acceptable tolerance level for rats in an area is 2 percent of properties." [Columbus Dispatch]
Toolik Lake, Alaska: On Alaska's North Slope, "[f]orty-eight propane tanks, three swimming pool heat pumps and three generators are key to studying climate change in one of the fastest-warming regions in the world," a project that's in the first year of its five-year grant from the National Science Foundation. [Alaska Dispatch News]