Q&A: An Oregon Mayor Talks Tax Reform and DACA on Capitol Hill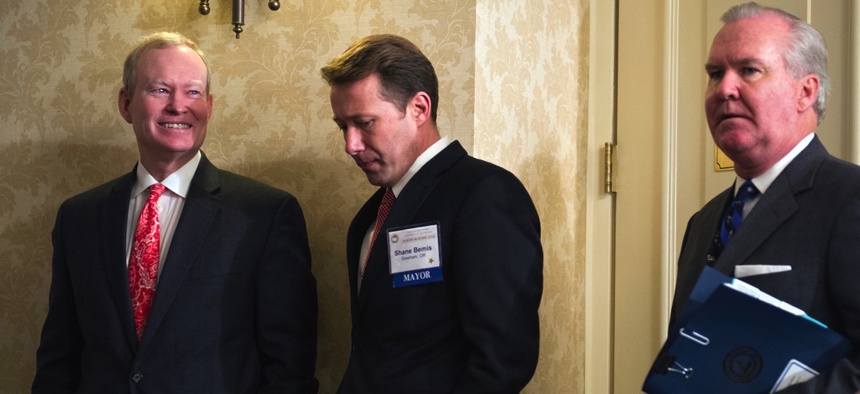 Gresham's Shane Bemis, a Republican, is among the U.S. Conference of Mayors members visiting the nation's capital ahead of the Republicans releasing their tax reform proposal.
WASHINGTON — Mayors met with congressional leaders Tuesday on Capitol Hill, one day before Republicans are expected to announce an expensive tax reform proposal affording large tax breaks to corporations and individuals.
President Trump promised tremendous tax cuts for the middle class as part of an outline that some estimate could cost upward of $4 trillion, and the U.S. Conference of Mayors fears the state and local tax (SALT) deduction and, to a lesser degree, the federal tax exemption for municipal bonds could be targeted to offset the resulting deficit.
Eliminating SALT would mean taxing taxpayer income twice at both the state-local and federal levels, and that, in turn, would make it harder for state and local officials to sell future tax increases to their residents. Curtailing the municipal bond tax exemption would see the federal government dip into interest earned on the loans, raising interest rates for states and localities attempting to finance infrastructure projects.
Shane Bemis, the Republican mayor of Gresham, Oregon, was among the more than a dozen mayors visiting House Minority Leader Nancy Pelosi and Senate Minority Whip Dick Durbin among other legislators to defend both tax breaks, as well as the Deferred Action for Childhood Arrivals program, affordable health care and adequate hurricane disaster relief.
Bemis spoke with Route Fifty in between USCM's sit-downs with Durbin and Pelosi:
Route Fifty: I know SALT is a point of concern for mayors here this week. Has the Conference received any assurances from congressional leaders that it might be protected?
Bemis: "We talked about the state and local tax deduction. It seems to me most of the members have a pretty good understanding of it, but I think there's still a mix of opinion on how the numbers come out. What do they move the standardized deduction to? How does that affect the rest of it? There seems to be a little bit of a difference of opinion on that."
Route Fifty: What would mayors like to see happen with SALT and the federal tax exemption for municipal bonds, and how might cuts affect finances back in your cities?
Bemis: "I think the mayors right now are saying the state and local tax deduction is an important piece because what it does is, everything we may ask our communities to pay for in terms of public safety value, that might be difficult to do because now that dollar bond is going to be a dollar-thirty or whatever the tax break may be. So it has real world implications in terms of what we're funding. We're waiting to see how the plan shakes out. That's what we've got our eye on."
Route Fifty: I hear you spoke with Sen. Dick Durbin about DACA and the possibility of a path to citizenship for undocumented immigrants brought to the U.S as children. Any developments on that front?
Bemis: "He's obviously been a champion for DACA for a long time, so there was really no discussion other than we're here to help. These are our neighbors, our kids. They play ball with these kids. They still have families the same way, and we're here to help. We have stories of situations that are happening all across America."
Route Fifty: Do you get a sense that Congress might take up a Dreamers bill anytime soon?
Bemis: "I'm not sure. I did hear from Sen. Durbin that the biggest advocate for DACA is the president. So, if that ends up being the case, then hopefully we'll get somewhere on that. I think we need to get a definitive answer on it so that these people with anxieties can come down and be engaged."
Route Fifty: As the mayor of a growing Oregon city, what other issues are you broaching with lawmakers on the Hill this week?
Bemis: "DACA, obviously, is really important to me. We've had rapid population growth in my city; 30 percent of my population since the year 2000 has come from another country. So we're really focused on this, and we understand. Some of the issues in Oregon are a little bit different. Our city is traditionally a suburb of Portland, and as Portland has gotten more expensive and folks have been pushed to the suburbs, we've dealt with a whole bunch of societal issues—coupled with the Great Recession—that we never have dealt with before, i.e., homelessness, increased crime, massive amounts of poverty. They have been shifted, and so trying to put this social network from a suburban community around that has been a little bit challenging for us. But we're making our way through it with a lot of partners."