What Does the Economic Forecast Look Like for U.S. Metro Areas?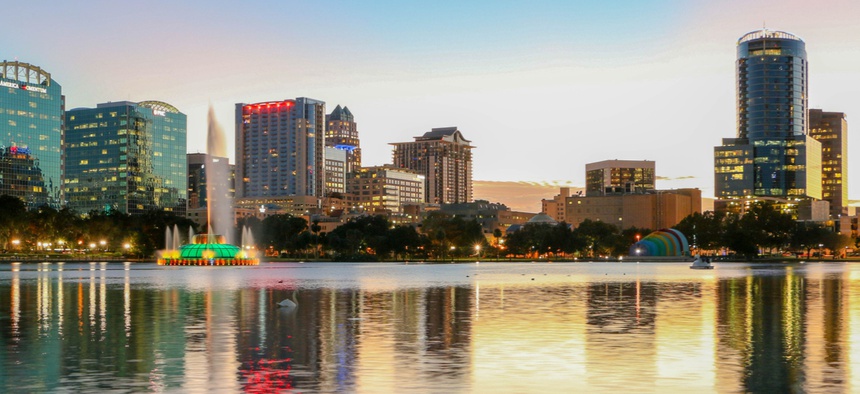 Estimates presented to mayors last week show solid national GDP growth in the near term. But there are concerns about workforce participation, regional divides and immigration policy.
WASHINGTON — The global economy is expanding briskly, an economic forecaster told mayors here last week. That's good news for many U.S. metro areas.
But Jim Diffley, of IHS Markit, also cautioned that the nation's economic growth would likely slow in 2020, partly due to tightness in the labor market. And he said coastal U.S. metro economies, in both the east and west, were generally showing greater strength than those in other areas, raising concerns about regional economic divides. 
Immigration was another issue that came up during the meeting where Diffley spoke. In attendance were members of the U.S. Conference of Mayors Council on Metro Economies and the New American City. The panel convened during the conference's annual winter meeting, held here Wednesday through Friday.
"We haven't seen this type of synchronized growth in the global economy in a decade," Diffley told the mayors. He added: "All the things that create export demand for U.S. goods are growing."
IHS estimates U.S. gross domestic product growth will be 2.7 percent this year (the highest figure since 2015), and 2.6 percent in 2019.
But after that, in 2020, the estimates show GDP growth falling to 2.0 percent. Key reasons IHS offers to explain the predicted drop are two-fold. One is that job openings are expected to exceed available, qualified workers, hampering the pace of growth. Another is that higher federal budget deficits are expected to curtail spending.
The recently enacted federal tax overhaul will have double-edged effects, Diffley explained, helping to boost growth in the next two years, but also contributing to future deficits.
There are a variety of factors acting as constraints on labor market growth, Diffley told the mayors.
A big one is that Baby Boomers are reaching retirement age. Other factors include the opioid drug addiction epidemic hitting parts of the U.S., and a lack of skilled workers for fields like construction and manufacturing. "Now is a good time to bolster workforce training programs, the jobs and job demand will be there," Diffley said.
He also said IHS was hoping to do a full study in the coming months on the effects of immigration on the workforce and that it could act as a buffer against declines in labor force participation that would otherwise occur.
And he noted 11 states, including six of the largest—Illinois, Michigan, New Jersey, New York, Ohio and Pennsylvania—would have seen population declines in recent years were it not for foreign immigrants.
"What you're suggesting is it would behoove the country to figure out immigration," said Louisville, Kentucky Mayor Greg Fischer, who chairs the Council on Metro Economies and the New American City.
IHS also provided the mayors a forecast for employment growth by metro area in 2018.
At the top of the list: Orlando-Kissimmee-Sanford, Florida (2.9 percent) and Austin-Round Rock, Texas (2.8 percent). Those areas were trailed by five metros with 2.7 percent projected employment growth. These included the regions in and around Las Vegas; Tampa, Florida; Nashville, Tennessee; Raleigh, North Carolina; and San Antonio.
At the bottom of the employment growth list: Hartford, Connecticut (0.2 percent), Buffalo and Rochester, New York, and Virginia Beach, Virginia (all 0.4 percent).
Coastal metros on both sides of the country are leading when it comes to U.S. economic growth, Diffley pointed out. "They dominate in GMP growth, they dominate in job growth, and they very much dominate in income growth, and result in high home prices," he said, using an abbreviation for gross metropolitan product, a similar metric to GDP.
He added that, given this trend, there are concerns about a "two-tier" economy "with the coastal metros getting stronger, and stronger at the expense of some of the interior metros."