'We Have No Bill. We Have No Deal' to End Arizona Teacher Protests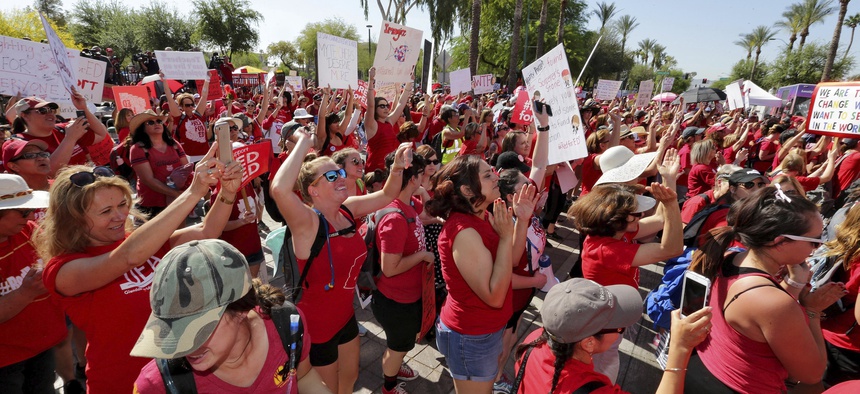 STATE AND LOCAL ROUNDUP | N.Y. plans new assistance for Puerto Rico recovery ... N.M. legal battle over secret recordings … Richmond, Va. is an eviction hub … and a "silent impasse" at an Ohio village hall.
Here are state and local government news stories that caught our attention ...
EDUCATION | Public schools across Arizona will remain closed on Monday as teachers plan to return to the State Capitol in Phoenix for a third day of #RedforEd protests over low teacher pay. Gov. Doug Ducey announced Friday that he has come to an agreement with state legislative leaders to boost pay, though details still need to be ironed out. "We have a press release and a tweet from the governor," according to a joint letter from the president of the Arizona Education Association president and an organizer for Arizona Educators United. "We have no bill. We have no deal. The devil is in the details." [The Republic / AZCentral.com; Capitol Media Services / Tucson.com]
PREEMPTION | Following the passage of H.B. 100 last year, which prevents local governments in Texas from having their own regulations for ridesharing services like Uber and Lyft, cities in the Lone Star State, like San Antonio, "are losing out on millions of dollars in new revenue because they lack the authority to tax such business activity." [The Rivard Report]
Meanwhile in South Florida, officials in Broward County have sued Florida Gov. Rick Scott and the legislature over a preemption law that prevents local governments from passing their own gun-control measures. While the local lawsuit doesn't directly challenge the state's ability to pass rules that tie their hands on the matter, it does question "the constitutionality of the penalties that discourage local officials from passing even those gun laws that should be within their rights." [Sun Sentinel]
ELSEWHERE …
New York City, New York: New York Gov. Andrew Cuomo on Sunday announced the launch of a new effort to lend assistance to Puerto Rico, as the U.S island commonwealth continues to recover from Hurricane Maria. The NY Stands with Puerto Rico Recovery and Rebuilding Initiative will deploy a tactical assessment team of state experts and partners from labor, non-profit, philanthropic and academic partners "to evaluate reconstruction needs and to develop a comprehensive rebuilding roadmap for communities in need." In June, approximately 500 students from the State University of New York and City University of New York will be deployed to Puerto Rico, along with skilled workers from building and construction trades. [N.Y. Gov. Andrew Cuomo]
Albuquerque, New Mexico: An unusual legal case—linked to audio recordings a local judge secretly made of other Magistrate Court judges and employees—is scheduled for oral arguments on May 10. While Connie Lee Johnson awaits a criminal trial over the secret recordings, the Judicial Standards Commission, which has been investigating the troubles at the Aztec Magistrate Court, is asking the New Mexico Supreme Court to block efforts to force the return or the destruction of the secret recordings, which "contain intimate details of personal life, relationship details, family details, marriage details, intimacy, private debts, protected medical information, and other personal details." [Albuquerque Journal]
Richmond, Virginia: Digging around information for eviction rates, recent studies—one by Princeton University's Eviction Lab and a follow-up study by the Richmond Times-Dispatch—found that Virginia's capital city stands out. The Princeton study found that Richmond has the second-highest eviction rate of any U.S. city—11 evictions for every 100 renters—while the Times-Dispatch analysis found that the Virginia landlord with the most eviction lawsuits is the Richmond Redevelopment and Housing Authority, "an organization whose mission is to provide housing for those who otherwise can't afford it." [Richmond Times-Dispatch / Richmond.com]
Perry Village, Ohio: There's a "silent impasse" at the village hall in this Cleveland-area municipality where communication has broken down between village council members and the mayor, who left on medical leave earlier this month without much explanation. The day before Mayor Vicky Stevens left, the council approved a vote of no confidence in the mayor, and in a complaint, indicate that "she has turned into a bad manager, won't sit down with council formally or informally to talk about issues, and is hard to get along with, even for city workers and other local officials." [The Plain Dealer / Cleveland.com]
Bismarck, North Dakota: The North Dakota Public Service Commission has a rule where utilities are required to plant two bushes or trees for every one removed for expansions of infrastructure. [Prairie Public]
Grand Junction, Colorado: This city in western Colorado, about 245 miles west of Denver, is seeing a bit of a population boom, something that is "built on more than geezers and gushers—retirees and energy workers." A diversifying economy means that while the population of Mesa County grew at by 1.2 percent in 2017, the local labor force "grew by 5.5 percent in 2017, from 70,288 to 74,198." [The Daily Sentinel]