New Governor Has 1st State Budget Due This Week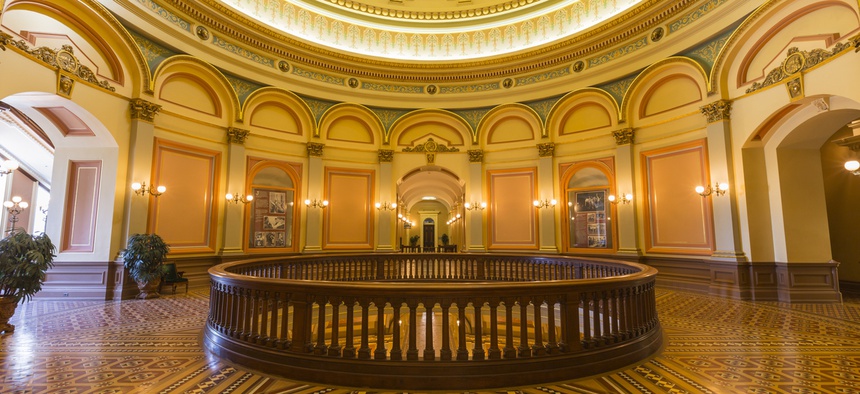 STATE AND LOCAL ROUNDUP | Minn. is falling behind on goals to reduce emissions … Airbnb sees big growth in rural areas … and a lawsuit could drain Pa. transit funding.
Good morning, it's Monday, Jan. 6, 2019. New governors and governors-elect lead Route Fifty's state and local government news roundup but scroll down for more from places like Juneau, Alaska; Muskegon County, Michigan; Philadelphia, Pennsylvania and Barry County, Missouri. … ALSO ON ROUTE FIFTY … Bill to Restore Full State, Local Tax Deduction Emerges in New Congress … Metros Should Focus on Attracting and Upskilling Workers in 'Opportunity Industries' … The Transportation Quandary for Older and Disabled People Is Two-Fold … Places Where Flu Activity Has Been the Highest ...
Let's get to it …
STATE TRANSITIONS | California Gov.-elect Gavin Newsom will take over at his state's next governor on Monday and will be sending his first budget to the legislature this week, as required by the state constitution. Joe Garofoli of the San Francisco Chronicle writes: "Newsom says housing, homelessness and prekindergarten education are among his top initial priorities. None comes cheap." [KTLA; San Francisco Chronicle] … Other governors-elect with inaugurations on Monday. Tim Walz in Minnesota and Tony Evers in Wisconsin. Democratic and Republican political observers say the Democratic governor-elect's cabinet appointments "points to a pragmatic approach aimed more at building consensus and managing agencies than fighting ideological battles or transforming how agencies operate." [WCCO; Wisconsin State Journal / Madison.com] … Florida Gov.-elect Ron DeSantis will be officially inaugurated on Tuesday, but is skipping the traditional parade in Tallahassee. [Miami Herald] … Brad Little was sworn in as Idaho governor on Friday, followed by dancing in the State Capitol's Rotunda. [Idaho Statesman] … Kristi Noem was sworn-in as South Dakota's new governor on Saturday. [KELO] … Among the new cabinet appointments New Mexico Gov. Michelle Lujan Grisham has made: Alicia Keyes as economic development secretary, Bill McCamley as workforce solutions secretary, and David Scrase and human services secretary. [KQRE]
CITY HALLS | "In more than 400 pages of email correspondence," New York City Mayor Bill de Blasio's administration and Amazon officials exchanged "very little of substance in the days leading up to the [HQ2] deal," in emails released by City Hall on Friday. [New York Daily News] … On Monday, Danny Jones of Charleston, West Virginia will be leaving City Hall after nearly 16 years as mayor. "I am very excited about getting out of here but it is very emotional, it has been my life," Jones said in a recent radio interview. [WV Metro News] … Louisville Mayor Greg Fischer and members of the Metro Council will be sworn into new terms. [WDRB]
ENVIRONMENT | Minnesota is failing to meet its emissions-reductions goals, according to a recently released biennial report from the Minnesota Pollution Control Agency. The state's leading form of greenhouse gas emissions come from transportation and agriculture, not from the generation of electricity. "While the state still relies heavily on coal, a quarter of the state's electricity now comes from renewable sources, and that percentage will go up in future years as utilities retire more coal plants." [Minnesota Public Radio] … Local health officials in Muskegon County, Michigan reported that tests found 20 more private wells with detectable PFAS levels near the county airport. [Michigan Radio]
INFRASTRUCTURE | According to Massachusetts Department of Public Utilities data analyzed by HEET, a Cambridge-based nonprofit that helps residents save energy and reduce emissions, there were 34,000 reported gas leaks in the Bay State in 2017—7,500 were "Grade 1" leaks, the type that represent an "existing or probable hazard to persons or property." The main culprit, aging infrastructure—is not surprising. "Massachusetts has the second-oldest gas infrastructure," said HEET executive director Audrey Schulman. "Baltimore is the only one worse than what we have." [Boston Herald]
FIREFIGHTING | An examination of the response to the Woolsey Fire in Los Angeles and Ventura counties by the Los Angeles Times, including "hundreds of pages of public records and several hours of radio transmissions, shows that first responders on the front lines of the Woolsey fire struggled during those first critical hours, stymied by communication breakdowns and a scarcity of air tanker support, equipment and firefighters." [Los Angeles Times]
BROADBAND | According to a report from Broadband Now using Federal Communications Commission data, the fastest internet speeds available in Concord, New Hampshire are slower than the fastest options in the state and nation. [Concord Monitor]
LAW ENFORCEMENT | A fatal officer-involved shooting of a 36-year-old man on New Years Eve in Seattle will be the first test of Initiative 940, a statewide ballot measure approved last year that "triggered a number of changes to state law with regard to deadly police shootings," including the elimination of the "malice" clause, which made it difficult to prosecute police officers in Washington state. [Crosscut] … Anchorage, Fairbanks and Juneau in Alaska were designated last year by the federal government as a "collective High Intensity Drug Trafficking Area," meaning that more resources from the Office of National Drug Control Policy will be flowing to the Last Frontier to assist local law enforcement to interdict illegal drugs. [Juneau Empire]
FINANCE | The Southeastern Pennsylvania Transportation Authority is facing a possible $63 million budget shortfall thanks to a lawsuit from a trucking association and a motorists group seeking to refund $6 billion in Act 44 funding diverted from the Pennsylvania Turnpike Authority to the Pennsylvania Department of Transportation for multimodal projects—transfers that the groups say are illegal. [PlanPhilly / WHYY]
SHORT-TERM RENTALS | Rural areas and smaller towns have seen a big uptick in Airbnb hosts. That includes Barry County in southwestern Missouri, which saw more than 2,000 Airbnb guests last year. "Counties that may not have any hotels whatsoever that may have been afterthoughts when it comes to tourists and visitors," according to Airbnb spokesperson Ben Breit. [St. Louis Public Radio]