Prescription Drug Monitoring Mandates Are a Simple And Cheap Way to Reduce Opioid Use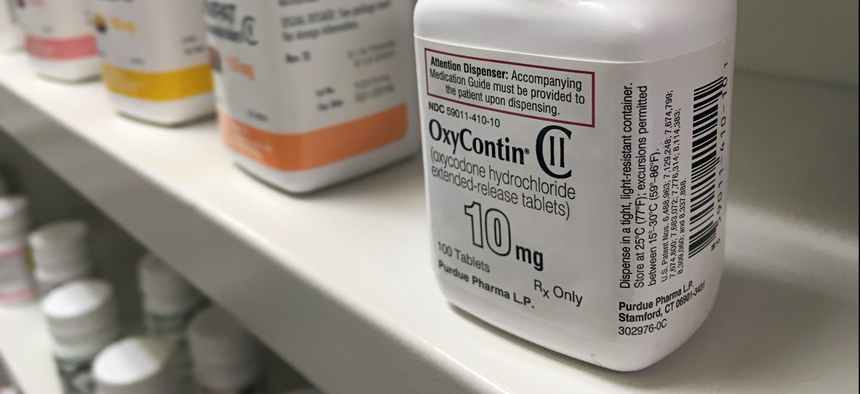 States with PDMP mandates saw a 9-10 percent reduction in the use of Schedule II opioids by Medicaid enrollees.
In 2012, enough opioids were prescribed in the United States to give every American adult their own bottle of pills. And, research on the connection between painkiller prescriber habits and addiction makes that statistic all the more troubling.
For example, a recent first-of-its-kind study of emergency room data by a team from Harvard T.H. Chan School of Public Health and Harvard Medical School found that an ER patient treated by a doctor who prescribes opioids at a higher rate is at greater risk of developing a long-term opioid abuse habit, even after a single prescription, than a patient who sees a doctor who is a less frequent painkiller prescriber.
That same study found that people who are treated by the most frequent prescribers were 30 percent more likely to come long-time opioid users. Data on this subject makes one thing particularly clear—policy-makers must take prescribers into account if they want to stand any chance of shifting the scales on the nationwide opioid abuse epidemic.
That message has not been lost on state governments. At this point, every state—with the exception of Missouri—has a prescription drug monitoring program to track these types of prescriptions and curb prescriber or patient abuse. And, these programs have been shown to work—the implementation of such a monitoring system has been associated with more than a 30 percent decrease in the rate of prescriptions of Schedule II opioids—a category that includes drugs like OxyContin and Percocet.
But, getting the prescribers themselves to use these databases is a different struggle. Research indicates that participation among these crucial stakeholders remains low.
But, a new analysis indicates that there's hope on that front. A team of researchers has identified a simple—and more importantly cost-effective—method that state governments might use to increase participation from physicians in these programs, and therefore decrease the number of prescriptions doled out.
This study, released in Health Affairs found that states that mandate prescriber registration in these programs saw positive outcomes in terms of prescriber habits. The researchers used state-level data on prescriptions received by enrollees in the Medicaid program to examine outcomes in the 25 states that had adopted such prescriber registration and use mandates.
The results of this research seem to show that state mandates make a difference. States with PDMP mandates saw a 9-10 percent reduction in the use of Schedule II opioids by Medicaid enrollees over the period studied.
Also promising is the indication that mandates were associated with a drop in Medicaid spending. The study estimates that if every state were to adopt a mandate of registration, Medicaid programs nationwide would save over $166 million in a single year.