What States Can Expect From Trump's Budget Plan on Sharing Food Stamp Costs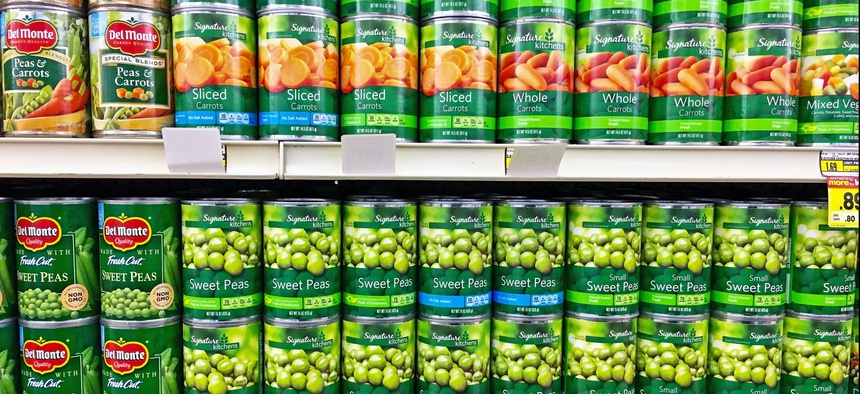 "What we do is go to the states and say, 'look, we want you to have a little bit of skin in the game,'" said White House Budget Director Mick Mulvaney.
WASHINGTON — States would have to shoulder a greater share of the costs under President Trump's forthcoming budget proposal for billions of dollars going toward food stamp benefits each year.
White House Budget Director Mick Mulvaney offered a high level overview during a press briefing on Monday of how the White House would seek to change the financial structure of the Supplemental Nutrition Assistance Program, sometimes referred to as food stamps.
The administration's full fiscal year 2018 budget plan is set to be released Tuesday. It calls for $3.6 trillion in cuts over a decade as part of an effort to balance the federal budget—the White House said the reductions were the most a president had ever proposed in a budget.
"We look to the states to help us," Mulvaney said as he discussed the proposed changes to the Supplemental Nutrition Assistance Program, or SNAP.
"What we do is to ask them to start to participate in a cost-sharing program," he added.
States already contribute to SNAP's administrative costs.
But the federal government pays for the bulk of the program, picking up the tab for benefits.
"What we've done is slowly try to phase in a state match," Mulvaney said.
The U.S. Department of Agriculture's Food and Nutrition Service oversees SNAP.
During 2016, an average of about 44 million Americans who met certain low-income requirements participated in the program each month, USDA figures show. In 2007, prior to the onset of the Great Recession, the number of monthly participants averaged around 26 million.
SNAP benefit costs totaled around $66 billion last year, while all other program expenses, including administrative costs, were about $4.3 billion. States, Mulvaney said, pick up about 50 percent of administrative costs, which cover activities like eligibility determinations and combatting fraud.
Mulvaney didn't delve into details of how the state match might work and this was not outlined in budget documents the White House released to reporters Monday afternoon. Those documents did show that the Trump administration wants to shave about $4.6 billion in federal spending from SNAP in fiscal 2018, and about $190 billion between then and 2027.
It will be up to Congress in the weeks and months ahead to consider which of the budget proposals Trump has put forward they will accept, modify or reject. Trump's spending plan calls for deep cuts across government, although it would not slash Medicare or Social Security.
Many proposed cuts to what is known as discretionary spending were outlined in a preliminary "skinny budget" the White House sent Congress in March. That spending blueprint included plans to chop programs popular among state and local governments, like Community Development Block Grants and grants that support transportation and water infrastructure.
Trump is pushing for a $54 billion increase in national defense spending in fiscal 2018 and upwards of $2.6 billion for added border security measures, including $1.6 billion to wall off parts of the nation's southern border with Mexico.
The president's full budget also assumes that the American Health Care Act will pass. That's the GOP-backed legislation the House approved earlier this month that would repeal and replace the Affordable Care Act, also known as Obamacare. The legislation is now in the Senate.
In its current form, the American Health Care Act is geared toward lowering federal spending on Medicaid in the years ahead, and threatens to dramatically reduce dollars flowing to states for the program, which provides access to health care for low-income Americans and those with disabilities.
The administration's plan for SNAP also includes an "able-bodied work requirement," according to Mulvaney. "If you don't have any dependent children, and you're an able-bodied adult, we start to phase in that requirement," the budget director explained.
"We are no longer going to measure compassion by the number of programs or the number of people on those programs," he said. "We're going to measure compassion and success by the number of people we help get off of those programs and get back in charge of their own lives."
Mulvaney recalled his time as a state lawmaker in the South Carolina Legislature as he discussed SNAP.
"On food stamps, we didn't have the motivation to fix it. We didn't have the incentive to fix it because the feds were picking up all the whole tab," he said. "So what we do is go to the states and say, 'look, we want you to have a little bit of skin in the game.'"