CBO: Senate Repeal-and-Delay Bill Would Cause 32 Million to Lose Coverage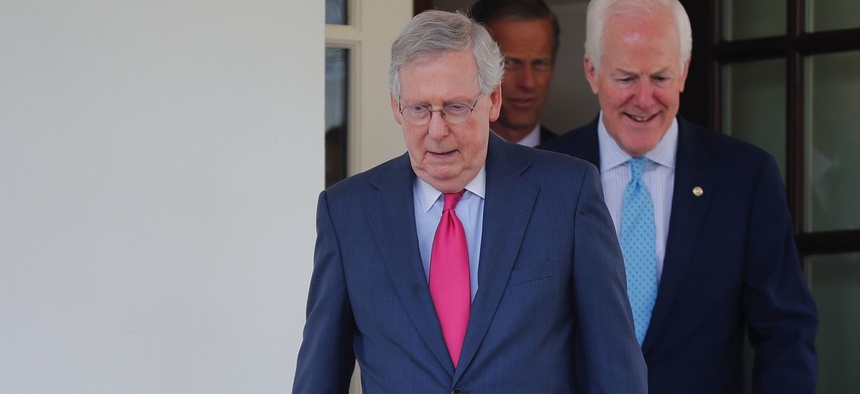 And, a separate Kaiser Family Foundation study found the bill would cut federal Medicaid funding to states by $700 billion over the next decade.
WASHINGTON — U.S. Senate Republicans have released their bill to repeal the Affordable Care Act with no immediate replacement at the ready. The legislation, which is being called the Obamacare Repeal and Reconciliation Act would bring an end to the current health care law starting in 2020.
It's unclear if Republicans have the votes to pass the bill, but the most recent analysis by the Congressional Budget Office isn't likely to be much of a help in Senate Majority Leader Mitch McConnell's efforts to bring more his GOP colleagues on board. If the bill were to become the law of the land, 32 million more people would be uninsured by 2026, insurance premiums would double over the next decade and 50 percent of the country's population will live in areas without a single nongroup insurance option, according to the CBO analysis. That last percentage would only go up. By 2026, 75 percent of the population would live in places with no plans available on the individual market.
The ORRA proposal would eliminate funding for the expansion of Medicaid, which extended the federal program to adults with incomes at or below 138 percent of the federal poverty level. Tax credits that helped low-income adults purchase plans on the individual market would be axed as well.
The bill would reduce federal deficits by $473 billion over the next decade.
The ORRA—which eliminates the individual mandate without doing away with market regulations that bar insurers from varying premiums to reflect an individual's health costs or denying a consumer based on pre-existing conditions—has the potential to create instability in the individual market, an impact the CBO projects will worsen over time. Enrollment will decline, those who remain enrolled will be those among us who are less healthy and insurers will be forced to raise premiums—in short, the makings of a death spiral.
A separate Kaiser Family Foundation analysis of a similar repeal-and-delay proposal, the Restoring Americans' Healthcare Freedom Reconciliation Act of 2015, found that such a plan would have significant coverage and financial implications for state governments. States stand to lose as much as $700 billion in federal Medicaid funding over the 2020-2026 period. And, in 11 states, enrollment numbers would drop by 30 percent or even more in 2026, with those individuals likely remaining uninsured.