A New 'One Stop Shop' for Information on Early Childhood Home Visiting Programs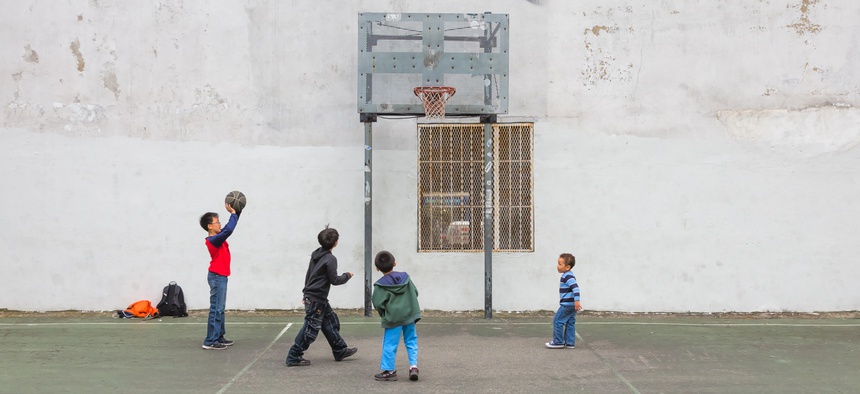 The cache of material, including a "yearbook," is getting published at a time when Congress is weighing whether to reauthorize a federal program that supports home visiting.
Early childhood home visiting programs, which involve professionals like nurses and social workers spending time with new and expectant parents, have become widespread in the U.S.
Thousands of local agencies offer these types of services in all 50 states, according to newly released research. The aim of the voluntary programs is to help families with areas like child health, school readiness and building relationships between kids and their parents.
On Monday, the Urban Institute and James Bell Associates, a research firm, published the inaugural edition of the "Home Visiting Yearbook" and other materials that are seen as one of the most ambitious attempts to date to assemble information about home visiting.
"I think in general, in the field, there was a feeling that there wasn't kind of a one-stop shop for comprehensive information about early childhood home visiting," said Jill Filene, vice president at James Bell Associates and director of the National ​Home Visiting Resource Center.
"There was really a push to try to get a better handle on the number of families that could benefit from services and the number of families that are served," she added.
The researchers who assembled the yearbook reached out to all of the agencies that in 2015 oversaw "evidence-based" home visiting programs—meaning those backed up by evidence to show they produce desired outcomes. They contacted all of the states, territories and tribal nations that had received home visiting funds through a federal program as well.
Although the responses the researchers received were incomplete, they found that across the U.S. in 2015 at least 269,000 families received services through roughly 2.3 million home visits.
More than 3,200 local agencies delivered evidence-based services in 2015, the yearbook also says.
Home visiting services are provided at no cost to recipients. Funding comes from a mix of local, state and federal funding sources. Estimates referenced in the yearbook indicate that every $1 spent on home visiting yields between $1.80 and $5.70 in benefits—such as fewer child emergency room visits and reduced reliance on welfare programs.
Commonly targeted populations for home visits include low-income families, pregnant women under 21, and parents with histories of child mistreatment or drug or alcohol abuse.
The federal Maternal, Infant, and Early Childhood Home Visiting Program, which was created under the Affordable Care Act in 2010, has bolstered home visiting programs nationally in recent years. Since its inception, the program has funnelled about $1.8 billion to states to help with the expansion and implementation of home visiting services, according to the yearbook.
Authorization for the federal home visiting program is currently set to expire at the end of September.
U.S. Rep. Adrian Smith, a Nebraska Republican, introduced a bill last month that would reauthorize the program for five years at its current annual funding level of $400 million.
The bill has six cosponsors, all of them Republicans, and has been referred to the House committees on Ways and Means and Energy and Commerce.
Smith's bill has prompted some pushback among groups that support home visiting.
The Home Visiting Coalition, for instance, applauded the introduction of the reauthorization bill, but raised red flags about a number of provisions in it.
One sticking point for the coalition is that the legislation would impose a phased-in dollar-for-dollar matching requirement for states accessing funds through the program.
Among the other parts of the bill that the group is concerned about are tightened standards for evidence showing that programs receiving funds are effective. The coalition notes that, under current law, programs already must meet evidentiary requirements that are considered to be extremely stringent.
The coalition would also like to see the authorized funding level for the program double to $800 million by the final year covered by the reauthorization bill.
As for the newly released information about home visiting, Filene said that for her and her colleagues the goal going forward would be to build on the data they've assembled, in order to offer a fuller picture of how the programs look around the U.S. "This is a start," she said.