In Homelessness Speech, Carson Warns of Fostering Dependency on Services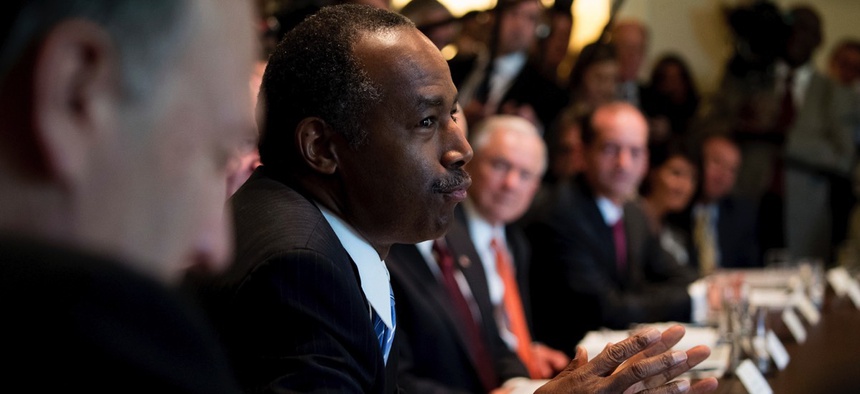 The Housing and Urban Development secretary lamented the "loss of human potential" when the U.S. needs to compete with China.
WASHINGTON — U.S. Housing and Urban Development Secretary Ben Carson announced Tuesday a second round of $43 million in funding for the Youth Homelessness Demonstration Program, during what was, at times, an awkward speech at the National Conference on Ending Homeless.
Carson also prioritized the work of the Veterans Affairs' Supportive Housing Program, before stressing a need for "fiscal responsibility" that sat less well with some in the crowd gathered at the Washington Marriott Wardman Park hotel in the nation's capital.
While the former Republican presidential candidate acknowledged "the most vulnerable will never stop needing help," he cautioned against fostering dependency on homeless services.
"We cannot be satisfied to throw resources at programs that merely subsidize homelessness," Carson said.
"It doesn't work that way," shouted someone in the audience—prompting a brief chorus of cheers and applause from some.
The underlying causes of homelessness aside, Carson also lamented the "loss of human potential" at a time when China boasts a population more than four times the size of the U.S.
"That's not a lot of people," he said. "All of those people need to be enabled if we're going to be able to compete."
Carson acknowledged that serving the poor is not just a Democratic issue, nor maximizing results a Republican one.
There are approximately 550,000 homeless in the U.S. currently, Carson said, a third lacking shelter any given night and 40,000 of them veterans.
The total number declined by about 100,000 people in the last decade, and on Friday, HUD made nearly $2 billion available to local homeless assistance initiatives through the Continuum of Care Program. That might seem like a lot, but President Trump has proposed cutting HUD's budget by $6.2 billion.
A "housing first" approach emphasizing permanent rapid-rehousing of homeless people and families has continued under Carson because it saves public resources on other services long term. From there, the cause of a person's homelessness can best be diagnosed.
"A man will not beat addiction from the gutter, will not get psychiatric help beneath the bridge and will not find a steady job without an address," he said.
Carson wants to run HUD more like a results-oriented business, lessening the federal government's role while encouraging the work of public-private partnerships, charities and faith-based institutions.
Without mentioning examples, he applauded dozens of community and three state systems that "virtually ended veteran homelessness" as models for other governments to follow.
"If one program works better than the rest, then we're going to look at that program and we're going to enhance that program," Carson said.