Local Health Officials Sound Alarm on Trump Efforts to Defund Teen Pregnancy Prevention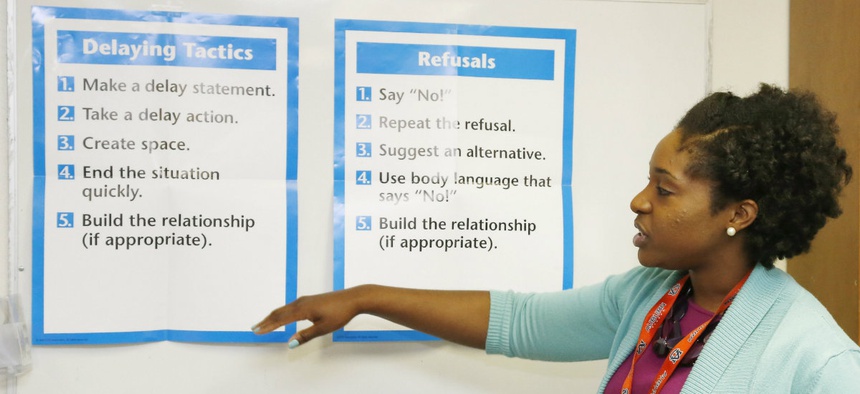 Baltimore, Seattle, Los Angeles and Portland will all be affected. But health departments aren't letting funding for these projects go down without a fight.
Teenagers are having babies in record low numbers, and the decline in teen birth rates is often touted by experts as one of the great American public health success stories.
In 2016, the pregnancy rate for girls and young women between the ages of 15 and 19 dropped by as much as 9 percent compared with the previous year, according to a new report released by the U.S. Centers for Disease Control and Prevention.
But now, health officials around the country fear those impressive gains could be at risk due to efforts by the Trump administration.
Last month, the federal Office of Adolescent Health, which is overseen by the Department of Health and Human Services, informed researchers, local health workers and educators that the grant funding for 81 teen pregnancy prevention programs which was intended to last for five years would be cut short two years early—a decision that took place outside the normal budgeting process.
The city of Baltimore, as The Washington Post recently reported, is one of the places affected by the funding cut. Health programs run by the city will lose out on $3.5 million set to support classes in anatomy and physiology as well as counseling on issues related to sex for 20,000 teens. The money would have also provided training for 115 teachers. While Baltimore has made progress on reducing teen births—the rate dropped by nearly a third from 2009 to 2013—there's still much work to be done. The teen pregnancy rate in Baltimore remains significantly higher than the national average.
"Keeping It Real Together" is another program whose future is uncertain following the news that grant funding would be halted early. KIRT is a multi-agency collaboration that serves students in the Los Angeles and Compton unified school districts. KIRT's current grant is actually the second grant the program has received from the Office of Adolescent Health.
The grant supports a project called "It's My Game, Keep It Real," which was first tested across 24 middle schools in L.A. County and was scaled up to serve 45 middle schools and 11 high schools. KIRT had also added a parent curriculum which is set to reach over 800 parents. Dr.
Kristin Meyer, the director of youth prevention programs with the L.A. County Department of Public Health division of HIV & STD programs told Take Two, a KPCC public radio program, that because of the funding environment, this will be the last year of the program.
Not only are these programs on the line, but research on the efficacy of teen sexual education is at risk as well.
King County, Washington, which includes Seattle, is like many of the other grant recipients. The $5 million in funding there pays for more than curriculum, programming and teacher training. The federal funding is also spent on figuring out just how well all of those efforts are working.
"One key principle for our work in public health is that we act based on science and evidence," Patty Hayes, director of public health in King County told KNKX public radio. "We need the evidence that a new system or rule or intervention is necessary—and that it's effective." The county is currently in the process of collecting efficacy data on FLASH, a curriculum developed by the county and implemented in schools throughout the South and the Midwest. As many as 4,000 students are affected.
In a guest editorial for The Stranger in Seattle, King County Executive Dow Constantine wrote that the funding cut is part of an "attack on women's health." Constantine also announced that the county's public health department will be filing an appeal with the Office of Adolescent Health in an effort to keep their teen pregnancy programs fully funded.
In the guest editorial, the county executive noted the program's successes:
Using evidence-based approaches, and making birth control readily accessible, King County has achieved nation-leading success, reducing teen birth rates by 55 percent from 2008-2015.

The Multnomah County Health Department, which serves Portland, Oregon, has announced their plans to appeal the cut as well.
These health departments aren't alone. Across the country, local officials involved in this work are speaking up against the decision by the Office of Adolescent Health. Officials from more than 20 large urban health departments, organized by the Big Cities Health Coalition, have denounced the funding cut in an open letter addressed to Health and Human Services Secretary Tom Price. In it, they write:
Ending what was intended to be five year TPPP grants two years early is highly disruptive to ongoing work in localities across the country. These cuts will negatively affect the lives of young people currently participating in these programs, and will mean fewer project jobs, fewer trained professionals, and reduced community partnerships …

Further, researchers will be unable to analyze data they have spent years collecting, and it will be incredibly difficult to draw any conclusions about what pieces of these programs work best and which are less effective at preventing unwanted teen pregnancy …

Cutting [Teen Pregnancy Prevention Program] funding and shortening the project period will not only reverse historic gains made in the U.S. in reducing teen pregnancy rates, but also make it difficult to truly understand what practices are most effective in communities across the nation
The grant funding for these 81 programs across the country is now slated to run out in June 2018.