California Hepatitis A Outbreak Could Last for Months—Even Years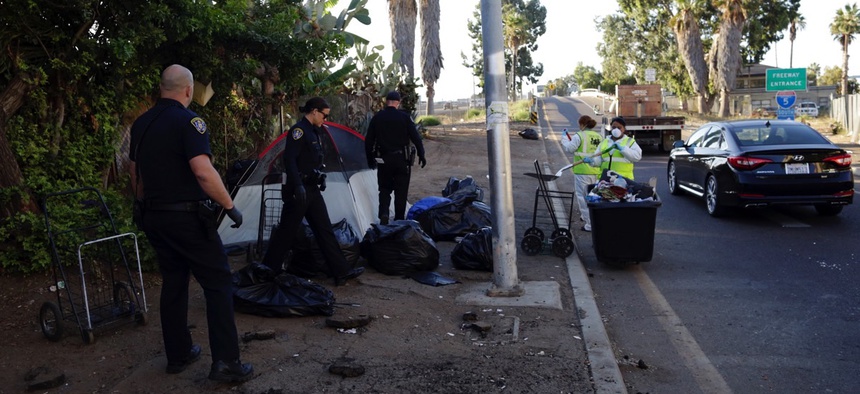 San Diego County alone has spent over $3 million on prevention efforts.
California is in the midst of a historic hepatitis A outbreak.
As many as 569 people have been infected and 18 have died from the virus since November. The vast majority of those cases—490 as of Oct. 10—have been detected in San Diego County. Cases have also been identified in Santa Cruz County, Los Angeles County and elsewhere in the state. The outbreak is the largest person-to-person hepatitis A outbreak in the nation since a vaccine for the disease became available in 1996.
Hepatitis A is an infection of the liver and is transmitted from feces to mouth by an incredibly hardy and highly contagious virus that can live outside the human body for months. Unsanitary conditions and a lack of access to clean restrooms make the virus more likely to spread. Most of the people affected by the outbreak so far have been experiencing homelessness.  
San Diego County declared the outbreak to be a public health emergency in September—a declaration that is ratified every two weeks by the Board of Supervisors.
The county has undertaken a vaccination campaign focusing on the homeless community, drug users, and those who are in close contact with these groups. County health workers have so far vaccinated 57,000 people.
But in many ways, local public health officials are facing an uphill battle. Homeless populations are often transient and typically receive little medical care, meaning even severe cases of the disease might go untreated for long periods of time. When combined, those factors make person-to-person transmission all the more likely. In an attempt to get the situation under control, starting Monday the city of San Diego began providing an officially sanctioned transitional camping area for the homeless equipped with 24-hour security, bathrooms and storage. 
City and county efforts haven't been cheap. According to The San Diego Union Tribune, shots for the vaccination program have cost more than $1.3 million. And, the medical staff brought in to run the vaccine campaign cost another $1.2 million.
The county has also sent cleaning crews into the streets armed with high-pressure bleach-treated water to clean up feces and bodily fluids and has set up more than a dozen portable bathrooms and handwashing stations around the city.
In total, county officials estimate that maintaining these prevention strategies will cost as much as $1.5 million each month.
It's unclear just how much longer the outbreak will last. Even with prevention efforts in place, the disease could linger for months, or even years.
Dr. Monique Foster, a medical epidemiologist with the Division of Viral Hepatitis at the U.S. Centers for Disease Control and Prevention, told reporters last week that "it's not unusual for [these outbreaks] to last quite some time—usually over a year, one to two years."
Dr. Jonathan Fielding, a UCLA professor and former head of the Los Angeles County Department of Public health agreed. He told PBS Newshour that he "doesn't expect this is going to be solved overnight." Fielding added: "It could take a year or more."