After Public Fury, SoCal Official Says New Housing for Homeless Will Be 'Beautiful'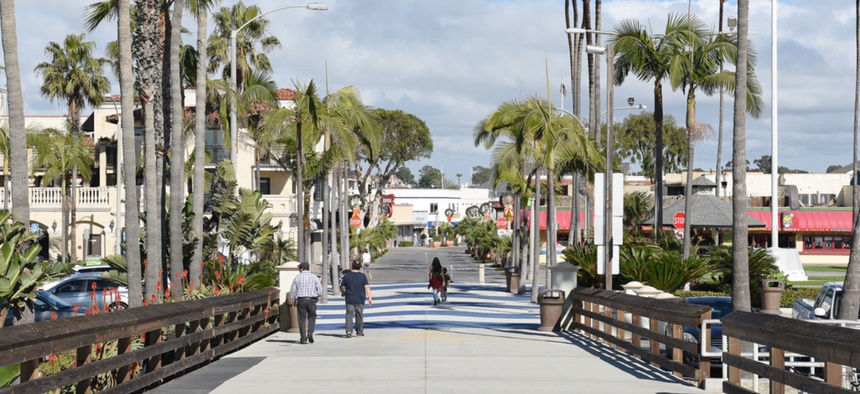 STATE AND LOCAL ROUNDUP | Atlanta's ransomware deadline ... prairie dog plague vaccine … Philly's off-the-books rooming house problem … new Wash. state tsunami maps ... and N.Y. governor seeks "new expansive powers."
Here is our roundup of state and local government news that caught Route Fifty's attention ...
HOUSING | In Southern California, members of the Orange County Board of Supervisors on Tuesday voted to abandon a plan to move homeless people—including numerous campers along the Santa Ana River—into temporary shelters. Local officials faced intense public pressure, especially from activists in the city of Irvine, who arrived in a caravan of 22 chartered buses to voice their opposition to the county's plan. On Wednesday, Orange County Supervisor Todd Spitzer and Irvine Mayor Don Wagner announced a plan, albeit a preliminary one, for permanent housing for homeless veterans and women on county-owned land. "This is permanent housing that would fit in aesthetically with the local area," Spitzer said. "It's going to be beautiful." [Los Angeles Times; Orange County Register]
Meanwhile down the coast, San Diego County will be short housing even if everything that's been planned is built. In fact, by 2050, the county is expected to be have a 152,000-home shortfall below the level of what's needed. [Voice of San Diego]
CYBERSECURITY | Time is running out for Atlanta's city government, whose IT systems have been hobbled by a ransomware attack since last week. Officials faced a Wednesday night deadline to pay the unknown cyberattackers a six-bitcoin ransom. But the challenge—besides the massive disruption the ransomware attack has brought—according to National Public Radio:
The payment portal set up by the hijackers for the infected systems, which included a countdown clock, was disabled days before the deadline after a local TV news station tweeted out an unredacted ransom note it obtained from a city employee. It contained a link to a bitcoin wallet leading directly to a group known for using SamSam ransomware.
The group believed to be behind the SamSam ransomware, CSO reports, "knows how to apply just the right amount of pain, targeting critical systems and services that can't wait for backups, often forcing the victim to pay." Government agencies are particularly vulnerable. While Atlanta City Hall officials didn't volunteer to be a ransomware case study, the current incident is an important wake-up call for state and local governments when it comes to the risks posed by a major incident and a lax security posture. [National Public Radio; CSO]
ELSEWHERE ...
Philadelphia, Pennsylvania: A recent fire in North Philadelphia that killed four people has highlighted a challenge for city officials and firefighters: off-the-books rooming houses where the city doesn't know the number of residents living on-site. That was the case for 1855 N. 21st St., where fire officials didn't discover bodies of the family for three days. "There is no database, there is no list, we don't know who is in a building at any given time," Fire Commissioner Adam Thiel said at a press conference on Tuesday.. [PlanPhilly]
Austin, Texas: Attorneys for Travis County, the city of Austin and the American Civil Liberties Union have asked the 5th U.S. Circuit Court of Appeals reconsider a decision that allowed most of Senate Bill 4—the state's controversial immigration enforcement measure—to go into effect. [Texas Tribune]  
Albany, New York: Gov. Andrew Cuomo's office is pushing a plan that would give the state "expansive new powers" to redevelop the area around Penn Station in midtown Manhattan "without any legislated state or city environmental review." [Politico New York]
Olympia, Washington: The Washington State Department of Natural Resources has released new tsunami inundation maps for parts of the state's vulnerable coastline. Here's what to expect following the next magnitude 9 earthquake along the offshore Cascadia Subduction Zone: "Modeling results indicate that the first tsunami wave is projected to arrive on land along the outer coast in 15 to 20 minutes following the earthquake. Inundation depths range from 20 to 60 feet (6–18.2 meters) on the outer coast, decreasing to generally less than 10 feet (3 meters) within Willapa Bay and Grays Harbor. Current velocities from the tsunami waves locally exceed 35 knots, presenting a significant navigational hazard to the maritime community. Tsunami wave inundation is expected to continue over 12 hours and remain hazardous to maritime operations for more than 24 hours after the earthquake." [Washington State Geology / WSDNR]
 
Raleigh, North Carolina: A "small but determined group of protesters" have been stationed outside Gov. Roy Cooper's office this week, upset with his administration's decision to issue permits for the 600-mile-long Atlantic Coast Pipeline, which runs through eight eastern counties in the state. [@NCCapitol / WRAL-TV]
Flagstaff, Arizona: The U.S. Geological Survey's National Wildlife Health Center and the University of Wisconsin in Madison have completed a three-year test in seven Western states of a vaccine to protect four species of American prairie dogs from a fleaborne bacterial infection known as sylvatic plague. [Arizona Public Radio / KNAU]