Some Good News (For Once) About the Nation's Opioid Abuse Crisis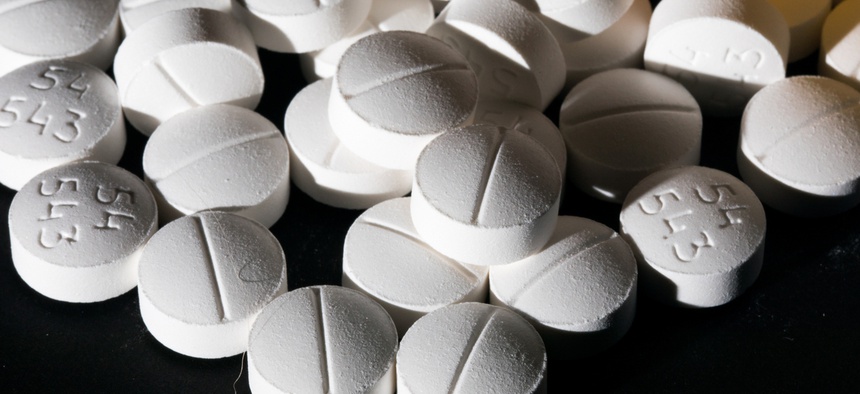 STATE AND LOCAL ROUNDUP | Okla. teachers declare victory … Calif. city manager accused of unlawful recordings … N.M. small towns oppose faster internet … and Florida sees uptick in sinkholes.
Here are state and local government news stories that caught Route Fifty's attention.
PUBLIC HEALTH | While there's no shortage of bad news about the severity of the nation's opioid abuse crisis, there's some good news coming from the University of Minnesota, where researchers are getting closer to clinical testing of a vaccine for opioid addiction. Three recent studies "show incremental success" and promise that "a vaccine could prevent oxycodone and heroin opioid molecules from reaching the brain." [Star Tribune]
And other good news from central New York state regarding the opioid crisis: Public health officials in Onondoga County, which includes Syracuse, have reported a 17-percent drop in reported deaths from opioid-related overdoses in 2017 in the county, down to 91 deaths after recording 142 deaths the year before. While local health officials need to study the numbers more closely, many say improving access to addiction treatment and medication has led to major progress locally. [The Post-Standard / Syracuse.com]
PUBLIC EDUCATION | The Oklahoma Education Association on Thursday called for the ongoing statewide teacher strike to come to an end, saying that although the labor action may have fell short of all its goals, the state funding increases that have been secured constituted "a victory for teachers." Though the strike is concluding, many school districts, including Oklahoma City, will remain closed on Friday. Meanwhile, Arizona Gov. Doug Ducey, looking to sidestep a similar standoff with educators, has agreed to a 20-percent raise for teachers in his state. [NewsOK; The New York Times; National Public Radio]
CITY MANAGERS | When Alameda, California city councilmembers and Mayor Trish Herrera Spencer voted unanimously last month to put City Manager Jill Keimach on administrative leave, local officials in the Bay Area city didn't say what exactly led to their decision. But as the East Bay Express reports, "an independent investigator has uncovered evidence" that the city manager "unlawfully recorded two councilmembers and another city employee without their consent last year." The City Council and mayor are anticipated to discuss the possibility of firing the city manager during a meeting on Monday night. Keimach has alleged that "the vice mayor and a councilman wrongfully interfered in her selection of the fire chief." [East Bay Express; East Bay Times]
ELSEWHERE ...
Chicago, Illinois: Among the Republicans urging Missouri Gov. Eric Greitens to resign is Illinois Gov. Bruce Rauner, who said Thursday he was "deeply troubled" by the misconduct allegations his fellow GOP governor is facing. [Politico]
Pasco County, Florida: Geohazards experts think an increase in the number of sinkholes in Florida can be attributed to Hurricane Irma. According to the Florida Geological Survey, there have been more than 400 sinkholes reported since Irma hit Florida last September. [WFTS-TV; WLRN Public Media]
Boston, Massachusetts: An interesting jurisdictional tidbit from the Bay State: "Massachusetts is one of only four states where enforcement and oversight of stormwater pollution measures is left to the Environmental Protection Agency and not delegated to state government." [Commonwealth Magazine]
 
Natural Bridge, Virginia: The Virginia Department of Transportation is looking at ways to reroute U.S. 11 in the vicinity of Natural Bridge, a geologic formation that carries the highway over Cedar Creek, which cuts through a deep ravine in Rockbridge County, to "ensure its long-term structural integrity." [The Roanoke Times]
Hillsboro, New Mexico: In many rural communities, getting higher-speed internet is often is a public priority, a necessity for economic development and connections to the rest of the nation and beyond. But some locals in this rugged and remote part of southwest New Mexico are suspicious and are voicing their opposition to efforts to improve connectivity. "In short, many residents say they're open to better technological connectivity as long as it doesn't change the character of Hillsboro and Kingston," a neighboring community. "As the world changes, some rural towns will adapt and survive. Others will not." [NMPolitics.net]
 
Merrimac, Wisconsin: State Highway 78 in the vicinity of this small community northeast of Madison is one of Wisconsin's many rough roads. But what irks local resident Dean Voeks about Highway 78 is that it was reconstructed about 10 years ago, costing $9 million. "It's a total screw up," Voeks said. "It's $9 million thrown away. I shouldn't be giving the state a dime as a taxpayer if they can't spend money correctly on a 10-mile strip. It doesn't make sense to spend $9 million on a project that doesn't last." [Capital Newspapers / Madison.com]