State Lawmaker Seeks Relief for Those Struggling to Pay for Insulin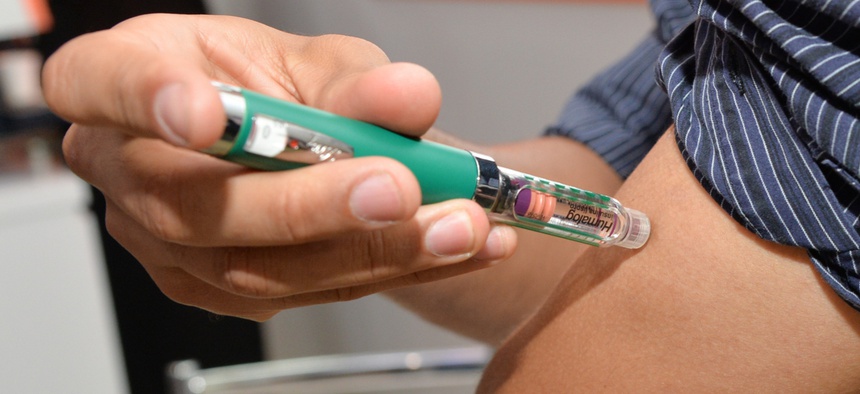 STATE AND LOCAL ROUNDUP | Oklahoma teachers may see political payback … a measles outbreak in Pacific Northwest … and Maine waterfront property is losing value.
Good morning, it's Thursday, Jan. 24, 2019. Leading Route Fifty's state and local government news roundup is health and human services but scroll down for more from places like Spokane, Washington; Richmond, Virginia; and Indianapolis, Indiana. … ALSO ON ROUTE FIFTY … Will There Be an Infrastructure Package This Year? … Mayors Get an Update on Opportunity Zone Rules … Mayors Seek 'Federal Partners' Amid Shutdown
Let's get to it ...
HEALTH & HUMAN SERVICES | With the high price of insulin prompting significant concerns among those with diabetes and health advocates, the Minnesota Legislature may take action to bring some relief. Minnesota State Rep. Michael Howard, a first-term Democratic-Farmer-Labor lawmaker, has introduced legislation to assist diabetics who are facing financial need by having their insulin prescriptions filled temporarily. A special fee on insulin manufacturers, which hasn't yet been determined, would fund pharmacy reimbursements. [Minnesota Public Radio] … The Texas Department of State Health Services and the Texas Health and Human Services Commission have launched a new public education campaign about the dangers of opioid prescription abuse and safe disposal of unused medication. [Austin American Statesman] … Amid a measles outbreak in the Portland, Oregon area—including 23 confirmed cases in Clark County, Washington since Jan. 1—to the north in the Seattle area, the King County Department of Public Health reported Wednesday that it is investigating a suspected measles case with possible exposures in the cities of Kent, Auburn and Covington. [Clark County Government; @KCPubHealth]
EDUCATION | State lawmakers in Oklahoma are considering legislation that would make it more difficult for public school teachers to go on strike, a move described as "payback" for last year's statewide teachers strike. "It shall be illegal for the board of education or school district employees … to strike or threaten to strike or otherwise close schools or interfere with school operations as a means of resolving differences with the board of education, the State Department of Education, the State Board of Education, the Legislature or any other public official or public body," according to H.B. 2214, introduced by Republican State Rep. Todd Russ. [Tulsa World] … Striking teachers returned to classrooms in Los Angeles on Wednesday following the recent breakthrough in contract negotiations between the L.A. Unified School District and United Teachers Los Angeles. [Los Angeles Times] … A new study from Michigan State University researchers shows that Michigan is "dead last" among the 50 states in "revenue growth for K-12 schools since voters approved property tax and finance Proposal A in 1994," which reshaped the way Michigan funds its schools. [MSU College of Education; The Detroit News]
CITY HALLS | In Spokane, Washington, a $25,000 investigation into the acrimonious relationship between members of the City Council and the Mayor David Condon's administration found that municipal employees have felt bullied while caught in the middle. The investigator found that employees "didn't believe council members' behavior had violated city bullying policies or broken laws, but had left some employees feeling intimidated, humiliated or anxious about interacting with them at public meetings." [Spokesman-Review] … Local leaders in Richmond, Virginia are getting some pushback over a proposal to rename The Boulevard, an important north-south thoroughfare through the city, for Arthur Ashe. [Richmond Times Dispatch] … As Baltimore Mayor Catherine Pugh faces pressure over newly adopted water rate hikes, the Baltimore City Department of Public Works "will commission an 'independent review' of its water billing system." [Baltimore Brew] … Iowa City, Iowa will spend $10,000 to replace 14 benches along a pedestrian mall following complaints that their design is hostile to the homeless. [Radio Iowa]
LAW ENFORCEMENT | The Indianapolis Metropolitan Police Department, the largest in Indiana, is moving forward sooner with plans to outfit every officer with a body-worn camera. It comes at a time when some smaller police departments are having difficulties affording the costs of equipment and video storage. [WRTV; The Washington Post] … New York City will pay $2.25 million to a cyclist who was shoved into a car by a NYPD detective. [Gothamist / WNYC]
RESILIENCY | Increased tidal flooding has resulted in a "loss of $70 million in the appreciation of waterfront real estate values in Maine over the last 12 years," according to a new report released by Columbia University and First Street Foundation. "8,181 houses in Maine lost value due to increased tidal flooding caused by sea level rise between 2005-17." [Portland Press Herald]