Paying the Homeless to Clean Up City Parks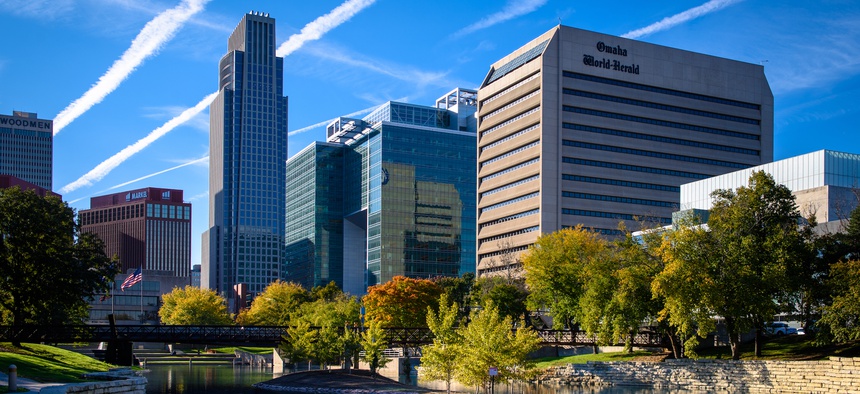 STATE AND LOCAL ROUNDUP | Civil asset forfeiture reform bills … New Orleans short-term rental restrictions … and Oregon roadkill consumption rules.
Good morning and happy Friday, Jan. 11, 2018. Leading Route Fifty's state and local roundup is homelessness but scroll down for more from places like Cheyenne, Wyoming; Charleston, West Virginia; and Chico, California. … ALSO ON ROUTE FIFTY … County Leader Seeks to Stop Sewage Spills Along Border Amid Shutdown Fight … A Prolonged Shutdown Will Hit Counties With Tight Cash Flows Hardest  
Let's get to it ...
PARKS & RECREATION | In a program modeled on one in Albuquerque, New Mexico homeless people in Omaha, Nebraska will be paid $10 an hour "working in the city's greenhouse, prepping flowers and plantings for city parks." It's part of "Way to Work," which is jointly funded by the city and the Salvation Army. The city's parks director, Brook Bench, said that successful program participants may be offered full- or part-time work with the city. [Omaha World-Herald]
GOVERNORS | According to a survey from The Morning Consult, Massachusetts Gov. Charlie Baker remains the nation's most popular governor with a 72 percent approval rating. Kentucky Gov. Matt Bevin, with a 51 percent disapproval rating, is the least-liked governor up for re-election in 2019. [The Morning Consult]
STATE LEGISLATURES | Legislation has been introduced in Michigan and North Dakota to reform civil asset forfeiture practices. [The Bismarck Tribune; The Detroit News] … Among the worries West Virginia state lawmakers sitting on the legislative finance committees have regarding Gov. Jim Justice's $4.675 billion state budget proposal: Will West Virginia's current "energy renaissance" continue to "carry state revenue through the coming years." [WV Metro News] … A bill introduced in the Florida State Senate would, if passed into law, exempt diapers from the state's sales tax. [Fort Myers News-Press] … More than 30 legislators in Wyoming have signed onto a bill that would eliminate most gun-free zones in the state and prohibit localities from enacting their own restrictions on firearms. [Casper Star Tribune]
CITY HALLS | Las Vegas Mayor Carolyn Goodman delivered her 2019 State of the City address on Thursday at City Hall, "focusing on public safety, health care, downtown development and reducing Las Vegas' homeless population." [Las Vegas Sun; City of Las Vegas livestream] … In North Ogden, Utah, the city council selected interim mayor Brent Chugg to replace the late mayor and Utah National Guard Major Brent Taylor, who was killed in an attack more than two months ago while deployed in Afghanistan. [The Salt Lake Tribune] …
ENVIRONMENT | Although he did not mention climate change or carbon emissions, Florida's new governor, Ron DeSantis announced Thursday that the state will "open a new resiliency office as part of a sweeping environmental rollout that includes an extra $1 billion for Everglades restoration and water cleanup." [Miami Herald]
HOUSING | The New Orleans City Council voted on Thursday to tighten restrictions on short-term rentals: "No more whole-home listings will be allowed in historic residential neighborhoods, and none at all in the Garden District and the French Quarter." [The Times-Picayune / NOLA.com] … When discussing his $209 billion state budget proposal and priorities to deal with California's ongoing housing crisis, Gov. Gavin Newsom said that the state may restrict transportation funding to communities that don't make progress in adding housing. "I'm in the spirit of collaboration and cooperation," Newsom said. "But I'm also in the spirit of seeing things happen." [Los Angeles Times; Curbed LA]
DISASTER RECOVERY | "Roadmap to Recovery" workshops for survivors of the Camp Fire in Northern California are being held in Chico to "help homeowners navigate common insurance claim challenges including guidance on documenting and valuing your structure, as well as dealing with smoke, charring and heat remediation among other issues." [Chico Enterprise-Record]
TRANSPORTATION | If you're driving through the Beaver State and come across a dead deer on the side of the road, consider a new law that's now in effect: "Feel free to gag. But as of Jan. 1, roadkill is officially on the menu in Oregon." But, and there's always a but: "Oregonians can't just treat the highway like an open carniceria. Several rules have been put in place to prevent vehicular poaching." [Willamette Week]