With a May 31 Transportation Deadline Ticking, State Officials Wait for Congress to Act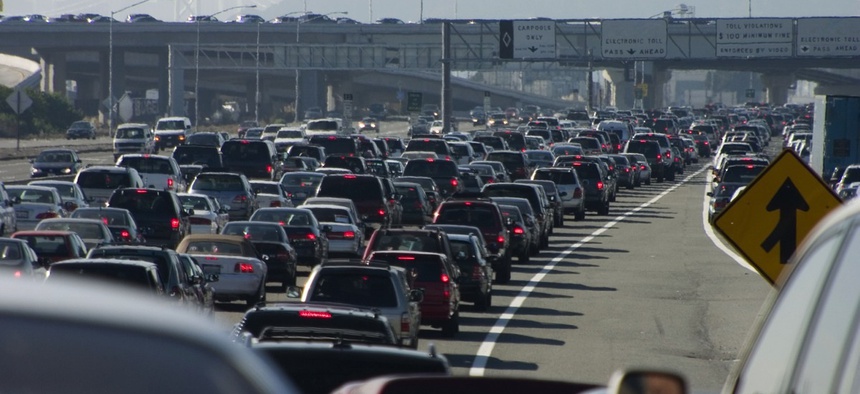 A big challenge for state transportation directors: The "uncertainty of whether or not we're going to have long-term federal funding."
Virginia's transportation budget for fiscal 2015 is about $4.3 billion. But the state's deputy transportation secretary, Nick Donohue, notes that the portion of this money available to pay for costs such as highway repairs and bridge replacements is far smaller.
"Two billion of that is used to plow snow, cut grass, pay the lighting bill," Donohue said at an event in Washington, D.C., on Friday. "It's just general maintenance and operations."
Subtract these types of costs, along with aviation and port expenses, and Donohue said that about half of the money that Virginia has left over to spend on transportation projects comes from the federal government. This is the money that is used to "expand the system, replace bridges, and rebuild the Interstate pavements that are deficient," he said.
The point Donohue was trying to make is that federal dollars make up a crucial chunk of Virginia's transportation budget. This year the budget shows about $900 million, or roughly 20 percent, of the state's transportation funds coming from the federal coffers.
But the wellspring from which most of this federal money flows is set to run dry in the coming weeks.
Federal authorization for surface transportation programs will expire on May 31, unless Congress acts. Shortly thereafter, it's projected that the highway trust fund, which the federal government uses to funnel most transportation money to the states, will become insolvent.
"The biggest challenge we face right now at the state level, is the uncertainty of whether or not we're going to have long-term federal funding." Donohue said.
Donohue spoke during a Pew Charitable Trusts forum on transportation funding. U.S. Transportation Secretary Anthony Foxx delivered remarks at the start of the event. A panel discussion that followed featured Donohue, District of Columbia Department of Transportation Director Leif Dormsjo and Iowa Department of Transportation Director Paul Trombino.
"The challenge that we face today, I think, isn't a nuts-and-bolts challenge, it's not a steel and concrete challenge, it's a challenge of what are we made of as a country," Foxx said during his remarks. "There are some things we do together as a society and infrastructure is one of those things."
Despite the uncertain future of the highway trust fund, Trombino said Iowa is pushing ahead with projects it has planned. "We need to continue to move forward and expect the dollars to come," he said. "You have to get the money into the infrastructure as quick as you can."
He pointed out that if the state delays work it could mean missing good weather windows for construction. "It's not seventy degrees every day in Iowa, as you may know, we have winter."
But Trombino noted that the approach the state is taking is not without risks. "Funds could run out," he said. "We know that our cash flow could go negative.
"That will have severe consequences," Trombino added.  
About 50 percent of the money Iowa spends on transportation-related construction projects currently comes from the federal government, according to Trombino.
The Obama administration and a number of congressional lawmakers have advanced proposals to shore up transportation funding.
The White House plan aims to provide $478 billion of funding for a six-year surface transportation reauthorization proposal. A key source of revenue for the plan would be a one-time 14 percent tax on overseas earnings by U.S. corporations.
Sens. Barbara Boxer (D-Calif.) and Rand Paul (R-Ky.) introduced a bill on April 16, which includes a 6.5 percent tax on "repatriated" corporate earnings that are brought back to the U.S. from abroad, according to a press release from Boxer's office. And a House bill introduced on the same day by Reps. Bill Pascrell, Jr. (D-N.J.), Jim Renacci (R-Ohio), Reid Ribble (R-Wis.) and Dan Lipinski (D-Ill.) would index taxes on gas and diesel to inflation which, according to a press release, would provide 1.7 years of infrastructure funding.
The bulk of the money that goes toward the highway trust fund currently comes from taxes on motor fuels, such as gasoline and diesel.
The House bill also proposes the creation of a bipartisan transportation commission to look for longer-term funding solutions.
According to a fact sheet describing the legislation proposed by Boxer and Paul, Arkansas, Georgia, Wyoming, and Tennessee have already delayed or canceled construction projects due to uncertainty over future federal transportation funding.