Major Fire in Atlanta Causes Interstate Highway Bridge to Collapse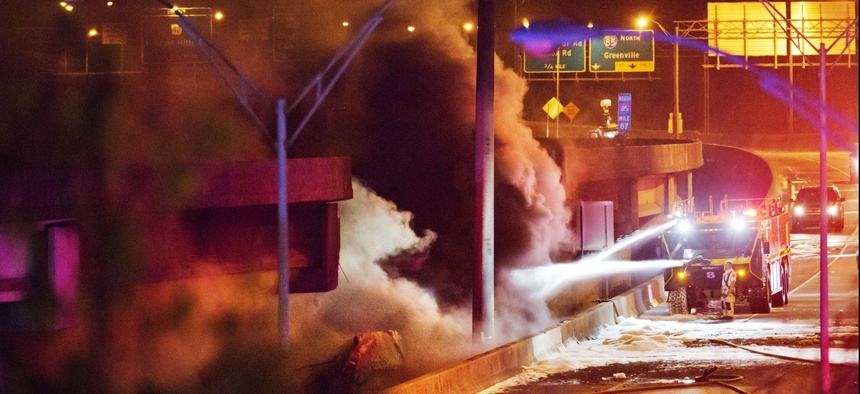 Drivers in and around Georgia's largest city are going to face difficult commutes "for the foreseeable future."
Transportation agencies in Georgia are assessing the damage from a major fire that caused a bridge on a busy Atlanta interstate highway to collapse on Thursday evening.
The damaged bridge section carries the northbound lanes of Interstate 85 near its interchange with Georgia State Route 400, an important expressway that links Atlanta with its north-central suburbs.
Both directions of I-85 and adjacent roadways were closed as fire crews extinguished the blaze and authorities investigated its caused and assessed the work ahead to rebuild the collapsed section of highway. Nobody was injured from the fire or bridge failure.
Georgia Gov. Nathan Deal, who declared a state of emergency for Fulton County, said that the course of events that led to fire are as of yet unclear, The Atlanta Journal-Constitution reported , but "the speculation I've heard is that there are some PVC products that caught fire."
The Georgia Department of Transportation has said that both directions of I-85 will remain closed " for the foreseeable future ," inevitably causing considerable heartburn for Atlanta-area drivers, who already endure some of the most congested commutes in the world .